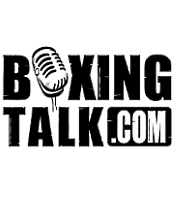 130 pound king issues challenge to WBC!
First off it's a pleasure to speak with you. Can you tell us what you know about Robbie Peden?
"It's good to speak with you again also. I know he's as his name says, The Bomber. He has the mentality of a warrior, he'll stand their and go toe-to-toe and that's going to give the fans a great show and a very exciting fight."
GL: Have you seen his fight with Juan Manuel Marquez and more recently his two fights with Nate Campbell? If so what did you think?
Marco Antonio Barrera: "I think he's improved greatly since those fights, but you could see that he is a very fast difficult fighter. He throws a punch and rather than backing up he goes forward."
GL: Both Marquez and Campbell put in some good body work in their fights with Peden. Do you expect your body work to be the deciding factor in this fight
?
Marco Antonio Barrera: "No. We've seen that, but we're training and concentrating on making it an explosive fight. We're not concentrating on one particular area, we're just going to make it a fight."
GL: In the past, you've never been a big fan of sanctioning body titles and here you are unify them. Do you intend to keep the IBF title if you defeat Peden and how has your position regarding the sanctioning bodies changed?
Marco Antonio Barrera: "This is the first time for us, we've never done this before and I guess, we'll feel all that sanctioning body stuff out after the fight. I don't know if you know, but I've launched a campaign so that percentages of this event, ticket sales, PPV and sales of a wristband that says, Team Barrera not one more. And all those proceeds will go to the children, the orphans of the 450 plus women that have been assasinated in Ciudad Juarez, Mexico. I'm also inviting the WBC, rather than charging me my sanctioning fee, to use that sanctioning fee and also donate it to this cause to help more children in Juarez."
GL: That's real. Believe me, I know you're not looking ahead of Peden, but the biggest money fight at 130 is the fourth fight between you and Erik Morales. Do you see a fourth fight with Morales in your future?
Marco Antonio Barrera: "Right now we're not think financially and money, we're thinking Robbie Peden. That's where my concentration is and everything Robbie Peden to me."
GL: Do you expect this fight with Robbie Peden to go the distance
?
Marco Antonio Barrera: "I'm training for twelve explosive rounds, whether it goes the distance or ends by knockout the fans are going to get a great fight. The fans will walk out of there winner after September 17."
GL: That's the same answer you gave me before the Mzonke Fana fight. This is Boxingtalk brother, you've got to come with more juice than that.
Marco Antonio Barrera: "I'm training for twelve explosive rounds, whether it goes the distance or ends by knockout the fans are going to get a great fight. But just to let you know September 17 was going to show Barrera-Morales 4 and Erik Morales and his team turned it down, that's why we moved on to Robbie Peden."
GL: It seems that Morales and Pacquiao are on a crash course to fight each other again early next year. Does it disappoint you or upset you that Morales and Pacquiao will probably fight each other again before you get to dance with either of them?
Marco Antonio Barrera: "Not at all. Nobody needs anybody in particular and I wish them all the best in the next event that they have."
GL: What are your goals from this fight until your retirement and how much longer do you see yourself boxing?
Marco Antonio Barrera: "I never expected to accomplish this much so I've already surpassed all of my goals. I've already talked with Oscar De La Hoya about my time in boxing and I see myself having six to eight more fights."
CLICK HERE FOR THE FULL INTERVIEW
Send questions and comments to: gleon@Boxingtalk.net