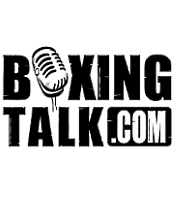 "I unify or I move up!"
BT:  Why do you think Oscar Larios fight is avoiding you?
"To tell u the truth I don't think it's that he's scared, but he's been avoiding me and I'm losing respect for him, especially because Mexican fighters don't run away from fights. If he's looking for a big fight, that's a big fight."
BT:  Why do you think Oscar Larios does not want to fight you?
JG:  I don't know because we both signed the fight for this weekend, April 9.  I know he's a strong fighter but I don't know why he's avoiding the fight with me.  If we don't fight than maybe I'll move up to 126 to fight.
BT: Why do you feel you need the fight with Larios?
JG:  I don't think I need this fight.  Oscar Larios is a great fighter I know it would be a hard fight, a good fight, but if I want to find out if I'm a great fighter I would have to take this fight to prove that.  I want to unify all the titles and I want to clean this division.  I want to test myself and if it means fighting Morales or Barrera I will do that just to see how good I really am.
BT:  So do you want to stay at 122 and fight everybody or move up to 126?
JG:  I want to unify all the titles and then move up.  I don't want to move up without unifying, but the way I see it right now I'm not going unify, I might have to move up.
 
BT:  So at 126 would you be willing to fight Injin Chi, rocky Juarez, and or Juan Manuel Marquez?
JG:  Yes they're all big fights and great fighters, and that's what I want.  In 2 or 3 divisions I feel that I can fight anybody.
BT:  If Rafael Marquez was to move up to 122 would u go on and fight him?
JG:  Yes, if he enters the division and the people want it then we fight….especially if the people want it we'll do it. 
BT:  Why do you feel you have what it takes to compete with the big name fighters?
JG:  I have the boxing ability and I have the hunger.  I have a great desire to become big. 
BT:  Are u more interested in the titles or the money?
JG:  That is a very good question.  That is a very tough question.  I want to make a name for myself first.  I know that the money comes in after you're a champion.  Once you make a name for your self in the U.S. as a professional, the money will come.  Now I don't want to be one of those guys that want to look for a big fight like Morales just to make some money, no I want to fight Morales and beat Morales!  I want to fight Barrera and beat Barrera!  That's what I'm looking for.  I'm not looking to fight big for the money.  I'm looking to fight big for the name. 
 BT:  Do you think you can handle the power of a guy like Rocky Juarez at 126?
JG:  I've always fought at 126 and I hit hard!!! I hit hard at 126 but I can go down to 122 and make weight easy. 
BT:  Is there anything else you would like to say to your fans on boxingtalk.com and all over the world?
JG:  On April 22 I'm going in the ring again and I'm going to give the world my best. If the big fighters want to fight then bring it on.  I'm ready to fight the big fighters.  I want to unify the titles.  Bring the Morales, bring the Barrera, I'm here for all of them.  And lastly, I read boxingtalk everyday.  Thank you.