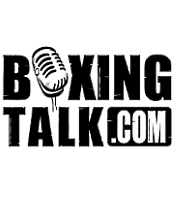 Boxingtalk just caught up with one of the real good guys in boxing, former 2 time world champion "Jesse" James Leija. Leija is a native of San Antonio and could probably run for any office he so desires and win in a land-slide. One of the real good guys in boxing, Leija talks about his 'Miracle League'  a baseball league for people with disabilities, a new sausage line 'Leija's KNOCKOUT sausage', and much more.
BT - James how's retirement going, and do you miss boxing?
JL - It was really tough the first few months after retiring. Boxing is something I did for 20 yrs, and the longest I have ever stayed away from boxing during that time was maybe two or three weeks.
BT - James you haven't left the sport completely by any means, you currently train a real good fighter in Golden Johnson. Talk about how it's been as a trainer, and training Golden.
JL - Well Golden Johnson has been a part of team Leija since 1992 from when I first was getting ready to fight Azuma Nelson. I used Golden for a lot of sparring back then, and we became very good friends. We just became good friends, and he is like a brother to me now. Golden is getting ready to fight on Nov 19th here in San Antonio. I probably get more nervous watching him fight, than when I was fighting (laughing).
BT - James wasn't Golden just stripped of his Continental America's title?
JL - Yes, he was stripped of that belt but we feel glad to have had the opportunity to get that title. We are going to get other opportunities though, we will get our shots at titles. Golden is a great fighter, we will remain patient and other opportunities will come. Everything happens for a reason Brad, and I learned something a long time ago, and that is that you can't do everything, and that you just need to go at your own pace.
BT - Talk about this new state of the art gym you are about to open in San Antonio.
JL - For so many years now I have always wanted to open up a boxing fitness gym. This gym will be for everyone, kids, women, blue collar guys, white collar guys..etc, Boxing is the number 1 sport in toughness according to ESPN, it takes a lot of work, heart, and quickness. We named the gym CHAMPION FIT GYM.
BT - James when do you see the gym opening up to the public?
JL - I think I will have the official opening sometime next week.
BT - James, how do people get contact information regarding your new gym when it opens.
JL - We are about to send out a press release to everyone, and all of that information will be on it. I am not exactly sure yet, but I am looking at a monthly fee of about 85 to 90 dollars per month. People can come in and workout either with supervised training or without it, it's up to them. The main thing is that I will be there watching out for them, and if I am not there I will have people there that will run things. You don't have to want to fight in order to come in, it's not just for boxers. Darryl Nichols ( 2005 Jr Golden Glove Champion ) is a fighter, and wants to be a world champion, so it's a gym for him as well. Some people just want to be in the best shape possible, and don't want to hit. We will have sparring sessions for those who want to just do that.
BT - Let's move on and talk about your ' Miracle League' that you have started in San Antonio.
JL - Actually my attorney Michael Miller came up to me with the idea to start a miracle league for special needs kids. We went to the city and they donated 4 Acres of land to build the facility. It's going to be a baseball league for kids with disabilities, and they will be able to play on a weekly bases. There are a lot of people on board with this effort, it's nice.
BT - James, is there anything that our readers can do to assist you in your efforts with money raising for this noble cause?
JL - Once we get our official office number, I will get that to you and I will also launch a new website
www.jessejamesleija.com
this site will be up and running soon. This is one of the things that I will be most proud of since my career in boxing started, we can all remember growing up seeing the kids with disabilities and that they didn't have the same opportunity as we did. To see these kids smile makes it all worth it, man it really does.
BT - James, you are starting your own sausage line in Texas... talk about that.
JL - The name of the sausage is KNOCKOUT sausage. We have a hot link, and a Jalapeno , and we are getting ready to do a regular sausage link as well. We have been able to get into HEB food stores in Texas. I am going to go from store to store and promote it as much as possible. I will do autograph signing's, and meet my fans. It's a great way to meet people, and making my sausage known.
BT - James, are you looking to market your sausage outside of Texas as well?
JL - Yes, there is a company in Chicago now that is distributing the sausage in some of the Hispanic areas. I am interested in seeing how it does up there.
BT - James, back to boxing for a minute. I am really interested to get your thoughts on the upcoming Jermain Taylor/Bernard Hopkins re-match.
JL - Well I thought Bernard won the first fight, I really believe that. If the horse wins the race by an inch, the horse still wins no matter what. I think Bernard won the fight, I understand he may have waited too long in that fight to get going, but you're damned if you do, damned if you don't. I think it's going to be an incredible fight, and Hopkins will train hard. But, Jermain will do the same thing so it makes for an interesting fight.
BT - James are you ready to squash the rumors of your comeback?
JL - What happened, on Feb 5th Bob Arum called my manager and asked if I would be interested in fighting Chavez. I said that if it could happen right away I would take the fight, because it would be the only fight where I could say, ' hey this guy is an idol of mine, and that would be the only reason I would take the fight. But, I didn't want to have to sit around and wait 9 months doing nothing. I think I would have taken the fight, but that time has definitely come and gone, the door is closed, and locked (laughing).
* James Leija would like to know how his new KNOCKOUT sausage is doing. Tell the champ how you feel about his new sausage line. James website will be up and running shortly, but in the mean time please email
bradcooney1@bellsouth.net
with your comments.
Purchase Brad Cooney's Let's Talk Boxing -
www.authorhouse.com
Send questions and comments to: bradcooney1@bellsouth.net