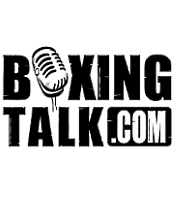 Boxingtalk spoke to undefeated prospect "Irish" John Duddy, 9-0 (9 KOs), who recently destroyed previously unbeaten prospect Leonard Pierre, 16-1 (11 KOs) in an eye-opening performance on the latest installment of ESPN2 Friday night fights. Duddy, 25, originally from Derry, Ireland and now living in Queens, New York showed the nation what many in the area have been witnessing since his professional debut back in September of 2003. With the big stage set, the day after St. Patrick's day, and the cameras rolling in his first live national television debut, Duddy did what he does best as he stopped Pierre in a mere 83 seconds. Pierre is a protégé of Kevin Rooney, who trained "Iron" Mike Tyson in his heyday. 
RC: John what's going on?
JD: Well I am over the moon from my last fight.
RC: That was a pretty impressive performance this past Friday night, almost scary in the sense that….
JD: (Cutting in) I can't get over it myself; I find it hard to believe. (Jokingly) I myself don't even understand why this is happening.
I guess the hard work I have been doing in the gym is paying off; my coaching has been top class. In the gym my coach Harry Keith and I cover everything; I even got a tape of one of his (Pierre) fights, so we had our homework done. Everybody thought that it was risky fight. On paper it did look like that, but we knew what was going to happen.
RC: In all honesty do you feel as though you were going to stop him in the first round?
JD: No I didn't think I was going to do that, but if you were to ask my coach Harry, he was telling everybody, he wasn't telling people in front of me, but he told everybody beforehand. And I know this because after the fight everybody came up to me and told me "That is what your coach said you were going to do". He told everybody "This isn't going to be a hard fight for John" He also said "If he (Pierre) comes out fighting the way he usually comes out fighting, John is going to knock him out" That is what everybody was telling me my coach said. But I tell you it was more than I every dreamed of happening. I am enjoying it,(His victory), but now it is back to the black board and get ready for my next fight.
RC: So what is next from here?
JD: I am going to be fighting in Boston on April 29th I believe. But right now Harry gave me a week off, and I'll be spending a little time with my father who came to see me fight for the first time.
RC: Your dad was a pretty good prize fighter back in the day, correct?
JD: Yup, yeh that is true.
RC: Did you know he was going to be there?
JD: Yes I knew he was coming.
RC: Was there any different a feeling fighting in front of your dad for the firs time, was there anything going on in your mind that you want to look extra good for you dad, who traveled all the way from Ireland to see you fight
?
JD: No, I keep everything pretty simple. I didn't even meet up with him until after the fight; he was staying at my friends in the Bronx. It is only pressure if you make it pressure on yourself, do you know what I mean? He was just happy to get over here and see me fight, and all I was thinking about on Friday night was getting the job done, and luckily enough we did.
RC: You are just blowing your opponents out of the frame, before this fight some felt that you weren't fighting quality opposition, however you have fought four undefeated fighters, now after making it look so easy against Pierre, can this end up being a case of too much too soon, what is going to happen now?
JD: We are stuck on our plan, but I want to keep testing myself to find out how good I am, but I think that as quick as we are going, that guy was 16-0 and he was suppose to give me a tough fight, but I am sure my people aren't going to get too exited. I still have to get some rounds under my belt before I can progress any further. I am doing the work in the gym, and whether it is going to be a six, eight round or ten round fights, we are going to be ready for it. I am always ready, and I am very excited that we made the right decisions so far in my career, and we are going to keep doing it. But regardless Ray, I am just enjoying the ride.
RC: Could you have asked for a better national television debut that what you had this past Friday night?
JD: I still can't believe it, this is all way over my head. After the fight for example, my pad man Orlando, he is working out in California, and he phoned Harry while I was in the ring I spoke to him on the phone after the fight and he said "He Duddy, you looked Brilliant!, You were great" and I asked him how did he see it and he said to me "You are on National T.V. everybody seen it" Then it clicked to me after the fight, that I was on T.V. all over America.
RC: (I start laughing hysterically, at the fact that he is so oblivious (Which in a way is Good) to all the hype surrounding him)
JD: You know Ray, I really wasn't thinking of this fight, saying ooh Shit, this is going to be on all over America, it really didn't sink under my head until after the fight that the fight was really on National television, and everybody had seen it. 
RC: You are certainly making people take notice, and it's impressive to know that you are not getting caught up in the hype, and not letting all of this go to your.….
JD: (Cutting in) I try and keep it pretty simple; you are only as good as your last fight. And as enjoyable as Friday night was, and everything went 200% right, my next fight is my next hurdle and that is all I am looking forward to doing.
RC: Where you see yourself in this division by years end?
JD: Ray, I wouldn't even go there. I am just thinking about my next fight. I let the people that are involved with me handle all of that, I am happy as a pig in shit. I am just looking forward to my next fight and getting ready for that and hopefully have another successful fight.
RC: Is there anything you would like to say to your many fans in closing?
JD: After Friday night, the fans that were at the fight made it the best boxing experience I have ever had in my life. The atmosphere, the singing, the dancing, and I want to thank them for all coming and I hope that I can keep making them happy in the future.
Send questions and comments to: rayocampbelljr@hotmail.com