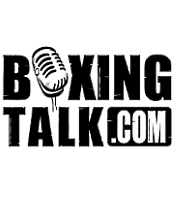 Dominic Fernandez:  Antonio, so how has your training camp and what last minute things are you working on right before this big fight? "
My training camp went real good.  I have finished the hardest part of my training and now I'm working on some speed drills leading up to this fight."
DF:  What are your thoughts on Kermit Cintron?
AM:  Real good fighter.  A fighter that fights with all his heart and
brings everything to the ring.
DF:  Knowing of Cintron's record of Knockouts have you prepared any differently?
AM:  Yes I have.  I have made a few adjustments for this fight.  I've worked on allot of technical training and many counter moves to cope with Cintron's style.
DF:  Antonio, do you see this as a rivalry between Mexican and Puerto Rican.
AM:  Yes very much so.  I understand the responsibility that I must uphold and that is being 100% Mexican.
DF:  Who is your all time favorite Mexican fighter?
AM:  Julio Cesar Chavez.
DF:  Being from Tijuana this must be a strong motivation for you and what other Active Mexican fighters do you keep in touch with?
AM:  Yes, being from Tijuana does helps motivate me and its another reason why I have big plans for my career after this fight.  Also Erik "El Terrible" is someone I continue to keep in contact with and he to is also from Tijuana.
DF:  What are those big plans Antonio?
AM:  To defeat Cintron for the title and to defend my title against Oscar De La Hoya.
DF:  You and Oscar sparred a few times didn't you?
AM:  Yes we did. On a few occasions.
DF:  What did you learn from the experience?
AM:  Allot, just being in there with his type of style helped me allot. It was a great experience altogether.
DF:  You know I spoke to Cintron's trainer Marshall Kauffman and he claims that Cintrons boxing ability resembles that of Oscar?
AM: Ha! Ha!  Allot of boxers claim that they have such and such style but it's not the same.
DF:  Cintron's camp claims that Kermit does not see this as a Mexican vs. Puerto Rican rivalry?
AM:  Good for him.
DF:  Antonio I wish you the best and we must talk again after your fight.
Am:  Yes we must.  I'm focused and ready to be Champion.