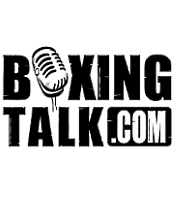 Sanchez headlines in Garden State Friday night!
Agapito Sanchez Headlines Friday Night in the Garden State
There is a cyclone making its way towards the New Jersey area this Friday evening and is scheduled to arrive at approximately 8pm. Its strong swirling winds originate from the island paradise known as the Dominican Republic. The name of this natural disaster is Agapito "The Cyclone" Sanchez. Agapito the former WBO super bantamweight champion of the world makes his return to the ring after a five month layoff when he headlines the Marriott, Hotel in Whippany, New Jersey. The rugged 16 year veteran is hoping to capture one more moment of glory. Friday night he hopes to use Ivan Alvarez as a stepping stone in his come back climb.
"I am ready to go and I feel great. I can't wait until the fight. I am in good shape, my mind is right and focused strictly on boxing," said Sanchez.
The 35 year old Sanchez last saw action on December 11, 2004 when he was featured on the under card of the Vitali Klitchko Danny Williams heavyweight title clash. On that night he tasted defeat for the 11th time as he lost a decisive decision to Carlos Navarro. Sanchez a veteran of 47 bouts owns a professional record of 33 wins and 11 losses with 16 wins coming via the knockout. Needless to say Sanchez is no spring chicken. However the southpaw from the land better known for cultivating major league short stops feels he still has plenty left in his tank.
"I won't fight at 130 pounds again unless I'm more prepared. That fight against Navarro I took that fight to simply put myself in line in order to chase down Pacquiao. It was also a bad stoppage by the referee. It was a reopened cut that I had suffered from my previous fight. I fought 11 rounds with that cut over my eye. I mean why not let me go one more with it. I was still fighting and was in the fight. It was just a stoppage to make the guy look better than what he is," said Sanchez.
"Despite the long years that I have been boxing I feel that I still can be taught things. When I go to the gym I still am learning new things. You never truly know everything in this sport and if you maintain an open mind and work with the right people you never stop learning and improving. I always keep myself in shape. I have no vices thank God I never take a long layoff from working out. I just basically take good care of my body," stated Sanchez.
"I know I am not in the prime of my career but I still can do things in this sport. There are guys that have 14, 15 fights that slur their words and are really shot fighters. There are guys out there who have taken twice as much punishment in their career and have fought in half the number of fights I have. I am fine and I will prove that this year," said Sanchez.
"Remember before Erik Morales beating Manny Pacquiao who gave Pacquiao his toughest fight? It was me. If you ask him in private he'll (Pacquiao) tell you that he has never been hit harder than when I hit him that night," said Sanchez.
"I want another shot at Pacquiao, our fight had no conclusion," said Sanchez. In November 2001 during their WBO, IBF title match Sanchez lost two points for low blows. Ringside doctor stopped the bout in the 6th round due to a bad cut on Pacquiao's right eye caused by an accidental head butt from Round 2 and worsened by another head butt in Round 6. Many have always questioned Sanchez's aggressive style bordering that of being labeled a dirty fighter.
"I am aggressive. I am only 5'4. I have to come inside against all of my opponents. Sometimes when I bring my head up, guys have gotten butted, but never intentionally. I am a world class fighter who has fought everyone in my era. I don't need to resort to using illegal tactics and I have never done so," emphatically stated Sanchez.
"Also in 1998 I stopped the current WBC champion Oscar Larrios, In Mexico!" said Sanchez.  
Apparently Sanchez is not alone in his positive thinking. Sanchez is currently ranked 8th by the WBO and the IBF has him as their 11th rated super bantamweight.  
"I had some personal problems this past year and I really had a lot of distractions in my personal life. Now that is all behind me," said Sanchez.
However a future title shot and better pay days could go out the window in a hurry if he is not successful against Ivan Alvarez. The journeyman Alvarez is a native of Colombia and brings a record of 19-17 with 8 knockouts. Alvarez's record is one that maybe laughable but his list of opponents is certainly no joke. Alvarez has stepped in the ring with former world champions Johnny Tapia, Paulie Ayala, Clarence "Bones" Adams and the aforementioned Larrios on two occasions. Also throw in a notable win against the former Marco Antonio Barrera conqueror "Poison" Junior Jones in 2002.
"I know this guy is a serious opponent but I think my winning experience will play a difference in the bout, I am looking for a very impressive win," said Sanchez.
"My dream is to bring another world title to the Dominican Republic and all my fans back home," said Sanchez.
Sanchez and Alvarez will duke it out in a 10 round affair and will be the main event out of a seven bout scheduled card being put on by One More Round Boxing. Also featured on this evening will be Johnny Molnar fighting in junior middleweight bout against Dumont Welliver. Also in action is undefeated cruiserweight Wagner Johnson.
BoxingTalk would like to thank Agapito Sanchez for his time and would like to wish him continued success in the future.
Send questions and comments to: spjr21@yahoo.com