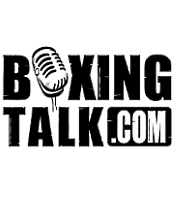 Jermain Taylor's chief trainer Pat Burns was kind enough to sit down and give Boxingtalk an in depth update on how camp is going thus far. Burns comments on the recent reports concerning Bouie Fisher's departure from the Hopkins camp, and gives us his thoughts on how Jermain is looking so far in camp. You don't want to miss this BOXINGTALK EXCLUSIVE!
BT - Pat first of all thanks for talking to Boxingtalk, I really appreciate it.
PB - No problem Brad.
BT - Pat let's jump right into this, what are your thoughts on these reports claiming Bouie Fisher is no longer training Bernard Hopkins?

PB - Well I had a few people ask me that question Brad, and I don't know if it's true, and I really don't care. I don't think it's going to have a profound effect on Bernard, he's a professional and maybe he will train himself, I don't know. We will train no differently, and we will only worry about what we have to worry about, not worry about him. The last time I checked, we weren't training to fight Bouie Fisher, we were training to fight Bernard Hopkins.
BT - Pat I have been hearing from multiple people about how much different Bernard will fight this time around, and that he will make adjustments to retake the championship. What are your thoughts on that?
PB - Well first let me respond to what some of the writers are saying, yes I agree with them Bernard is not going to be the same person that he was the last time. It doesn't matter to us, we will not just sit idly by and watch this guy who almost beat Jermain Taylor develop into a world champion again. We are going after this, we are going into this with the intentions of removing him, and having him retire, and look good doing it. So yea, we are not just sitting idly by, sitting here telling ourselves how great we are because we have a world champion in Jermain Taylor. We are working our butt's off, and the hardest thing to do is to defend the title, but Jermain has it, and he is not going to let it go.
BT - Pat after Jermain won the world title, Bernard talked a lot of smack. To put it simple, that pissed Jermain off didn't it?
PB - Well I think if you read all of the pre-fight interviews that Jermain did you will see that Jermain gave Bernard an enormous amount of respect. However Bernard continued to be disrespectful both before, and after the press conference. Bernard was disrespectful to Lou Dibella, and after the fight he was disrespectful to Jermain. After awhile that stuff gets old, and yeah, Jermain is pissed about it.
BT - Pat originally training camp started out in Florida and currently you are in Memphis, why Memphis and how did Memphis become a player?
PB - Well one, the Hurricane came and we lost power so we had to go. One reason we are here in Memphis is that it's close, and Odell had some contacts here. It's too close for my comfort to Arkansas, it's less than two hours from Little Rock. The people in Memphis have been great, and the P.A.L. have been great as well, but I just don't want any distractions going on with Jemain at this point. That is no slight to the people of Memphis, again this town is great and so are it's people. Being so close to Arkansas can have it's distractions, it's a hell of a lot easier for someone to drive just a few hours here from Arkansas ( with all good intentions ), but try to get Jermain to come and do things, call him..etc..etc.. it could create some minor distractions, but Jermain is a professional and he will do what he has to do.
BT - Pat I am going to just step back and throw up a Hail Mary with this one. If of course Jemain beats Hopkins, is there anyone out there that you see as being a real interesting matchup for Jermain after the Hopkins chapter?
PB - Well Brad, I can say one thing.. good try (laughs), you wouldn't be doing your job if you didn't ask that one.  I can't even begin to think beyond what we have to do against Bernard Hopkins, and the task at hand. Bernard is going to be a very tough guy to beat, and to even think past him at this point and comment on what could happen down the road would be a mistake on my part.
BT - Talk to the Jermain Taylor fans out there for a minute.
PB - I want to say to the Jermain fans that Jermain is working hard, don't be fooled by that little 3 minute stunt he did with Elvis in Memphis. That was just our media day, which is part of our responsibility. We went right back to work after that, and had a real hard workout. Jermain is not only fighting for himself, but he is fighting for the entire state of Arkansas, he wants to win so bad for his state, and for his fans. Sometimes I think Jermain wants this more for his fans then for himself. Jermain is working real hard!
BT - Pat talk about Jermain going from a country boy from Arkansas to a World Champion, world known fighter. Do you have any concerns with how Jermain will be able to handle the fame and the money that comes with it?
PB - You know what Brad, that's a great question and it's the first time I have ever had a writer ask that. It's a great question... I am more concerned about people around Jermain that are reaping the rewards of his success, and it maybe going to their heads. Sometimes, all of the sudden these people become so called experts, and they think they know what they are going to do.. they are thinking they are going to make millions of dollars, and do this, and do that. But as far as Jermain is concerned it's hard to even know he's the World Champion, Jermain has his feet flat on the ground, he realizes that this is a business. The very few friends that he has had are still his friends, he has no large group around him. I am very proud of him, and I just don't see fame getting to him. Jermain is still the sweet kid from Arkansas, he's humble outside of the ring, and is still the same person that we enjoy very much. Jermain definitely has his feet on the ground, and as long as he keeps enough people around him that are NOT ( yes ) men, and chew him out when he needs to be chewed out, and pat him on the back when he needs to be patted on the back, and people that are not star struck, and don't care that he's a world champ, he will be fine. When you get people that become (yes) men, and only tell him what he wants to hear you have problems, and I just hope that it never happens. There are some people that "think" they are in, but Jermain is very smart and he knows how to handle that. Andrew Meders, Odell Nelson are both guys that keep Jermain's best interests at heart, they are who Jermain keeps close to him.
BT - Pat you guys have a great cutman in Ray Rodgers, talk a little bit about what Ray brings into the corner when you guys are fighting in the ring.
PB - Brad, that's another good question. Ray is a very quiet man from Little Rock Arkansas and I have known him for over 20 yrs. Ray and I go way back to the silver gloves, and golden gloves days. Ray has been one the greatest cutmen in boxing history for a long time, and you wouldn't know it because he's such a quiet humble guy. It worked out for Ray being so close to Jermain in Little Rock, and it worked out great for Jermain, and it worked out for me. Ray is has a calming effect, and a great eye... many times I have leaned over and asked ray  ' Ray, what do you see ' ? and Ray has always been right on with what he see's. I take what Ray tells me as the Gospel, and a lot of times when I get into the ring to give instructions to Jermain, it's what Ray told me between the rounds. Let me tell you something right now, the cut that Jermain got in the Hopkins fight was a very bad cut, it was nasty. Jermain lost a lot of blood, but it was nothing compared to what he should have lost. Ray did a tremendous job, and there are very few cutmen in the world that could have stopped that blood the way he did, and let that fight continue the way he did. The things that Ray has done over the years are unbelievable. I have to go back to Tommy Morrison, I think in the first or second round title fight he had 27 stitches after that fight, and Ray got him through the fight. Ray is a great man, he is great for boxing, he is great for amateur boxing. Ray has a great boxing eye, and has a great personality. Ray is full of jokes (laughs), no matter how bad a situation gets in the corner he comes up with a one liner, and it brings everything back into perspective... he's a great guy.
BT - Pat as you know, Ray currently is one of the most respected guys in the amateur boxing world today.
PB - Absolutely he is, the public doesn't really know Ray, but the boxing world does. Ray has done so much for the kids over the years. Ray has done it not only in Arkansas, but on the national level as well. I will go as far to say that when it looked like Arkansas boxing was going to fold, Ray was the one that always kept it going. Ray spent money out of his own pocket, and helped make boxing get threw tough times in Arkansas. I can tell you
this, Ray gives you a sense of security in there. Ray does his job in such a professional manner that you don't even know that he is in there. Ray is such a tremendous, tremendous guy and I urge guys at that level that need a great cut guy to get in touch with Ray, he's a great guy to have!
BT - Pat thank you very much for talking to Boxingtalk, I will be in touch.
PB - Brad, no problem.
Purchase Brad Cooney's Let's Talk Boxing
www.authorhouse.com
CLICK HERE FOR FULL MUST READ INTERVIEW
Send questions and comments to: bradcooney1@bellsouth.net