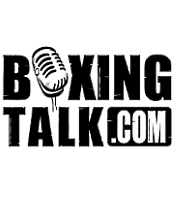 JA: How was Training Camp for this fight Chad?
"Training camp has been real good. I've been training with Winky Wright and Jeff Lacy out in Reno, Nevada. I've been sparring with Winky and Jeff. My training camp has been real excellent; I've been working with Darrel Hudson who's my conditioning trainer who also works with Winky Wright, Jeff Lacy and even Shane Mosley. Overall I've had a good training camp."  
JA: This is your first fight at Super Middleweight. How do you feel at Super Middleweight, do you feel stronger?
CD: Yeah I feel real strong. I couldn't get down to 160 any more so the best thing for me to do was move up to Super Middleweight. Before I had to kill my self to make the weight [at 160] but right now I don't have to kill myself to make the weight. I've been just relaxing before the fight.  
JA: Do you feel more focused?
CD: Yeah I feel more focused. Definitely much stronger.
JA: A lot of people are joining the Super Middleweight Division. I know Peter Manfredo Jr. is jumping in there as well as Robert Allen. Seems like the Super Middleweight Division is going to be getting pretty exciting in the coming years?
CD: Yeah the Super Middleweight Division is going to liven up now with Lacy and Calzaghe being the champions and there are a lot of other fighters that are stepping up too. It's going to be very, very exciting.  
JA: Your 19-0 with 13 K.O'. Do you feel as though you are progressing at the pace that you want to as a Professional?
CD: Yeah Definitely. Just being in the different atmosphere, I moved down to Florida to train with Dan Birmingham. Just being away and being out there has been great. I feel great, I'm focused. Everything that I been doing has been about boxing and my training camp.  
JA: What do you know about Ian Gardner?
CD: I seen him fight a couple of times and all I see is a very awkward style, I don't know if you can even call it boxing, he's got a real awkward style. He thinks that he is going to out speed me and out box me but I don't see that happening.  
JA: Do you think that you can't look good when you're in there with his style?
CD: I'm going to look good; you just have to know how to beat the guy. My plan is to over power him; I know I'm the bigger and stronger fighter. My jab is going to dictate the whole fight!  
JA: This your first fight on Showtime correct?
CD: Yeah.  
JA: How does that feel for you being your first fight on Showtime?
CD: I'm happy to be fighting on Showtime and I know that is a big step up in my game, but I'm prepared for it. My job when I get in the ring is to execute and worry about the guy in front of me. The T.V and the crowd are not going to take my mind off what I have to do. Being on T.V is really not a big deal for me.   
JA: You said you sparred with Jeff Lacy and Winky Wright. What did you learn from your time down there with them?
CD: I learned a whole lot from Winky Wright.  The thing that I learned from Winky I'm going to take into this fight and hopefully it will work. It's going to help me even more with the game plan that I already have.  
JA: What did you think of the Lacy-Pemberton fight?
CD: I think that Scotty was on his way out and was just looking for the big money fight. I'm happy Scotty took the fight. I'm happy for him because where both from the East Coast. I was at the fight and I gave him support but I didn't pick him to win though (Laughs).  
JA: What can we expect from Chad Dawson in the near future? Do you hope to be fighting for a World title by this time next year?
CD: I definitely want to be fighting for a World Championship next year either in the Super Middleweight division or the Light Heavyweight Division, it doesn't matter.  
JA: Light Heavy? Are you thinking about moving up to Light Heavy?
CD: We've been thinking about it. Me and Jeff are with the same promoter Gary Shaw so I doubt if that fight will happen because where both with the same promoters. If Jeff moves up to Light Heavyweight and lets me take over the Super Middleweight division. But definitely Light Heavyweight is an option.  
JA: Is there anything that you would like to say in closing to your fans?
CD: Just look for a great on my side come Friday night. I just hope every body enjoys the fight and my talent.