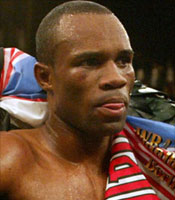 WBA junior welterweight champion "Vicious" Vivian Harris told Boxingtalk.com, "I'm pleased to be in camp with Emanuel Steward. I'm working on a lot of different things, but nothing's changed. I'm still working very hard everyday. Emanuel has taught me a lot of good things and I'm running the beaches out here, so I'm ready for whatever Urkal's going to bring."
GL: Have you done anything differently in preparation for Urkal this time around?
Vivian Harris: "I wouldn't say different. I would say working with Emanuel has been great and I've gotten better sparring this time around. Don't get me wrong, I had good sparring last time, but this time it's a little bit better."
GL: How do you feel about fighting Urkal in his backyard again?
VH: "To be honest with you, I feel good about it. Nobody wanted to fight me over here in America so now I have to go to Germany again to defend against my mandatory. I have no problem defending my title against my mandatory, I just been working real hard for this and I'm going to do what I have to do. Germany is one place I would fight any time. They treated me well, they respected and the whole experience was great. I'm looking forward to going back there and I know the people are going to treat me better now."
GL: Do you feel that Urkal is a legitimate mandatory challenger considering he hasn't won a fight since he lost to you?
VH: "At first I was upset over that. I beat him the first time and they didn't move him, he doesn't do anything and now he's my mandatory. But now I'm not upset anymore, I'm just prepared to handle my business and take care of this fight. At first I thought something was wrong about that, but that's the way boxing is right now so I do what I have to do."
GL: Does the fact that you got a fair decision in the first Urkal fight make you feel more comfortable going back for the rematch?
VH: "Not really because I feel comfortable wherever I go. I'm comfortable fighting whoever. I'm a hard worker, I train hard, I prepare for my fights and I'm ready to fight the best. I'm winning this fight and then I'm going to show the world that there's no man in this division taking my title. I'm taking this fight like I lost the last fight, that's how hard I'm working. I'm taking this very seriously and then we're going to make big moves."
GL: Are you hoping your fights get televised after this Urkal rematch?
VH: "Emanuel has a lot of big plans for me but I told him I don't want to focus on that. Right now I just have to focus on Urkal. We have to take care of this business first before we take care of anything. First things first. If we don't get Urkal out the way none of our plans will happen."
GL: Felix Trinidad is one of your idols in boxing...
VH: (cutting in) "You know this man! His comeback was great. I just want to tell Trinidad that was a brilliant performance. After seeing his fight it gave me an extra 100% confident. After watching my idol win his fight after that time off I know I can do it. Watching him fight helps me believe that hard work pays off."
GL: What do you think about the upcoming fight between Sharmba Mitchell and Kostya Tszyu?
VH: "To be honest with you Greg, I don't care about them because neither of them want to fight Vivian Harris. If they don't care about fighting me you know I don't care about what they do."
GL: Other than a Vivian Harris victory do you have a prediction for us?
VH: "No. I don't know how it's going to come but I know God is going to bless me with the victory because all this hard work I'm doing is going to pay off when I get in there for the fight."
GL: Is there anything you'd like to say in closing?
VH: "I just want to tell the German people that I'm coming back and I want everyone to come out for a great fight. I'm bringing my A game and it's going to be a wonderful fight. And I want to tell Trinidad that he inspired me to do what I do."
CLICK HERE TO SEE WHAT ELSE ONE OF THE BEST JUNIOR WELTERWEIGHTS IN THE WORLD HAD TO SAY
Send questions and comments to: gleon@boxingtalk.net