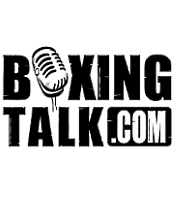 Monte Barrett Speaks Out
GL: What's good Monte? Have you learned anything new about Owen Beck?
"I'm really looking forward to fighting Owen 'I'm going to break his neck' Beck. I got one fight of his and I got more tapes coming. I got respect for everyone in the game. Owen has fast hands and he's a durable guy. I know I'm the best guy he fought, and I don't know much about his power because if you look at his record he's fought nothing but Archie Bunker's and in the fight I got, it took him four rounds to get rid of him."
"I'm not going to sleep on nobody though and I'm training for him like Mike Tyson. I read where he said I never met a guy like him but I want to let him know I met guys like him sixteen times and each one of them was on the canvas before the night was over!"
"I'm just looking forward to fighting this guy for that #1 spot in the WBC and get things going. This is Monte Barrett's time! Come January 22 (which is when Barrett-Beck will take place at MSG) it's my time."
GL: Who do you like in the Klitschko-Williams fight?
MB: "To be honest with you G, I don't give a damn about that fight. I'm just focused on Owen 'I'm going to break his neck' Beck. That's the only guy I'm concerned about. He's my title fight, he's my everything right now and I like his cockiness, he seems like a game fighter but come January 22 he's going to know I'm not playing."
GL: Is it difficult to build off the momentum from the Guinn fight when it's been such a long lay-off in between fights?
MB: "God puts certain obstacles in your life for a reason. The time has only made me stronger. At times I've become frustrated or disappointed but I'm getting the big picture. Everything happens for a reason, right now I'm fighting for the top spot in the WBC and I'm thrilled about it. It's my time and everything is about timing."
GL: Beck has no experience in big fights or televised fights. He's not used to fighting on the big stage. Will that a play in your favor?
MB: "I don't know. I don't look at those things. I guess trainers and reporters do but I don't. People rise above the moment. When I'm looking at a fighter, I'm looking at his skills and what he's doing." 
CLICK HERE FOR MORE OF THIS MUST READ INTERVIEW!
Send questions and comments to: gleon@Boxingtalk.net