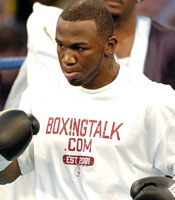 Lacy Speaks On Sheika And "The Bad Seed" Of His Team!
GL: What's been good since we last spoke Jeff?
"I've just been here in Vegas getting ready. We got here two weeks before Winky fought, I went home for the Holiday but I got back here on Sunday. Greg, everything's been really good, I'm very strong and confident that I'm going to take care of business."
GL: You just won the title against Syd Vanderpool in a very hard fought battle on October 2. Is there any concern that you're coming back too soon after such a tough fight?
Jeff Lacy: "I want to be the kind of champion that defends his title as often as possible. Besides, that's the kind of fight I love because that's what I do in the gym. With Vanderpool you got to see me show that because he came to fight and when the other guy comes to fight that's when the best comes to out of me. I know it was going to all come together and everyone got to see that in my seventeenth professional fight."
GL: Sheika comes straight forward and he could bang, but he's never stepped his game up in the big fights...
JL: (cutting in) "I have to give Sheika a chance. I know he's fought for the title a couple of times, he's had a couple of chances but this is a do or die fight for him so I expect him to be at his best. He's going to come determined and looking to win and that's what going to make this a great fight.
GL: It does have the potential to be a very good fight for TV.
JL: "It's not the main event,  but if this fight lives up to its potential it's going to steal the main event and be a fight of the year type fight. Being that this is the end of the year, I want it to end with some fireworks. Sheika is a warrior. Like you said he's a straight forward fighter and you may see him doing some back peddling early trying to move around, but he's eventually going to fall back into his style of fighting, and that's coming forward and being a warrior."
GL: What did you think about Winky's performance in the Mosley rematch?
JL: "It was not as close as the judges saw it, but he went out and did again, what a lot people doubted he could do the first time."
GL: He needs to keep his hands up thought and leave that nonsense at home.
JL: (laughs) "I don't know where that came from and he showed me something I thought I'd never see him do in my life. But he weathered the storm and still may have done enough to come back to win that round."
GL: Jeff, I know your sole focus is on Omar Sheika, but we in the press love to look ahead. Has there been any discussion as to when you may fight a Joe Calzaghe or in another super middleweight unification bout?
JL: "Greg, there's some big things that are going to happen for me in 2005. I'm a crowd pleaser, I'm going to go out and make my fans happy. It is a goal of mine to become undisputed super middleweight champion, so obviously for 2005 we're going to be looking to get some more gold."
GL: I know you've been going through an out of the ring situation with Shelly Finkel. Without getting too far into it, has that situation been a distraction at all?
JL: "No. I have a lot of faith in my team and they handle what needs to be handled out of the ring and I handle what needs to be handled inside of the ring. That's why you call it a team, and I have one of the best teams in boxing, headed by someone who looks out for my best interest and that's Jim Wilkes. I know he's taking care of his business because that's what he does. He's taking care of his and I know I'm taking care of mine.
"Sometimes you have a bad seed. Sometimes there's a bad seed that falls into situations every now and then. That's why the number one man is Jim with Gary Shaw to back him. I'm letting them take care of the business outside the ring, I'll take care of the business inside of it."
GL: Tarver-Johnson, who do you like?
JL: "I got to go with Antonio Tarver, perhaps by stoppage. If Johnson comes out putting that pressure on him like he did with Roy Jones Jr., then it could be up for grabs, but I like Tarver.
GL: Is there anything you'd like to say in closing?
JL: "Tune into to Showtime this Saturday night, you're going to see a great fight."
(
IBF SUPER MIDDLEWEIGHT CHAMP JEFF LACY WILL BE IN BOXINGTALK'S CHAT ROOM ON TUESDAY NIGHT AT 8PM EASTERN)
CHECK OUT WHAT ELSE JEFF LACY HAD TO SAY:

10/20 -
CLICK HERE FOR MORE OF THIS MUST READ INTERVIEW WITH THE IBF SUPER MIDDLEWEIGHT CHAMP
Send questions and comments to: gleon@Boxingtalk.net