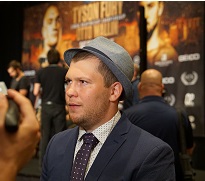 Greg Leon: Congrats on Claressa Shields' recent victory over Ivana Habazin. Can you give us some thoughts on her performance? Dmitriy Salita: Claressa did a great job she is adding new dimensions to her game with each fight and showed that in her victory over Ivana." GL: When can we expect Claressa back in the ring? Is there any early indication who her next opponent will be? DS: "We are working on a fight in mid to late spring. Claressa wants to make history actually herstory with each fight and the next one will be in line with that plan!"
GL: Will we ever get to see Shields fight world welterweight champion Cecila Braekhus?
DS: "I hope so ! Claressa wants it badly she even offered to go below 154 pounds to make it happen. Braekhus talked about the fight in her interviews but avoided any real conversations when we reached out about making a deal. "
GL: Idigov and Davtaev return on February 21st. What can you tell us about that event at Dinamo Hall?
DS: "Both Idigov and Davtaev have been training in Detroit at the Kronk Gym for several months. They have made tremendous progress, both will be forces in 2020. "
GL: Jarrell Miller recently signed with Top Rank. What are your thoughts on that deal?
DS: "I am happy with the deal. I believe Jarrell has the skills and personality to be a super star in the sport. With the help of Top Rank and ESPN platforms he will have the best resources to realize his potential. "
GL: Shohjahon Ergashev is developing quite nicely. What can we expect to see from him in 2020?
DS: "He is! All though we didn't get to see much of him in the last fight due to his incredible power his boxing skills have grown to a world class level. He is a big puncher and many of the bigger names in the division are avoiding him. He needs a significant fight and that will be one of our goals this year with him."
GL: What will Wallin's 2020 look like?
DS: "Otto is going to fight Lucas Browne March 28th on Showtime. I am excited about his potential and possibilities for 2020. The goal is to keep Otto busy in quality fights. I see Otto having the skills to beat any of the top heavyweights. With the division going through changes he may be the next guy in line. I believe a heavyweight world title is in his future! "
GL: Is heavyweight Jermaine Franklin going to take his career to the next level this year?
DS: "Jermaine is only 26 years old he is still developing. But yes we expect a performance that will catapult him into top contender / next best American heavyweight status."
GL: What's shaking with the rest of your talent. Who do you boxing fans need to look out for?
DS: "Keep an eye our for Jarico O'Quinn, Vladimir Shishkin, Joseph and Jacob Bonas. Will have some announcements on fights, events and fighters in the near future. I look forward to a great year!"
Send questions and comments to: boxingtalkg@yahoo.com