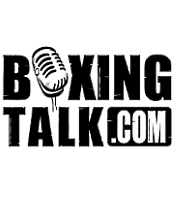 MORE FREE TRANSCRIPTIONS!
Jose Aguirre: Boxingtalk.com...
Lou DiBella: (cutting in) "Number one spot on the web. Boxingtalk.com.
JA: ...in front of Madison Square Garden after the Trinidad-Mayorga fight. Trinidad stops Mayorga in eight and now we're here with Lou DiBella, CEO of DiBella Entertainment. Lou what did you think about the fight tonight?
"I thought it was vintage Tito. I thought he hasn't looked that good in three or four years. Great performance by a great fighter. Mayorga's got a good chin, big balls, but he can't fight a lick. And Tito took advantage of the fact that he's fighting a guy that didn't know how to fight. He beat up the bully. He made a statement and Tito right now outside of the heavyweight division is back to the top."
JA: Mayorga told Boxingtalk.com that he was going to come out there in the first round, drop his hands and let Tito take swings at him. Were you surprised when he in fact did that?
LD:"Yea and it wasn't too bright. I was surprised when he did that and he got pummeled. He showed great heart but he lost to a much, much better fighter. Right now Tito's on top of his game."
JA: The Tito that we seen today, do you think this Tito beats Bernard Hopkins?
LD:"I think this Tito is a much better, more competetive fight against Hopkins but you know what? If I was Tito I don't know that I would fight Bernard right now. It's still  the most difficult fight out there for him. You got to remember he fought a guy tonight that didn't throw one jab. And Bernard Hopkins, one thing you got to say for him, in the ring he's as smart a guy as there is. And he's going to fight Tito. He's going to box Tito. It's a very different fight. But this Tito tonight can stand there and fight with anybody."
JA: Can he stay in the with Jermain Taylor?
LD:"I mean, Jermaine is much bigger. I think in a fight or two Jermaine will be ready for Bernard Hopkins but right now Jermaine needs to step up a fight or two before he's ready for these guys. Hey, the Tito I saw tonight was a great fighter again. Props to him. he's a good guy. He's at the top of his game. We got an icon back. We lost a few the last month, we got one back tonight. Power t Tito."
JA: Did you get a chance to see Zab Judah and if so what did you think?
LD:"I got a chance to see Zab. I just talked to Zab. He looked real good but in all fairness the guy he was fighting didn't know much about how to fight. I want to see Zab in there against the best because Zab's one of the best."
JA: What can we expect from DiBella Entertainment in the up-coming months?
LD:"Alot more shows in New York City. Alot more shows on the East coast. We got Zahir (Raheem) here representing. Alot of East coast action. Alot of New York fights and you're going to see Jermaine Taylor, Dec 4th back on HBO against Williams Joppy."
JA: Remember where you heard it first."