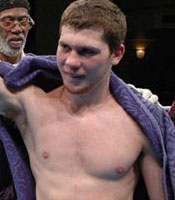 GL: What's the latest D?
"Well the latest is that I'll be fighting on Tuesday September 14 at Brighton Beach in Brooklyn. It's a Tueday night fight. They don't have my opponent yet, but I should find out really soon. I wanted this fight to be a step up from my last opponent, but being that the fight was made on short notice, it probably won't be. And even though they're doing this fight on short notice, I know it's going to sell out, and it's wonderful to be headlining a card in New York. I take all of my fights seriously, that's why I'm here in training camp. Bernard Hopkins said I don't care if I'm fighting Mickey Mouse, I'm training the same way. And that's a mentality I've taken, I'm going to train like I'm fighting for the titles with everybody."
GL: You're fighting on a Lou DiBella show, does that mean that you're now with Lou DiBella?
Dmitrity Salita: "I'm not with anybody at this point in time.It's a great possibility that I will be with DiBella and I look forward to that possibility because I like his personality and I like the way he works. I hope everything is works out with me. The thing their trying to work out is a co-promotion with Top Rank that could lead to me getting exposure on both coasts. I hope it works out so we all could all live happily ever after."
GL: You said you're not with anybody at this point, what happened that you're no longer with Top Rank?
DS: "Damn Greg......The contract was over."
GL: DiBella is based out of New York, does that play a role as well since you've always said you want to fight in NYC?
DS: "Definitely. Even though this card is on short notice I know it's going to sell out. There's hasn't been too much advertising put into it and it's a 1,500 seat arena and it's going to be sold out. It's important for me at this time to fight in New York, and if they do a co-promotion with Top Rank I would fight out here with Lou in New York and with Bob out on the west coast. I envision bigger fights coming from New York and I'm going to take care of business and begin to enhance my following with this fight."
GL: Will this be your last fight of the year with all of the Jewish Holidays coming up?
DS: "It's funny you ask that,we're putting it on a Tuesday night because Wednesday night is when Rosh Hashona begins. I've been training the whole summer and I didn't want to be inactive because it's been a while since I fought Rocky Martinez, it means a lot to me to get this fight before the end of the year, because I've been putting in a lot of hard work."
GL: Lou DiBella also promotes Paul Malignaggi, how do you feel about that fight?
DS: "I think it's still very early in development for it to happen. It hasn't reached it's peak so to say. I think it'll be some time before something like that would happen."
GL: Where do you see yourself one year from today?
DS: "God willing I see myself winning a minor title or two, closing in on a title shot, being ranked in the top five and being in line for a big fight or a title shot. I will also be a really big name in New York by then ready to fill up Madison Square Garden."
GL: Early on you got a ton of exposure several on the Latin Fury PPV's, but now it's been a while since you've fought on TV, which couldn't have helped the buzz you were making on the PPV's. Do you feel it's important get that consistent TV exposure to stay fresh?
DS: "It's a bit of a downer in a sense, to fight on TV and then not fight on TV for a long time. People forget about you quickly and then it's almost like you're fighting but nobody knows about it. It's very important to be seen and that's what I plan to do. People are going to be hearing a lot from me Greg, that you can count on."
GL: Is there anything you'd like to say in closing?
DS: "I look forward to a very good performance on the fourteenth and whoever they put in front of me is in trouble!"
CLICK HERE FOR MORE OF THIS EXCLUSIVE INTERVIEW
Send questions and comments to: gleon@boxingtalk.net