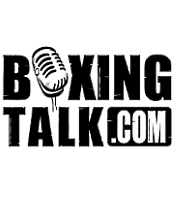 Mechanic Ready To Work On Estrada!
On January 21st, 2005, ShoBox will feature a bout between two welterweight contenders in an IBF eliminator bout for the number two spot, when Chris "The Mechanic" Smith, 19-0-1, 12 KOs, puts his title and undefeated record on the line against once-beaten Angelo Dundee protégé David Estrada 17-1, 8 KOs (Lone loss: a ten-round unanimous decision to Boxingtalk's #20 welterweight prospect Ishe Smith).  In this one on one exclusive, Smith  (Boxingtalk #23) speaks about the most important fight of his career thus far, and much more.
RC: How is training coming along for this fight?
CS: Training is going good, everything is going just fine.
RC: Are you ready to go out there and make your ShoBox debut, in an attempt to defend your title (NABA), try to get another (Title) and lets not forget earn the number two spot in IBF?
CS: (Starts to laugh) Definitely, I am definitely ready to defend that.  Of course, I am always ready to get another belt, and ooh man the number two spot is more important than the belts. So I am really ready and excited.
RC: Give us your thoughts on David Estrada as a fighter, what can you tell us about him?
CS: I think he is a good fighter; he has got a lot of skills. He is able to come at you from different angles, left and right. I expect it to be an exciting fight.
RC: You seem to always make an exciting fight; with all what you know about him, what do you feel you'll have to do to make sure you are victorious on January 21st?
CS: I think pretty much, it is more of what he is going to try to do, I believe he is going to come in and try to dictate the pace, he is going to try and go to the body, and I think I am going to be able to do all of that better than he is, and I think that is the reason why I am going to be victorious.
RC: In preparing for someone like Estrada; have you done anything different in preparation for this fight?
CS: I haven't really done anything different, I know he likes to switch up, but it doesn't matter, I know how to fight southpaws, I have been in there with them a few times. I am just preparing hard, I have my trainer working hard with me, we are just looking to go out there and be exciting as usual. Expect a good fight, but nothing different, we work hard all of the time.
RC: Who have you been working with as far as sparring for this upcoming fight?
CS: The same people I have been working with, no one different. I feel it has gotten me this far so I keep doing it. I have been working with Pawal Wolak, he is an undefeated Middleweight coming up, he is a good strong fighter, so I am comfortable with the sparring I have been getting. It will all show on the 21st of January. Like I said I am really confident in the sparring I have been getting.
RC:  This is by far the most important fight of your career so far; from your preparation do you feel as if you will performance as such?
CS: (Starts to laugh a little) I believe so….. It is definitely going to show in my performance. I think I am able to take it to the next level skill wise. I mean every step I have taken I have climbed it with ease. I have always been looking good and always getting better, so this is definitely the next step, and I have got to show and prove. I have to, also just to prove to myself that I do belong in the elite.
RC: Your currently managed by Al Haymon, who seems to have a good rapport with the big wigs at HBO, and your also promoted by Lou DiBella who use to run things over at HBO, in knowing that you are probably a couple of fights away from fighting on the big stage, is there any extra added pressure going into this fight knowing what is soon to come if you are victorious
?
CS: Nah, actually there is no pressure at all believe it or not, I am happy, I am happy to be working with Al. He has made me feel real comfortable; he is a real good guy. And my promoter (Lou DiBella) has been behind me 100% so I feel really relaxed, this is the most relaxed and comfortable I have been going into a fight. I mean I don't have to worry about my bills being paid, I don't have to worry about being nagged, because they are just taking care of everything, any thing that I need they are just care of it. So I am just focused on the fight, and it will show in my performance.
RC: You have always felt that you were one of the top Welterweights out there, where do you feel everyone would have to rank you amongst there list of top welterweights out there?
CS: They will have to at least put me in the top three or two spots. I think the public will start asking "Hey when is this kid going to fight for a world title?" & "He deserves it, he is not just winning his fights, but he has been impressive!" I think the general public…. They are going to have to put me up there, and maybe some people are going to put me at number one. But you don't get to be number one until you get a chance to fight for that title. And hopefully, being number two in the IBF it will get me in position to prove that I am number one. But you know hey, like Glenn Johnson said "I am always looking for number one"
RC: Speaking of Glenn Johnson, as a fellow countryman of yours, by him having such a good year in 2004, doers that motivate you more in anyway going into this fight?
CS: It does give me more motivation, I sit back and look at him being 36 years old and seeing what he has done, and it makes me really really happy and proud of Glenn Johnson being a fellow countryman and all, doing what he is doing. I have been cheering for him, and after seeing him go through all of the struggles that he has to go through I'm happy to see that he finally got a break. But honestly, at the same time, I have been so motivated just from my own struggles that I can just look inward and don't have to necessarily look outward to get that motivation. I have been always ready to do it, and motivated from the jump, as well as the fact that this is on Showtime, for the ranking and another belt, this whole fight really has me going.
RC: Well speaking of motivation, it wasn't too long ago you were sitting around waiting for a fight before you signed with Lou DiBella, and in just a matter of months you are getting this opportunity you have before you, did you ever think that you would be in the position you are in today so quickly?
CS:  You know what? I felt that if I can just get way from them (Duva Boxing) without having to go through that long struggle back and forth to court, and having to sit out for as long as they wanted me to sit out, I would be able to get away from them and get myself in this position. Because, I always felt that since I had the NABA title at the time, I felt that if I got some good fights and get some good people behind me that really want to see me fight for a world title, I really had no doubt that I would be in this position if I could get away from them, that was my only struggle back then, I wasn't sure what was going to happen, but by the grace of God everything worked out.
RC: A while back your name was sometimes barely mentioned amongst top Welterweight prospects Ishe Smith and Kermit Cintron, after January 21st what do you feel the people will have to say about you then?
CS: Well you know they don't really have to say anything, but if it comes up as conversation at the water cooler, I think they are going to say hey this guy is a heck of a fighter, he has paid his dues. They might say he doesn't get these guys out of there early, but he gets them out of there, and just to talk about the entertainment value of it, I think they will be happy to say "Hey that Chris Smith is a real exciting fight; I have to go see him when he is at the Garden"
RC: IS there anything else you would like to say in closing?
CS: Look forward to 2005 a new Welterweight champion in "The Mechanic" Chris Smith and Happy new Years to everybody. 
RC: Now you mentioned a little while ago that you don't normally get your opponent out of there early, but you get them out of there. Do you plan on dragging Estrada into deep waters to then try and take him out late?
CS: I will tell you the truth, all of that stuff like predicting knockouts and things like that, I leave that up to Mohamed Ali, he is the prophet, I am trying to be like him.  The only thing I can predict is excitement. That is not only one thing I can predict, but I can guarantee it is going to be an exciting fight, and an exciting show, and everybody should watch it. If you can come down to the Mohegan Sun and see it live, you should come. It is going to be very exciting, a lot of cheering and you are probably going to loose your lungs screaming, but as far as a knockout I don't know, I am not going to predict that.
Questions/Comments? Direct them to:
rayocampbelljr@hotmail.com