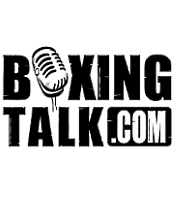 If the world enjoys an exciting fighter it should celebrate Omar Sheika when laces up the leather. Get your party supplies and invite some friends for the Tuesday Night Fights, which puts Sheika in the ring against James Butler from the Essex County College in Newark, New Jersey.
Sheika was involved in exciting brawls with Demetrius Jenkins, Anwar Oshana, Glencoffee Johnson and Kevin Pompey all before getting world title chances and engaging Scott Pemberton in a dynamic duo of battles.


Omar expects "a good puncher" when he sees James Butler in Sheika's fourth fight this year. Sheika spoke to Boxingtalk between training sessions where he is preparing to "give it everything I have. I don't think he's faced a fighter like me who has power and strength." Omar plans to be smart, in respect to Butler's power, "my mode is 'good boxing'. He plans to look for one punch. I will use my jab and set everything up and sidestep. I am not a runner."


Anyone who has seen Omar fight knows he's not a runner; just the opposite really. Sheika is better known as a brawler than a slick boxer, so what is different about the 'new' Omar Sheika? Maybe lessons learned from past mistakes and experiences have shone light in the right direction. Omar was defeated by Joe Calzaghe in a Super Middleweight title chance in 2000. He reeled off three wins by TKO to follow the loss and ran into a string of "good fighters but bad luck". Thomas Tate went down twice in 2001 against Sheika but swelled Sheika's eyes so badly the bout was stopped in the 4th. The doctor who recommended the stoppage said "this is real life not a Rocky movie" while Sheika said "how can he just get in and stop it." Sheika's next bout was against Eric Lucas for the world title but was defeated in a decision. Sheika says "I broke my right hand" in that bout. The two thrilling fights with Scott Pemberton were next.


Four losses in a row did not deter Sheika. He got back with an ex-trainer, Nettles Nasser and went to Philadelphia to fight the durable Etienne Whitaker in May of this year. "Whitaker fought Charles Brewer and lasted, he went the distance in most of his fights. It was impressive to me that I knocked him out." Sheika felt. With one punch Omar stopped Whitaker in the 2nd and came back a month later to beat Manu Ntoh. He likes to stay busy, which works well with Nasser's style. "The best move I made was to get back to him. He's a good, young trainer. He does good pad work" Sheika says, "he has that energy you want from a trainer."


Sheika (25-6: 17KO's) expects to, win Tuesday on ESPN2, then look for bouts with "Charles Brewer, I'd love to fight Pemberton again, even Jeff Lacy. I believe they're all good TV fights." Sheika's career path is to stay busy and the people of Newark and northern Jersey have a chance to see him and James Butler (20-4) live, along with Kabary Salem and Antoine Barret on the undercard.


Karriem Abdallah Productions, LLC is promoting the show and said tickets will be sold at the door of the Essex County College. Doors open at 7pm.


MEMBERS CLICK HERE FOR THIS EXCLUSIVE
Send questions and comments to: planetlarry@hotmail.com