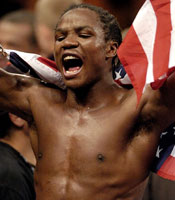 Press release:
Great fights are made with action and could there ever be a more action packed fight than a potential middleweight showdown between Kassim Ouma and Sam Soliman? If the two boxers have their way, the bout will get made shortly and boxing fans can sit back and enjoy a non-stop Puncharama.
"I take pride in those punch stat numbers and I know Soliman threw a crazy amount against Winky Wright," Ouma said. "Soliman proved he was world class, world class and awkward. If he would have been good enough for Jermain Taylor in his next fight, and he was up to fighting Winky, then he is the perfect fight for me proving myself at middleweight.
"I'll fight anyone but I know the Vargas-Mosely winner don't want me. I know that the Quartey-Forest winner won't want me either. They're all about avoiding  your way to the top. I gotta be about fighting my way to the top and Sam Soliman seems like the one challenger who will stand up and fight. You should have to earn the big title shots and that's why I see Soliman is the perfect proving place."
This Compu-Box challenge could force those nameless punch counters into training camp in what might be the biggest punch fest in the history of the sport. The computer clickers will have broken fingers keeping up with the record setting gun slingers in Ouma and Soliman.
Ouma, who always throws punches in bunches, landed a mind numbing 382 head shots in an eighth round demolition of Francisco Mora in his last bout. Ouma threw a record breaking 1,331 punches in his September 2001 10-round decision over Verno Phillips. In his first world title defense against Kofi Jantuah, Ouma landed a middleweight record 502 punches.
Soliman entered the Winky Wright fight as a little-know Australian on a 19-fight win streak. And the Aussie proved to be surprisingly game and durable in throwing an unending stream of punches at Wright in losing a hard-fought, close decision in December.
The wildly unorthodoxed rough tough Soliman never stopped swinging at Winky and raised his value by proving his endless energy and solid chin against the division's best tactician.
"Soliman raised questions about Winky, but I think it said more about Sam Soliman and his game," Ouma said. "No one had paid much attention to Sam but now they know he's a great but crazy style middleweight. I think boxing fans would love to see him match punches with me. 
"I know we'll break all the records for punches thrown in a fight. It will be a fight for the ages. Both guys give everything. Winner gets the big shot. That's what proving yourself in boxing is all about. What a challenge. What fun. I'm ready to go. Let's get it on NOW."
For Ouma, though, there is one fighter that never strays far from his mind, Russian Roman Karmazin, who lifted Ouma's IBF world title last summer.
"Karmazin talked a lot of trash after the fight. No excuses, I say, I lost but that was one day in my life. The day will come again and I will prove Roman Karmazin can not beat Kassim Ouma. I hope he raises his value, gets out there and fights like me. He's done nothing to raise his name since we fought, I've proved I'm back with two knockouts over Freddie Cuevas and Francisco Mora, two guys that don't get knocked out. They say Soliman has never been knocked out either. So I guess I'll have to keep the streak going."