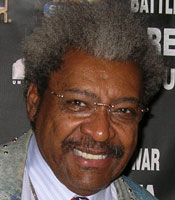 G is goignt o be poroud no I dont even have to talk to him.Wooo
RC: Was it the first round he scored a knockdown?
DS: I personally myself don't have a problem with…if I would have got knocked down I would have said okay I got knocked down, but this was not a knockdown. When I spoke to the referee, when I got up and told him I slipped he said "Okay" and he was going to wipe my gloves off, but he picked up the count because the guy started counting at ringside. But it is better to experience it like that than a real knockdown, even though it kind of messed up my mind a little bit.
RC: Mentally what was going through your mind? I mean this was the last fight in 2005 on Lou DiBella's Broadway boxing series, and here it is you get knockdown in the opening round in front of a sold out crowd, and you said it wasn't a reply and the fact that we didn't have any replay so we don't really know what it is, other than probably saying yourself, I better get the hell up, mentally how did that affect you?
DS: Since ai wasn't affected psychically by it, being that it wasn't really a knockdown, getting up really wasn't a problem. But, obviously it is not pleased that it counted but I just wanted to get back and get my fight on. You know it caused me a little bit of aggravation and disappointment.
Send questions and comments to: ray@boxingtalk.com