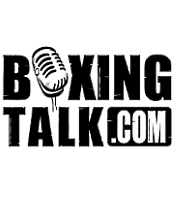 One on One With Julio Diaz
He may have lost his contest against the world-class champion Jose Luis Castillo last Saturday evening, but like he has before, Julio "the Kidd" Diaz will rise up from this defeat to return to the top once again. For the former IBF lightweight title-holder, Diaz' outing against Castillo was an uphill battle, but that will only make his next opponent seem to be a coast downhill. BoxingTalk caught up with "the Kidd" recently to get his thoughts on fighting Castillo, how his swollen eyes are doing, and what he plans to do to get on top of the lightweight division again.
BoxingTalk: Julio, how are you feeling after your fight with Castillo?
Julio Diaz: I'm doing good. I'm not sore. My eyes are still a little swollen, but they're coming down.
BT: What went wrong for you in the fight?


JD: Sometimes things don't go as planned. Unfortunately the head butts closed my eyes, and he got away with it. I don't blame him though, that's how the fight game goes - Castillo used his experience to his advantage.
BT: It appeared to me sitting in press row that the first time you were headbutted was in the 4th round. Did Castillo headbutt you before that?


JD: No, that was the first headbutt when Richard Steele separated us and that's when my eye began to swell really bad. My whole game plan went out the window after that. I got desperate and a bit sloppy because I felt I was going to run out of time. Every time Castillo would tie me up he'd pick away at my eye, and everyone was surprised that Steele didn't take a point away from Castillo, but I wasn't mad about it because I knew the territory I was in. He didn't want me there. I knew I had to pull something out of my hat to win because they already had Castillo set up to fight Diego Corrales even before our fight began last Saturday. I knew if it was going to a decision I would have lost it, but still I gained experience and I feel in my next fight I can walk through anybody.
BT: Describe the two knockdowns you suffered in the tenth round.


JD: In reality he didn't knock me out. Castillo is a hard puncher, but the first knee was from more of a push. However, throughout the 9th and 10th round I couldn't see his left or right hand coming. I tried everything, he was going to be able to do anything he wanted, and I didn't want to give him that.
BT: Do you feel if you were not headbutted, it would be a whole different story?


JD: Oh yeah, of course. I'm not going to tell you that I won, but it would have been a more interesting fight. After the 5th round, I got my second wind and I got stronger. I picked up my pace and started letting go more, but that's when my eye started swelling really bad. Maybe it would have been a lot closer, a better fight, and I would have seen a twelve round decision.
BT: Was Castillo stronger than you thought he would be?


JD: He never rocked me or hurt me. I've been down from a punch before, but he was strong with his body with the way he tied me up, and lock me up. He has moves that comes with experience, but punching power wise he didn't have much.
BT: Was your strength and punching power where you wanted it to be for this fight?


JD: Yeah, my power was good. Castillo even said that a few times I had him rocked. I saw him hurt, but I didn't want to get overexcited and underexperienced.
BT: Is there anything you would do differently if you faced Castillo again?


JD: I think I did a pretty good job until the headbutts. They really played with my mind, they distracted me and took me away from my game plan. I got so concerned about my cuts that I stopped thinking about the fight. I was concerned with getting away from the headbutts, and I was concerned with if they were going to stop it. Every time I went back to my corner the first person I saw was the doctor. Instead of hearing from my corner what I should do to win the fight, I was having the doctor in my face. It was scaring me because I was begging for one more round. I got that opportunity, but I got desperate and careless.
BT: Who do you like in Corrales-Castillo?


JD: Corrales is a very good fight. He's strong and a good guy, but I think Castillo will knockout Corrales. Just the fact that Corrales likes to fight, Castillo has the experience.
BT: What is next for you?


JD: I've been training for six months straight, so I'm going to rest for a couple months. I'm going to come back fresh, and knockout every person they put in front of me. I know I'm better and stronger than Juan Diaz.
BT: It's time to go get your IBF belt back again…


JD: Exactly, that' s what I'm going to do. It's vacant, so whoever gets it that's who I will knock out.
BoxingTalk thanks Mr. Diaz for taking the time to speak with us and for wearing his BoxingTalk t-shirt in the ring last Saturday. We wish him great success both in and out of the ring.
Send questions and comments to: fool4rush@aol.com