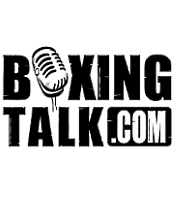 Daws & Wright renew amateur rivalry in vacant British title clash
Nigel Wright believes Lenny Daws is in for a big shock when they contest the British light-welterweight crown vacated by Junior Witter at London's York Hall on Saturday May 12.The pair last shared a ring as amateurs in the Class C NABC finals with Daws registering a stoppage in the third round. Both went on to become Senior ABA champions.
"It was ten years ago. Anyone who knew me back then will tell you that I was a skinny, immature 16-year-old. My strength didn't start developing until I was 20. If Daws chooses to read anything into that he's making a huge mistake," stressed Wright.
"My preparation has gone well. I've been concentrating on my running and I began sparring three weeks ago with (middleweights) Paul & Andrew Buchanan, Alan Temple and an amateur called Bradley Saunders (Commonwealth Youth Games gold medallist). All of them are come forward fighters who throw lots of punches without possessing masses of power, similar to Lenny Daws, so they're well suited."
Whilst it is Wright's belief that Daws has predominantly retained his amateur style in the pro ranks, the North East southpaw feels he has firmly left the vest and headgear behind, as five stoppages from his last seven fights would testify.
"When I was boxing four, six and eight rounders everything was a rush. First and foremost you had to make sure that you won enough rounds to win the fight without focussing on sitting down on your punches. On the occasions I did go for the knockout I tended to be too stiff and not relaxed due to the lack of time available. However, for the (Kevin) McIntyre rematch (an eliminator for the British title last November) I was a lot more relaxed because I knew I'd got 36 minutes. My trainer Peter Cope told me that I'd catch up with him and to take my time," explained Wright.
Wright listened to his corner, well, sort of. Despite displaying newly discovered maturity, McIntyre was destroyed inside three minutes – sweet revenge for the Hartlepool man whose disputed six-round points loss to McIntyre in Glasgow three years prior remains the solitary blemish on his 17-fight record (eight wins inside the distance).
"That win proved just how much I've improved in the three years since suffering that dodgy loss to him. Mentally in myself I knew I'd beat him. In the previous fight I broke both my hands in the second round and I was unable to sustain my attacks when I'd hurt him. My hands haven't been a problem since and I believe I can knock any light-welterweight out if I catch them cleanly but that doesn't mean I'm over reliant on my power."
Wright has reeled off 11 straight wins since the McIntyre setback, capturing the inaugural English title in the process by halting the previously undefeated Dean Hickman in seven rounds. However, despite his improvements, wily veteran Alan Bosworth exposed some chinks in Wright's armour last May, rocking him in the middle rounds to provide some anxious moments for the champion in front of his home-town supporters.
"I was in total control but I allowed myself to get drawn into a fight. I was clearly winning so I should have carried on doing exactly what I was doing earlier. But I was under pressure to look good in front of the television cameras whilst trying to secure a British title shot and please my fans. I was a lot more focussed for the McIntyre rematch yet people won't have noticed because the fight only ended up lasting a round," said Wright who nonetheless retained his English crown with a clear 99-92 points verdict over Bosworth after ten rounds.
On Saturday it will be co-challenger Lenny Daws' turn to be burdened with the anxiety of performing in his own backyard inside the confines of the atmospheric York Hall - British Boxing's spiritual home. But the Morden man, 13-0 (6), has already shown an aptitude for remaining firmly in the pressure cooker when the heat is on.
A celebrated amateur (An NABC, ABA and Four Nations Senior Champion) Daws' progress has been surprisingly low-key until recently. Indeed Daws' early trips to the canvas against the unheralded Denis Alekseev and Silence Saheed raised doubts about the Londoner's punch resistance.
But wins over Oscar Hall (TKO7) and Colin Lynes (TKO9), where Daws set an unbelievable pace that his opponents simply couldn't live with, have finally seen the 27-year-old justify the hype of his outspoken promoter Hennessy Sports. The victory over former IBO champion Lynes was particularly impressive given that Lynes had pushed Junior Witter all the way in a bid for Witter's European title before losing unanimously on points just three months prior.
Wright remains sceptical though.
"I give him credit for some good wins but his last two opponents have fought him at short notice (Lynes & Hall). I don't know why Lynes accepted the fight with Daws – maybe he saw it as a good opportunity or he needed the fight from a financial perspective but he made the wrong decision. And against Oscar Hall, Daws was hurt and pushed back by a fighter who isn't particularly strong. I had Hall winning five of the first six rounds but he couldn't sustain it because he wasn't properly prepared," he argued.
"If Daws stands off me he'll get picked off and knocked out. However I expect him to try and lean on my chest and make it a close range fight. But if he does that he'll be in for a shock and I can see him walking onto a silly shot," predicted Wright.
A double ABA champion, recording 78 victories from 90 bouts reaching the quarter-finals at the Commonwealth Games in Kuala Lumpur in 2000 would suggest that Wright has the potential to advance beyond British title level if he can successfully get past Daws. For now though his ambitions remain conservative.
"When I turned pro Frank Warren said that I had the potential to become world champion. Personally, I'll be delighted to retire between the ages of 30-32 having secured the Lonsdale belt outright. Anything beyond that will be a bonus."
Send questions and comments to: benjcarey@yahoo.co.uk