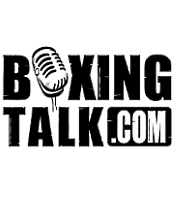 When it comes to the boxing reality show The Next Great Champ, other boxing websites have endlessly recycled the same press releases, giving little information other than correctly spelling the name of the show in capital letters. Rather than shill for a potential advertiser, Boxingtalk has done a little research about the Fox network reality series, and now takes a short look at the controversy surrounding the race to the airwaves between The Next Great Champ, the first of two planned boxing reality series to hit network television this fall, and Mark Burnett's The Contender, which apparently was the first of the two shows but won't air until November. Boxingtalk also has learned the identities of the twelve boxers who will star in the Fox show, which is being co-produced by Oscar De La Hoya's Golden Boy Promotions.
According to the website realitytvworld.com and its writer, Wade Paulsen, the producers of The Next Great Champ, in an attempt to preserve the secrecy of the winners, filmed fake matches and announced decisions in favor both boxers so that people on the set would not know who advanced to the next episode. One of the keys to a successful reality show is the element of suspense that causes viewers to tune in week after week. According to realitytvworld.com, Fox pulled the same trick with another reality show when it rushed Trading Spouses: Meet Your New Mommy to the air before ABC could show the similarly themed Wife Swap.
The show is also the subject of litigation in California. Mark Burnett, famous for The Apprentice and Survivor, is producing a competing show starring Sugar Ray Leonard that will be called The Contender. He sued Golden Boy's production partners, Endemol USA, alleging that he came up with the idea for a boxing reality show first, but that Endemol stole it. Although Golden Boy Promotions is a producing partner on the Fox show, it was not named as a party to the litigation. Last month, Burnett went to court and sought a temporary restraining order against Fox and Endemol that would have prevented Fox from airing the show on its scheduled premiere date. The New York Times reported that judge denied the request to stop The Next Great Champ from airing, but she said she would revisit the issue in the form of a preliminary injunction hearing on September 8, 2004, just two days before the then-scheduled Fox premiere date of September 10, 2004. The September 8 hearing will also give the California State Athletic Commission time to rule on allegations that when filming the show, certain athletic commission regulations were violated. All along, The Next Great Champ was scheduled to premiere on Friday, September 10. Now, perhaps as a way to ensure the California judge cannot squash the show before the first episode airs, Fox has moved the air date up to September 7, the day before the preliminary injunction hearing.
The 12 fighters who will appear on the show are: