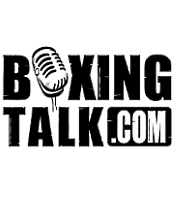 Lightly regarded Darmel Castillo, a Panamanian imported to serve as an easy opponent for Anthony Mundine, surprised Australian media by attacking Mundine at the weigh-in for tonight's bout. Press reports say Castillo landed an uppercut beofre the fighter were separated.  The bout had to be moved to a different location after one local commission refused to sanction the bout. Nonetheless, Castillo boldly said, "I'm here to hurt people, not to get hurt." Listed at 9-7-1, Castillo hasn't won a bout since 2002.   
source: Sydney Morning Herald
Middleweight contender Sam Soliman (rated #6 by Boxingtalk) has been added to the undercard of the Robbie Peden-Nate Campbell rematch scheduled for February 23, 2005 at the Vodafone Arena in Melbourne. Soliman will face Miguel Julio who has a deceptive 34-5 mark.  Julio, from Colombia, has retired several times over the last decade and really is just a blown-up lightweight who lost an IBF title challenge to Phillip Holliday back in 1995. 
source: Fox Sports News