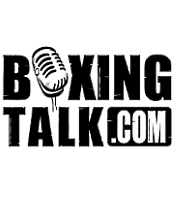 PRESS RELEASE:
K2 Promotions is pleased to announce Navarro vs. Pacquiao on ESPN2 Friday, June 17 at the Table Mountain Casino in Friant, California, just 15 minutes north of Fresno. In the 12 round main event, the fists will be flying as Carlos Navarro and Bobby Pacquiao battle it out for the WBC Continental Americas super featherweight title. Doors open at 5:30pm and the first bell rings at 6:15pm. The ESPN2 Friday Night Fights telecast begins live at 10pm ET / 7pm PT.  
K2 Promotions, owned by Vitali and Wladimir Klitschko, had previously only promoted cards which featured their heavyweight world championship fights.  But when the opportunity to promote a show on ESPN2's Friday Night Fights became available, K2 eagerly jumped in, putting on a competitive card that fight fans won't soon forget. Tom Loeffler, Managing Director for K2 Promotions, secured the June 17th date on ESPN2 with the compelling championship match between Navarro and Pacquiao. "We are excited to bring world class boxing to Table Mountain Casino and all of the boxing fans in Central California."  
"I am also thrilled to be working on our first ESPN2 show with Roy Englebrecht Promotions, who will handle the logistics and operations for the show" said Loeffler, who also noted that WBC Heavyweight Champion Vitali Klitschko will be in attendance at Table Mountain Casino as the featured guest of the evening. "Table Mountain Casino is proud to partner with ESPN2 and Heavyweight Champion Vitali Klitschko's K2 Promotions to present the nationally televised super featherweight championship fight of Carlos Navarro and Bobby Pacquiao," stated John Mayewski, President and CEO of Table Mountain Casino.  
"We are thrilled that ESPN2 is broadcasting from Friant and featuring the Fresno area.  We're even happier that our Table Mountain Casino Event Center was chosen for this prestigious fight and is becoming recognized as a national venue for significant events. This is part of our continuing effort at Table Mountain Casino to attract world-class sporting events of interest to residents in the Central Valley and to continue making high-quality national-level entertainment available and affordable in the community."  
Highly touted Carlos Navarro (26-3-1, 21 KOs) has been on a tear since returning to the ring in 2004 after a two-year break.  3-0 with 3 knockouts since his comeback, the 28-year-old native of Los Angeles is coming off back-to-back stoppages of former world champions Luisito Espinosa and Agapito Sanchez.  
Bobby Pacquiao (21-11-3, 9 KOs), the older brother of 130-pound superstar Manny Pacquiao, is a crowd-pleasing fighter who has his sights on a junior lightweight title in the near future.  A Philippine champion with five title defenses to his credit, Pacquiao is excited about making his US national television debut against a world-class foe like Navarro.  
Tickets for this action-packed night of boxing are on sale now, and are priced at $75, $45, $25, and $15. A special MEET THE CHAMPIONS Post-Fight VIP Reception is also being offered for an additional $20.  Tickets may be purchased at the Table Mountain Casino box office, online at
www.tmcasino.com
,  or by calling the Casino at 559-822-7777.