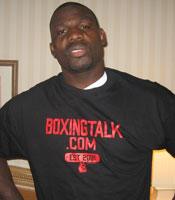 Saturday's bout between WBC heavyweight champion Hasim Rahman and James Toney was supposed to help clear up the division by eliminating one of the claiming to be a champion.  But the fight was scored a draw, and naturally, those associated with the sport threw their arms up and quipped. "it figures."  Just when the division needed a fight to produce clarity, Rahman and Toney fight to a draw. But this writer maintains that last Saturday could not have gone any better.  That's right. In fact, last Saturday was more than I had hoped it would be, or thought it could be for that matter. Why? Read on…
Rahman-Toney went well in my view because I saw two heavyweight fighters eliminated in my mind from those vying to be called the best big man in the division, instead of the one I had been expecting to see hit the road before the first bell rang.
On my scorecard, I gave the nod to Rahman for outworking the smaller, fatter and maddeningly lazy Toney over the course of the fight.  And those two judges who had it scored a draw must have been impressed with the way Toney was able to hit Rahman clean whenever he decided he had enough oxygen in his lungs to throw a combination (and by combination, we're not talking a 7 or 8 punch out put like Calzaghe throws, but more like two pawing swipes).  Though Rahman is and was the naturally harder puncher, nothing he threw could match the lethal combination meals that Burger King has already inflicted upon Toney.
But, as HBO ringside announcer Emmanuel Steward correctly stated, upon seeing how cleanly Rahman was getting hit by Toney (who is obviously not a big puncher), had Rahman been in the ring with a big heavyweight puncher, he would have been in deep trouble.
Yes in fact, last weekend eliminated two contenders from the race of big men, and added further importance to April's bout between IBF title holder Chris and the man who beat him, Wladimir Klitschko.
Toney essentially blew his chance of becoming a title holder last weekend, months before the fight started, by coming in at 237, a whopping 77 past his first world championship weight. Speaking of whoppers, I swear I saw the Burger King in Rock's entourage, wearing his crown behind Rahman as he made his way into the ring. It was disturbing to see Toney so overweight that he could not keep his balance, and that's when it dawned on me, the man is 5'9", and coming off of some serious injuries, he's 37, and on top of all that, he doesn't bother to stay in shape when he doesn't have a fight on the horizon.   Entertaining? You bet he is.  But the future the heavyweight division is looking for? No way.
It's fun to sit around and guess how much overhang we'll see over Toney's boxing trunks, but it was clear Toney didn't have any pop on his punches, unable to dent Rahman's chin and those dreaming of seeing Toney reign as a heavyweight force should begin filing off the bandwagon, and looking elsewhere.
In Rahman's case, he should be given credit.  Rahman takes the sport seriously when he realizes he has an important fight on the line. Unlike Toney, Rahman is a natural heavyweight who can bang, but also unlike Toney, he doesn't have world dominating skills, and he gets hit rather easily.  Toney landed nearly half the punches he bothered to throw in the fight, and had no problem reaching Rahman on the button in a variety of ways, from inside and out, again, when he bothered to fight.
Rahman is what he is, a powerful, athletic man who's always dangerous because of his sheer physical abilities, and when he's focused, as he clearly was last Saturday, he's tough even for a fat Toney to beat.  However, his deficiencies have always remained the same; they are simply masked better because he takes every fight seriously these days.  But have no doubt, he's there to be hit, and cleanly for that matter, as Toney and even Monte Barrett each showed.  He can still be outworked, just not if you're grossly overweight, and relying on the ropes to take the pressure of your aching knees.
Listening to ringside announcer Emmanuel Steward share his observations, you could clearly tell that he was talking directly to his pupil, Wladimir Klitschko, who, with great interest, was likely watching the fight all the way from his training camp somewhere on a secluded island near Spain.
"He would really have a lot of problems if he were in there with a big heavyweight who could punch, and who had a jab of his own" Steward would comment of Rahman.
A big heavyweight who could punch, and carried a jab as well… does that ring a bell anybody?
Assessing the division in the wake of the draw, Chris Byrd and Calvin Brock are still very much in the picture, vying to be called the best in the division.  And all of them seem to be losing ground to Lamon Brewster, who along with Byrd, is leading the thankfully dwindling pack of fighters seeking to pick up the reigns that Lewis left when he retired.
Parting Shots:
Lennox Lewis is as graceful in a suit holding a microphone as he was out boxing opponents before putting them to bed.  Lewis would make a great commentator, especially teamed up with his old trainer, Steward, who was there ringside.  Ironically, it was the grace and sleek refinery of Lewis that made him so hard for the boxing public to accept, a public who always expected it's heavyweights to be the opposite, brutishly unrefined, and destructively ungraceful.  Lewis was the epitome of class outside the ring, and was the last clear ruler of the division.  Let's hope there's another one like him walking around somewhere out there.
In addition, it was a relief to see the former great champ show up a little heavy, with some silver running through his still growing dreadlocks, as it should once and for all quell those silly enough to ponder whether or not Lewis will ever return.  He doesn't need to, and he knows it, his career was so dominant that his point is still proven even today.
(dedicated to Simon Youssef, who is tearing it up on the lacrosse field this season)
Send questions and comments to: michaeltyoussef@msn.com