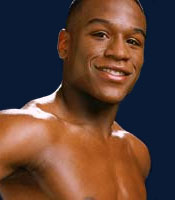 Let us pretend that we can travel back in time.  Going back far enough to witness the likes of Willie Pep-Sandy Saddler and Sugar Ray Robinson-Jake Lamotta. You can pick and choose most fights or rivalries from any point in time before 1990, when boxing was a sport looked upon from the front row of sports.
Forget about the last fifteen years.  Watching boxing is like buying the five dollar ticket at the old Tiger Stadium just to view the game from the upper deck above the real upper deck. Not only could you see nothing of the sort, but most of the seats were empty to begin with.
Boxing itself has not been worth much more than a five dollar ticket since the early 90's and while any writer could pen out lists after lists explaining why the sport is dying or why the up coming PPV show between Floyd Mayweather and Zab Judah is not worth the asking price, let us pretend that this fight were taking place back in one of the sports hay days.  
Yes, it is true that Carlos Baldomir, who nearly knocked Judah out January 7, is the recognized welterweight champion. The IBF title, which may or not be on the line on April 8 is completely meaningless.
Aside from that obvious stigma, we should not forget that Mayweather-Judah is still a fight worth seeing. It's no Hagler-Hearns, but boxing fans are still getting the chance to watch two fighters under thirty with fast hands and loud mouths do battle in a ring that rarely sees such a prize fight.
Before Zab Judah broke down against Carlos Baldomir a fight with Mayweather was one of the biggest potential fights of the year. Twelve rounds later Judah loses his title and the fight is scrapped as anything more than another victory on Floyd Mayweather's belt.
Boxing fans want fighters records to be recognized for their true merit, but in order to get the message across - that losing a fight doesn't make a fighter garbage - people in the sport need to start commending Judah for following up his loss with a fight against Floyd Mayweather, opposed to the Wayne Martel's and Jaime Rangel's that proceeded his last comeback.
Instead those within the sport are attacking this fight. And all because Mayweather may win a title that should still belong to Carlos Baldomir?
Ladies and Gents, this is boxing. The sport where one standard applies to the right, but not if you're walking left.  Boxing can have Julio Cesar Chavez "earn" a title shot against Kostya Tszyu despite losing to Willy Wise in a previous fight or Oscar De la Hoya fighting Yory Boy Campas on PPV - or even becoming a "six division champion" with a "win" over Felix Sturm - but the sport suddenly cannot have Mayweather and Judah square off April 8th?
Plug your nose. That stench which you are smelling is one that comes from decades of boxing playing the fiddle to certain fights or fighters while attacking others for similar if not the exact same reasons. There's no logic behind this view point, but what how in the hell does that surprise anyone who is an avid boxing fan?
The Ring Magazine has tried to set a standard of excellence with its rankings and champions despite who is holding the belts. So Floyd Mayweather wants to call himself a four time champion, get over it Brian Kenny.  I, myself could list quite a few fighters that consider themselves "champions" of multiple divisions without ever beating the man who beat the man, who in turn, beat the man.
The political edge in boxing is razor sharp.  However, depending whose hand is doing the feeding, certain fighters are given a free pass to the wrath of the sword.
Boxing fans don't care about politics because if you follow the sport, then you realize that boxing is how it is and it's always going to be that way. Oscar De la Hoya's promotional company won't change a thing when King and Arum kick the bucket.
Pay per-view's will still be overpriced.  Fighters will still demand more money than they're worth, and not everyone's dream match ups will be made by the time your favorite fighter retires.
The taste is quite sour, but there are plenty of positives in boxing and Floyd Mayweather and Zab Judah is just one of the many for the upcoming '06 year.
First off, Zab Judah has the fastest hands that Floyd Mayweather will ever see since he began earning a paycheck to punch. Though the Pretty Boy has been criticized for lack of competition the last three years, the biggest thing people have wanted to see is how he would do in against someone just as fast as him.
April 8th the answer will be clear.
Zab Judah's chin has been tested and the Brooklynite has failed , if you ask the major consensus of boxing purists. Mayweather, on the other hand, was buzzed against DeMarcus Corely in 2004 but went on to dominate the fight from every point there and beyond.  Comparing Corley's punching power to that of Judah's is like comparing Ashley Simpson to Mariah Carey - one has it, the other never will.
April 8th there's a good chance Judah will tag Mayweather.  Power can nullify all the speed and skills in the world, thus giving Judah - despite dropping his last decision against Baldomir - more than just a shot in the dark at upsetting little Floyd.
These elements packed with the drama that is sure to explode at the press conferences leading up to this event is enough to buy into the hype and look forward to the fight. There are still a couple months before Mayweather and Judah step in to the ring, and if you're opinion hasn't changed before hand there's a betting chance that the fireworks this fight displays will do the trick.
The question you then have to ask yourself ... did you miss it?
REST IN PEACE - Getting away from boxing for a minute, I would like to take this time to send my deepest and most heartfelt condolences to the family of Corporal Ross Smith of Wyoming, Michigan. Ross, a 2002 graduate from Wyoming Park High School with myself was killed on February 9th in action in Iraq defending this nation. God Bless you Sue, Mark, Luke and Matt. And may God Bless all of those who have lost a loved one while defending Ameria.
Send questions and comments to: tyson180@aol.com