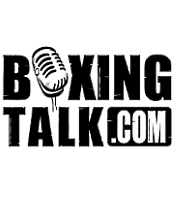 In more than any other sport, fans of boxing seem to have the strongest opinions about their beloved pastime, and the athletes who define the fight game.  Long hours can be spent and close relationships can be ruined discussing who is the greatest fighter today, who is the greatest fighter of all time, and who would beat who in a head-to-head match-up.  One thing I have learned in being a writer/reporter for BoxingTalk is that my opinion is just a good as anyone else's, and for that reason, starting today, I will give my 5 cents worth each and every week on the sport of boxing.  This will include inside scoops, opinions, never-before-told stories, and/or interesting facts.  Some of my opinions you will agree with, some you will not.  Some of the facts I list you may already know, and some you may not. Regardless, it will all be about boxing, the greatest sport ever, and what can be better than that?  
1. Has anyone else noticed that the biggest names in boxing such as Oscar De La Hoya, Sugar Shane Mosley, Mike Tyson, Vernon Forrest, Roy Jones Jr., and Ricardo Mayorga are ALL 1-2 in their last three fights?
2. With the Castillo-Corrales and Trinidad-Wright coming up in May, one fight being overshadowed is the Julio Gonzalez-Montell Griffin bout taking place on May 5th in Palm Springs, CA.  This Goossen-Tutor promoted event has two fighters of equal caliber with similar past opponents going up against each other in an IBF light heavyweight title eliminator - definitely a fight worthy of being seen.
3. James Toney accomplished a feat last weekend that not even Hasim Rahman, Andrew Golota, and Fres Oquendo could pull off.  Good job James and thank you, thank you, thank you.  Because of you we will not have to see the likes of  Jawny Ruiz in the ring for some time, may never again.   However, how many of us would pay some serious cash to see Toney take on Ruiz' manager/trainer Norman Stone?  I know I would.
4. It turns out the secret in beating Jameel McCline is the Rope-a-Dope.
5. For those who have always wanted to know but was afraid to ask, boxing scribe Michael Katz wears that neck brace to help alleviate the pain caused by a chronic back problem.  Now, I just need to find out how announcer Michael Buffer always looks so darn tan