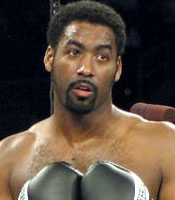 Brock scores violent KO
Calvin Brock KO6 Zuri Lawrence... 
Also on the Mandalay Bay Resort show in Las Vegas, undefeated heavyweight Calvin Brock viciously knocked out Zuri Lawrence with a perfect left hook. Lawrence was unconscious before he hit the ground and referee Jay Nady called a halt to the bout immediately, waving medical personnel into the ring. Strangely, the doctor did not remove Lawrence's mouthpiece before administering oxygen. Thankfully, Lawrence appeared to recover from the blow.  The official time was 2:58 of round six. 
source: HBO PPV
Jhonny Gonzalez KO8 Mark Johnson... WBO bantamweight champion Jhonny Gonzalez defeated a faded ex-champion, Mark "Too Sharp" Johnson in a non-title bout.  Gonzalez knocked Johnson down in round four with a right hook. Afterwards Johnson landed a few decent punches, but there wasn't much of a last stand for the former great fighter.  Gonzalez controlled the fight and finished the job with a left hook to the body and head in round eight.  With the win, Gonzalez improves to 32-4 with 28 KOs while Johnson falls to 44-5 with 28 KOs.   source: HBO PPV




.