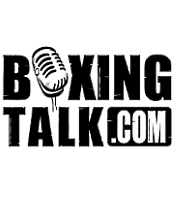 :: FIGHT REPORT AND PHOTO GALLERY ::
Michael Moorer is back.  He is not the same chiseled fighter we saw take the decision when he fought a prime Evander Holyfield over ten years ago, but he is head and shoulders above what we all saw when he ballooned to a record 251 pounds and lost to the mostly unknown Eliseo Castillo last July.  For almost nine rounds of action against the always game and formidable Vassily Jirov, those in attendance at the Pechanga Resort and Casino in Temecula, CA., and to those watching live on the Best Damn Sports Show Period Thursday night, Moorer showed heart, determination, power, and guts as he pounded away at his tough opponent.  Overcoming an early knockdown that was caused by an unintentional head butt, Moorer pressed on to show that he just might be able to take advantage of the condition that the heavyweight division finds itself in.
Vassily "The Tiger" Jirov came out for his second career heavyweight bout and landed the first punch he threw in the form of a right hook to Michael Moorer's head.  The punch upstairs put Double M off balance, but was quickly back in the face of the Tiger to show Jirov he was here to stay.  While Moorer was more patient with his punches, Jirov looked to smother his opponent with a seemingly unending output of jabs and digs to the ribs.  Moorer's best offensive attack was his accurate but infrequent jab, until he landed a single right hook flush on the side of Jirov's head, forcing the Tiger to dance on one leg until he regained his composure.  With ten seconds left in the round, Moorer failed to pressure his stunned opponent, and the two fighters tossed out jabs in the center of the ring for the remainder of the round.
For the first minute of the second frame, as Jirov was coming to the conclusion that this would not be a :30 second fight similar to what Moorer suffered against David Tua over two years ago, the Tiger attacked his opponent's body.  However, an overhand left from Moorer stopped Jirov in his tracks, and Moorer took control for the remainder of the round by landing the cleaner shots upstairs.
The former heavyweight champ continued to stalk Jirov in the opening moments of round three, landing hard jabs to the face of the Tiger.  Jirov countered with the same punch, but a head butt half way through the round did the most damage to Moorer.  With Double M stunned from his opponent's head, and with referee Pat Russell counting it as a legal blow, the unsteady Moorer wisely took a knee instead of getting destroyed by the powerful and prowling Tiger.  As the round came to a close, Moorer, who was still stunned, and Jirov, who was bleeding profusely from the forehead, showed how much heart they each possess by fighting toe-to-toe until the bell sent them in opposite directions.
In round four, Jirov saw his best legal punches land in the form of his stiff jabs and left hooks to follow, but it was more head butting that caught the attention of referee Pat Russell, and he warned the Tiger to be careful about leading with his head.  Moorer fought back hard by landing three-punch combinations of jabs and hooks upstairs, and he topped off the round with a hard right that landed flush to the side of Jirov's head.
Jirov opened up the fifth frame with four unanswered jabs to the face of Moorer, which seemed to fluster the former champ as Jirov repeated the combo several times throughout the round.  Jirov started throwing uppercuts for the first time in the fight and had mild success with it, landing to the chin and slightly south of the border of Moorer.  This forced Russell to take time away from the exciting fight to warn Jirov to keep his punches up.  For the first time, Moorer looked tired which allowed Jirov to get punches in that had not entered Moorer's vicinity a few round earlier.
Double M came out of his corner for round six throwing stiff jabs upstairs, but they did not have the pop that knocked Jirov off balance in the first frame.  Both fighters grew more patient with their punch output, but it was Jirov who won the round by landing a smacking right hook that dug deep into Moorer's ribs.  Jirov followed his attack upstairs by peppering Moorer with his pestering jabs, who at this point had trouble countering even the softest lobs.
Moorer surprisingly seemed rejuvenated for the seventh round as he caught Jirov with every punch he threw towards Jirov.  Whether it was a stiff jab or a hard left hook downstairs, Moorer pnnished Jirov by landing his arsenal all across the four posts of the ring.  The two once again butt heads as they fought close in the center of the ring, but Russell only checked the fighters' heads foregoing any more warnings.
Looking more tired than Moorer was just two round earlier, Jirov's pace began to slow from the beginning of round eight as Moorer danced on his feet peppering Jirov with hard left jabs.  Half way through the round, as the two knocked heads once again, Russell briefly halted the action and took a point away from Jirov.  The two fighters showed heart once again as they closed out the round standing toe-to-toe once again cracking each other with punishing jabs and hooks upstairs.
A stiff right jab from Double M had the Tiger bend dangerously low at the knees in the first punch that landed of round nine, but Jirov countered with his most effective weapon – his head.  Both fighters then fought their hearts out as they stood in close landing everything they had to give, for it was apparent that they were not going to leave anything in the ring.  When Moorer landed thunderous combinations of hooks upstairs, Jirov followed with the same and landed them with the same intensity.  When Jirov pressed the action by landing hard uppercuts to Moorer's head, Double M landed the same to the chin of Jirov.  However, with the two fighters brawling in the center of the ring, and with the crowd on their feet loving every moment of this war, Moorer landed a combination of hooks upstairs to Jirov, and his finishing blow was a left hook to the side of Jirov's head that put the Tiger down hard on the mat.  Jirov quickly rose but after taking Russell's mandatory eight count. Russell asked the fallen fighter to walk towards him, and that was all Russell had to see.  With Jirov wobbly and clearly not able to defend himself if the fight was to continue, Russell called off the fight at 2:08 in round nine, giving Moorer an impressive and hard-fought win earning himself the vacant WBA North American Heavyweight Title.  At the time of the stoppage all three judges had the fight in favor of Jirov with scores of 79-71, 78-72, and 77-71.  Moorer improves to 47-4-1 (36), while Jirov falls to 33-3 (30).  After the fight Moorer said that he felt ten years younger against the Tiger, while Jirov said he will continue to fight as a heavyweight and will be back after some much needed rest.  Thursday night Moorer fought an opponent with the heart of a warrior, and with this recent victory, not only showed the boxing world what he can do when met with adversity, he illustrated what he should have been doing during these recent years in the squared circle.  As for Jirov, just like his victorious counterpart, he walks away from the ring with more fans than they walked in with, more determination to prove he is the best fighter out there, and the willingness to fight anyone who thinks otherwise.  The good news for us boxing fans is that more exciting fights from Moorer and Jirov will be coming in the near future.  
Stay tuned for a one on one exclusive interview with Jirov.  
"Little" Sal Farnetti -  Travis Walker
Little Farnetti began his quest to get a .500 win record by throwing wild haymakers to Travis Walker's head from the beginning moments of round one.  The more skilled and undefeated Walker wisely chose to be more stingy with his punches, landing strategic rib shots that were followed by hook upstairs at a slower but just as powerful rate.  Round two was not much different than the previous three minutes of action as Little would put his head down, walk towards his opponent, and begin swinging.  Walker let Little get tired with his inaccurate shots, and then when he was worn out and laying against the ropes, Walker wore out his gloves by pounding them on Farnetti's head.  Little did little to fire back, and at 1:52 in round two referee Pat Russell stepped in to save Farnetti.  Walker improves to 6-0 (5), while Farnetti drops to a dismal 3-9-3.
The Nightmare Demolishes Garcia in :21 Seconds
Benjamin Garcia did not have a chance to breathe let alone put up any offensive attack against Christobal "The Nightmare" Arreola.  The Nightmare smothered Garcia with rapid fire haymakers from both gloves chopping him down like an oak tree in :21 seconds of round one.  Referee Lou Moret decided for the sake of Garcia not to even count, but instead wave the complete and total mismatch fight off.  The Nightmare keeps his record perfect at 7-0 (7), while Garcia drops to 6-5 (3).
"The Chisel" Gets a Boxing Lesson From Lorenzo Reynolds
In what started out as a slow methodical fight in the first round of this battle of junior welterweights, quickly turned into a fast-paced methodical boxing match that saw two fighters, who have just started out in the professional ranks, give it their all.  It served Reynolds well that he was fighting as a southpaw, as he was able to find the head of Sean "The Chisel" Rogers constantly with his quick jab.  Rogers found his success in the form of thundering right hooks to his opponent's head and body, but the judges seemed to appreciate boxing rather than brawling.  The scores were 40-36 (twice), and 39-37 all for the now one-fight veteran Reynolds.
Gavern Shuts Out Chilly
For having a combined weight of 476 pounds, Charles "Chilly" Wilson and Jason Gavern showed impressive defensive skills as they attacked each others' bodies during their first round.  Half way through the second frame, Gavern landed two smacking right hooks that dug into Chilly's ribs, but Wilson countered with a right uppercut that jolted the head of Gavern northwards  The pace slowed for most of the third, but with seconds left, Gavern unleashed a monstrous body attack at the same time he was being pounded by Chilly's barrage upstairs.  The fourth and fifth round was fought in a phone booth as both fighters tossed out short jabs, and in the sixth and final inning, the pair of combatants rested on each others' shoulders loading up to land one devastating punch after another.  However, after eighteen high output minutes, their leather did not quite have the desired effect.  When the scores were read, two judges saw it 60-54, while the other saw it 59-55 all for Gavern who improves to 7-1-1 (4), while Chilly drops to 9-6 (4).
CLICK HERE FOR FULL FIGHT REPORT AND PHOTOS
Send questions and comments to: Fool4Rush@aol.com