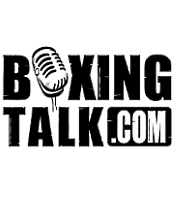 British Light Middleweight king Jamie Moore will try to repeat an earlier victory as he meets challenger Michael Jones tonight at the Altrincham Leisure Centre, headlining the big Ringside Promotions show in Manchester, England. Also seeing action on the bill are former IBO titlists Brian Magee and Richard Williams, along with Kevin Anderson and John Murray. Sky Sports presents the action live in the UK starting at 10PM GMT. Boxingtalk.com caught up with Jamie as he was winding down his preparations for what is expected to be a difficult contest. You won't want to miss this inside look at the Manchester man as he seeks to defend the British title for a very significant third time.
Jamie Moore, 20-2 (13), seeks to cement his claim of being the premier light welterweight in Britain today by turning back the challenge of former foe and ex-Commonwealth beltholder Michael Jones. The two met previously in May of 2003, with the twenty six year old Moore banging out a convincing points victory over the previously undefeated Jones. The win earned Moore both the vacant British title and Jones' Commonwealth crown. While former amateur standout Jones, now 20-1 (8), managed to finish on his feet, he did sustain considerable facial lacerations in a brave but futile effort. "I took the first fight between us on just five day's notice," said Moore. "Obviously, I've had longer to prepare this time and have a better game plan. I think I'll do a better job on him this time."
Moore will have his work cut out for him as Jones, a technician who relies on abundant boxing skills rather than power, has vowed to exact his revenge. Prior to meeting Moore, Jones had run up a spotless record of seventeen wins against no losses, including victories over Takaloo and Joshua Onyango. Initially set to defend his title against a different opponent, the Commonwealth champion found himself instead in with the Manchester southpaw Moore. Using that city's prevalent style of "educated pressure", the Oliver Harrison trained Moore put Liverpool's Jones on the ropes and went to work. The beleaguered champion suffered several bad cuts and things only got worse from there. While Jones did have his moments, he was simply outgunned.
Since that time Jones has returned to form, posting victories over Darren Rhodes, Jason Williams and Ojay Abrahams. Moore defended his British title twice and the Commonwealth once before putting his Commonwealth strap on the line against Ossie Duran five months ago but was dealt an unlucky hand. "I damaged the tendon which connects the thigh muscle to the hip, in my left leg, during training a week before the fight," he said. "At the time I figured it was just a strain but during the fight it went badly. I actually found out later that the tendon tore partially and halfway through the first round, I couldn't put any weight on my left leg anymore, so I tried turning orthodox. My trainer tried to pull me out after the second round but I wouldn't let him. I was hoping to catch Duran with a big shot but he caught me with a good shot and the fight was stopped in the third round. If I hadn't been injured and I was beaten fair and square then I would say that he was the better man and that would be the end of it but really, that to me was an injury loss."
While Moore obviously will be looking to get back on the winning track against Jones, there are also larger ramifications of tonight's title defense. Should Moore prove victorious, it will be his third successive defense of the British Light Middleweight crown and the Manchester man will be awarded the actual title belt itself, known as the "Lonsdale Belt" to keep for good. "I'm expecting my first child at the moment, as my wife is three month's pregnant and I'd like to win the Lonsdale Belt and pass it on to my children," he said. "I'd like my kids to be able to keep it as a symbol of what I was able to achieve. I've actually read a book about the belt itself and it seems that it was the first boxing title belt of any kind. After it was developed the rest of the world followed suit and began giving their champions belts."
Jamie Moore's career will be measured in degrees of relative success or failure in response to the outcome of tonight's fight. Opponent Michael Jones' desire for revenge and regained standing in the upper levels of British boxing circles are likely to be prime motivating factors for the Liverpool man, but for Moore, literally everything he's worked for to this point will be won or lost on the referee's decision. "Assuming I win on Friday night, I won't vacate the title but I'd like to keep hold of it and see what matchups can be made," he said. "Ideally I'd like to go for the European title because it's the traditional way of moving up for British fighters. I've already won the British and Commonwealth titles and I'd like to go for the European before hopefully moving on to a genuine world title opportunity. But for now, everyone in Britain who boxes dreams of winning the Lonsdale belt when they're starting out. That's everyone's first goal and I've almost got one now. Only Michael Jones stands in my way."
Boxingtalk.com would like to thank Jamie Moore and John Wischhusen for making this article possible.
Send questions and comments to: thomaspointrd@aol.com