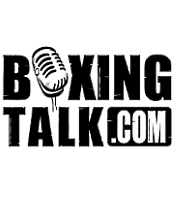 But disappoints crowd against Sam Reese
On paper, last night's fight between Montell Griffin and Sam Reese appeared to have all the makings of a quick night and all those present at The Tank in San Jose, CA would all be back in bed early dreaming that Floyd Mayweather Jr. gets his legal troubles taken care of.  However, the first clue something was amiss  came when Reese had to be re-gloved because of an apparent imperfection with one of his mitts.  Once the action got underway the fighters came out of their corners looking to size each other up. The first sign that the business of laying hurt on somebody was going to take place was a quick 1-2 combination from Griffin. The crowd, still buzzed from an earlier Mia St. John knock out, quickly turned sour and began to boo as this was the only action of a very slow and tentative first round.
In round two, Reese, the taller fighter was able to confuse Griffin who continued to search for an angle to get in on the southpaw. This turned out to be another slow round as neither fighter was able to put together a good string of punches.
At midway through the third frame Griffin was finally able to land a big right hand to the head of Reese. This was the first real clean power shot of the fight as Griffin was starting to get active and find his range. As Griffin took the fight to Reese, Reese seemed to turn and back away. This lead to Griffin getting warned for hitting Reese in the back of the head as Reese turned away from the action. The referee sent Griffin to a neutral corner and checked out Reese to see if he was able to continue after the illegal blow. Reese was able to continue since he did not show any ill effects from the self-induced rabbit punch.
Reese came alive in round four, leading to the most action of the fight. Reese appeared off balance after attacking Griffin with his punches, allowing him to catch Reese with accurate counter-punching.  However, to the disappointment of the crowd, with each passing moment in the round, the action subsided and a " John Ruiz-fest" ensued.
There was no action in the fifth. Even the last 10-seconds didn't motivate either fighter to try and steal the round. Seeing this the crowd literally started heading for the exits.  What many of the deserters missed was the opportunity to watch Griffin land several good shots consecutively to the head of Reese in the sixth inning.  The boos seemed quieter in this round, but that may have been because only half the crowd were still present.  After six complete rounds, there was still no flow to the fight, and the "punch-and-then-clench" style continued.
Griffin was trying to land any one of his punches in round seven.  He searched for any angle possible, but Reese would have none of it, avoiding many potential exchanges, making it hard for Griffin to get a fight started.  As the round drew to a close, no clean shots had landed, making it hard to determine which part of Reese's style was the most difficult for Griffin:  Reese's southpaw stance or his unwillingness to fight.
Griffin finally found some success in round eight by throwing a quick jab followed up by a straight right hand.  Again, landing these shot proved difficult, as Reese looked like he was more interested in surviving 10 rounds than winning the fight.  Reese got a taste of the canvas in the eight, but unfortunately it was due to a slip.
In the ninth, Griffin landed a nice left and the fighters started mixing it up. Griffin continued to have success with his right that followed his jab, but the opportunity to let it go was seldom available. Griffin was throwing more in this round, but this just made Reese more reclusive than Howard Hughes and the sweet science the crowd came to see was more like the semi-tart experiment.
Griffin started with a left hook trying to get something going in the tenth and final frame.  Griffin landed a big left-right combo that had Reese in the corner, but Reese was able to tie his opponent up and the momentum was lost.
After they announced the scores of 99-91, 97-93, and 96-94 in favor of Griffin, the winner grabbed the microphone from the ring announcer and thanked the crowd for coming out.  He said he tried to force the action, but Reese did not want to fight.  It was a nice gesture after an uninteresting fight.  Back in his locker room Griffin took few moments to speak with Boxingtalk.  When asked about the fight he mentioned that he was told that Reese was an orthodox fighter, not a southpaw.  Griffin went on to say that this wasn't an excuse, and he wasn't confused by Reese, but it was hard to fight someone who didn't want to fight. When asked who he would like to see in the ring next he mentioned fighting a rematch with Rico Hoye or taking on Clinton Woods. He added that he already beat Hoye once, so why not do it again. Longer term plans would include fighting Glen Johnson, or the winner of Johnson-Tarver II if it happens.  When asked if he was discouraged by the evening's fight, Griffin said he was not, and that he was happy to get some rounds in. Did Griffin think this fight was a sign that his tank was emptying out? No, he still thinks he is in good shape and his reflexes are still sharp pointing to the fact that he didn't get hit by Reese and that he was able to move around without getting caught.
Mia "The Knockout" St. John Knocks Out Joy Irving in Two

This was the fight many in the crowd came to see.   In round one both fighters came out of the gate swinging in what would become a sloppy tornado of hooks and haymakers. Few punches found their target, but of the ones that did, St. John was landing the majority. Irving came right out at her opponent, but it was clear that she felt some intimidation from the Mia St. John mystique. Irving was hurt at the end of the round and the race to see who would run out of time first was won by the bell.
In round two, the action started fast again with St. John landing the cleaner punches. Irving seemed to be taking more punishment than she wanted to and once St. John had her pinned to the ropes she tried to escape to the corner, shook her head, and the referred called a halt to the action at 1:14 of the second round. The crowd went crazy for they got what they came to see.  St. John improves to 40-4-2 (18), while Irving drops her first, falling to 6-1 (6).