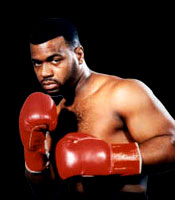 BT:  Looking back at 2005, describe how the year went for Montell Griffin?  
MG:  I only fought twice. The Julio Gonzalez fight (a sixth-round technical decision loss to Gonzalez in May) was a scam. The situation that I put my self in was bad and now I am out of it. My agent at the time Al Haymon, he set me up with two fights in the fighters' backyard with their promoter. The story speaks for itself and I am just moving on from Al.  I just signed a promotional contract with Joe DeGuardia [Star Boxing]. I am hoping for big things in 2006.
BT: Can you tell us a little bit about the signing with Joe DeGuardia's promotional company?
MG: Well right now I am waiting to get a date to fight for the USBA title. I am hoping for a mandatory and hoping that I can be fighting for a world title shortly. I am coming real hard in '06. I wasted a couple of years with some personal problems and the problems that I had with my agent. My mind is clear and I am ready to roll now.
BT: Do you feel that 2006 is going to be your year?
MG: I hope so. I am glad that I have Joe DeGuardia as my promoter because I feel that you have to have someone to watch your back in this business. Together I hope that we can get to a world title fight.
BT: Do you think that it would be easier to fight [world light heavyweight champion Antonio] Tarver being with Joe DeGuardia?
MG: I hope so. I think with him being interested in signing me, I look at that as a positive. The two fighters that you want to fight in the division are Antonio Tarver and Glen Johnson. Out of my six losses I dispute 4 of them, the only losses that I feel I [truly] lost to was Roy and Tarver. When Roy said that he was going to come back and fight I would have loved to get our third fight with him. I would like to fight the winner of Roy and Bernard.  Right now I want to get my name back out there with the fans so I can get an opportunity to push for the big matches in the division. I want to fight all the big names in the division.
BT: Tarver-Tyson fight might be coming to fruition? If that fight does get made would you like to be on that undercard?
MG: Yeah that would be great. I want to show all the fans and press that I have not lost a step. Like I said I have all my personal problems behind me and I am looking forward to moving on. I am 35 but I feel like I am 25.
BT: Do you feel as though a lot of people may be skeptical of you coming back and to show them that you are for real?
MG: (Cutting In) Yeah I got to prove it to the people. The Rico Hoye fight and Julio Gonzalez fight a lot of the fans came up to me and said that was some B.S and you did not lose. Just having a couple of L's by my name will take a little bit away from me. If I can get two good wins under my name then I can be calling out the big boys. 
BT: When can we see you in the ring next?
MG: They have given me a tentative date to fight for the USBA title. I am just waiting for the contract for the fight. Once I know, you will know. After the holidays and once the New Year comes around I will get back in the gym training.
BT: Is there anything that you would like to say in closing?
MG: I am still here. In 2006 you will see the best of Montell Griffin. Anybody that wants to write me off I am here to prove them wrong. 
Send questions and comments to: aldenjimmy@cox.net