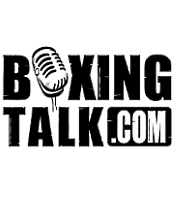 BT: Mike, you're 25 years old now, how old were you when you began boxing?
MA: I started when I was 20 years old, after high school.  So, I don't have too much experience.
BT: How many amateur fights did you have, and what tournaments did you compete in?
MA: I had 40 fights, 35-5.  I turned open class right away, I was like a natural to the sport.  I won Ringside Nationals 2001, I won all the state Golden Gloves, and always made it to the semi-finals in the nationals, but because of politics, the guys with bigger names always got the edge over me there.  I got into a car accident before the Regionals, so I couldn't compete the 2004 Olympic trials.
BT: You have a wrestling background from before you began boxing?
MA: I have a HUGE wrestling background!  I started at the age of 4 years old.  My Dad and Uncles were big wrestling guys back in the day.  They wanted us to pursue the dream that they had, and there were so many of us cousins and we were all athletic and wanted to compete with one another.  We had a team our own, called AVA, which stood for "Alvarado Vicious Athletes."  I've had over 2500 wrestling matches.
BT: What was you High School record? 
MA: In HS, I was 97-0.  The only thing that set me back was my eligibility.  I was ineligible due to grades my freshman year and my senior year it was somewhat my grades and also attitude.  So I only won two state titles.
BT: Why didn't you go on to wrestle in college?
MA: After HS, I was worn out, I'd wrested year round for so long.  I wrestled both freestyle and inter-collegiate and got to travel around the world.  I was both 7-time freestyle national champion and 7-time inter-collegiate national champion, so I had so many matches.  It was a good experience though; it taught me mental toughness and discipline.
BT: What skills transfer with you going from wrestler to boxer?
MA: There are so many similarities between the sports.  Wrestling is a lot of strength and different techniques, but it pretty much prepared me for that one on one, mental feeling of being out there on your own.  Also, I have very good balance from wresting and also playing football and basketball.
BT: What about in terms of weight loss?
MA: I've learned a lot about the aspects of cutting weight.  I've done it both the bad way and I've done it the healthy way.  I learned the best way to do it.  We have Brian Caldwell here our strength trainer who helps us.  I'm already on weight, 140lbs!  And I only have to weigh 143.
BT: Ok, I have to ask, since you have matt skills, and are now refining your "striker" abilities..  Is there any possibility we see you try out MMA or UFC?
MA: People ask me that all the time!  Especially the guys back home who wrestled ask me because I had a good style in wrestling that could match up and beat almost any other style.  But once I began boxing, I pretty much lost interest in continuing wrestling.
BT: Tell us about your management team.
MA: Back at home, my co-manager is Henry Delgado.  He introduced me to Frank Acosta who was training Panchito Bojado at the time, and he'd take me to spar in their training camps.  That's when I met Shelly Finkel, who signed me.
BT: You've got quite an impressive team; obviously they believe you are destined for great things.  Ronnie Shields is your trainer, Shelly Finkel manager, and Bob Arum's Top Rank your promoter
MA: Yeah man, I'm blessed to be in this situation I'm the luckiest guy in the world to have the opportunity to be with guys like this.  To be in camp with Ronnie here in Houston is great, and helping Juan Diaz train, it's a big step in my career.
BT: Who are some of the guys you've gotten to spar with recently besides Juan?
MA: Raul Marquez, Kasim Ouma, J.C. Candelo, & Lenard Lane who's a really good sparring partner for me, we help each other out a lot.
BT: How long have you been working with Ronnie Shields?  What do you think is the biggest thing he's improved in you?
MA: About 7 months now.  My jab.. Ronnie stresses my jab a lot.  I'm long and lean, tall for my weight.  So I can use my jab, and everything else falls behind that.  Other than that, we're just taking it one step at a time, one fight at a time, and making sure it all falls into place like we want it to.
BT: What's keeping you motivated, to keep improving moving forward in boxing?
MA: My hunger for success and to be able to satisfy the financial needs of my family.  They support me and motivate me to not go back to some of my old ways that I had, not doing anything and being lazy, and using my abilities to accomplish something that puts into the record books that shows I was a good fighter.
BT: You're from the Denver area but come to Houston for training camp.  Talk about the boxing scene in both areas and what it does for you and your training.
MA: There are a lot of talented boxers everywhere.  But back home there's a lot of talent there too, but it seems almost as if no one wants to progress outside the state of Colorado.  And that's why the local scene isn't as big and in the media. And the trainers and the athletes out there are too competitive with one another instead of trying to fight outside the area.  And that's why Denver isn't a big success in boxing.  And I go back home and I try to teach others and pass the word, but it's not like that there.
BT: You fight Friday night, what do you know about your opponent?
MA: Sergio De La Torre.  He looks pretty tough, I've seen him at weigh-ins, but never seen him fight.  My amateur coach knows him and gave me the heads up on him.  He had a pretty big amateur career, so he'll be tough.
BT: You're still developing as a fighter and building your record.  When do you expect to take your opposition to that next level and face a tough test?
MA: We're basically just taking it one step at a time, working on progressing, and making it come together as a fighter.  My goal is by the end of this year to step up into the top 20-30 and start doing 8 and 10 rounds fights and climbing the rankings.  And about a year from now, be ready for a title fight.
BT: You've had a few injuries recently.  Tell us about them, how they happened, how the healing process went and if you have anything lingering.
MA: In January I was getting ready for the Castillo – Corrales 2 undercard.  While preparing for that, I injured my neck while sparring, so that set me back a little bit and wasn't able to fight in February and March.  It feels good, strong now.  I was slipping a punch and used a wrong technique and got caught on the top of my head and made a bad movement which sorta pinched a nerve.  We're fixing that technique now tho, I've got to keep my chin tucked in, not looking up as much.
BT: Thanks Mike and good luck on Friday.