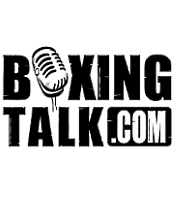 Press release:
Cestus Management's junior welterweight sensation "Mighty" Mike Arnaoutis has completed his 5th and final week of sparring in preparation for his much-anticipated showdown with top 140 pound warrior Jauquin "The Killer" Gallardo this coming Friday evening, to be broadcast live on the Showtime Network's ShoBox: The New Generation series.  At 16-2-1, and with his only two defeats coming by way of close and hotly contested decisions, Gallardo's impressive record reinforces his reputation as a tough and tenacious competitor.  Nevertheless, "Mighty" Mike is without fear.
Says the undefeated Greek phenom, "Gallardo, he fights very hard.  He's a strong fighter.  That's good.  We will have a good fight, everyone will watch. It will be a good, strong fight for the boxing fans.  But at the end, I will win."
With his young charge having completed over 130 rounds of hard sparring, Advisor Mike Michael is feeling confident about the action this coming Friday.  "'Mighty' Mike is ready.  He's worked hard, he's trained hard, he's done everything to prepare for this fight that we've asked him to do.  His focus and dedication are excellent, and he's been looking like a monster in the gym.  Once again, Gary Shaw and Gary Shaw Productions have given us the opportunity to showcase our fighter on national television.  Gary Shaw is one of the few promoters in this country who sees the big picture and who is willing to give outstanding young fighters the attention and exposure that they deserve.  We thank Gary for that, we're very excited, and believe me, we don't intend to have our boy look anything less than spectacular!"
Fight fans can catch Arnaoutis vs. Gallardo live from the Chumash Casino in Santa Ynez, California, Friday, December 17, at 11 pm eastern time on ShoBox: The New Generation, broadcast on the Showtime Network.