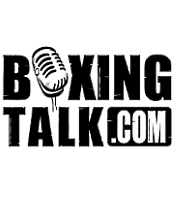 As has been documented on February 17, 2005, Boxingtalk's 2004 prospect of the year "Mighty" Mike Arnaoutis found himself in a much more difficult fight than anticipated when he faced last minute replacement Roberto Santa Cruz. When the judge's final scores of 116-112, 115-113 and 114-114 were tallied and rendered this hard fought 12-round majority decision was awarded to Arnaoutis. The unbeaten southpaw Arnaoutis survived a few tense moments to successfully eek out and thus retain his regional junior welterweight title.
Those who the saw the entertaining contest have analogized it as a career see-saw for both men. The boxer whom might have spring boarded him self to the status of rugged and to be reckoned with contender was Santa Cruz and the young lad who might have seen his side of the board dip was Arnaoutis. So which is right? Did the Golden Greek lose some of his luster? Or was it the case of an under rated and under estimated hungry fighter? Or did Arnaoutis who closed out 2004 scorching hot simply have a brief cool down? 
Cestus Management advisor Mike Michaels has his own take on what happened and a few words for those who might be ready to jump off the "Mighty Mike" bandwagon.  
"In reality and absolutely no excuses for him, Mike just came out flat on that night, he just had an off night," said Michaels.
"A lot of factors I believe played into Mike's performance one of which we came into this fight against Santa Cruz blind. Our first look at him was the weigh in. We trained for Michael Warrick and then his injury happened it kind of threw things off for us. When Santa Cruz was named there was no film and really nothing but hear say to go by as far as what to expect from him," stated Michaels.
Mighty Mike who makes his home in the garden state better known as New Jersey is currently back in his native Greece taking some time off. Michaels feels this vacation is one that is well deserved and will do his promising prospect much good.  
"It really has been a hard working past six months for the kid, who had fought 5 times during this time. Mike might have hit a wall of fatigue on this night," said Michaels.
Prior to Arnaoutis's departure he did have a few words to share with Boxingtalk on his own behalf.
"I worked hard for this fight and I will be back with a vengeance. I felt I let my fans down. I realize its not what they and others have come to expect from me. I promise to not let my fans down again," said Arnaoutis.
"I'm more upset with my performance than anything that Santa Cruz did. I still thought I did enough to win the fight. He was tough but he is not a great fighter," said Arnaoutis. 
"I am looking forward to my next time out and hopefully it will be against a top junior weight, maybe David Diaz or Oscar Diaz," said Arnaoutis.
Santa Cruz showed absolutely nothing during the initial six minutes of this bout and may have been fortunate that Arnaoutis did not fight more aggressively. Arnaoutis in the third round demonstrated immaturity and a bit of cockiness that could have been disastrous. Arnaoutis began mocking and playing to the restless crowd instead of capitalizing on an opponent who seemed overwhelmed and unwilling to engage in combat. In the proceeding rounds the unorthodox, gutsy kid gave Arnaoutis the fight of his life. Michaels feels his promising pugilist lost focus; he also gives Santa Cruz credit for playing what he referred to as "possum" using a strategic tactic to lure "Mighty Mike" into deep water.   
"Santa Cruz really did come on strong from the 6th round on and had his moments but he really was not effective with his aggressiveness. At no point did he hurt Mike," said Michaels.  
The television audience however did see a blood drenched towel in the hands of corner man "Stich" Duran. This crimson spectacle according to Mike Michaels was caused by a head butt to the mouth of Arnaoutis. This unfortunate blow caused the mouth piece to pierce the tongue of Arnaoutis. The blood which Arnaoutis swallowed for the majority of the fight might have been his biggest adversary in the ring on this evening. A similar situation if you recall happened to welter weight Ishe Smith, ironically on Shobox in which his mouth protector turned out to be a traitor piece of equipment during his encounter with Randall Bailey.  
"Jacob "Stich" Duran did a great job keeping Mike cool during this turmoil. The kid swallowed a lot of blood, he showed a lot heart and guts," said Michaels.   
"I feel "Mighty" Mike showed a lot character pulling out a win during dire circumstances. He showed the true measure of a man and the heart of true champion," stated Michaels.   
"If you look at the positives it was a great TV fight for Showtime and those who saw it got a great fight. It was also another experience in "Mighty" Mike's career. With this win we will go back to the gym and continue to learn and go forward," said Michaels.   
"We know there are a few technical mistakes that Mike still has that against better competition might be costly but that's what the gym and trainers are for, we will break these bad habits and come back stronger," said Michaels.   
In response to boxingtalk's own Scott Schaeffer the always feisty Mike Michaels had this to say: "I understand he writes about boxing and I respect that. But exposed what? What was exposed? "Mighty" Mike showed he can go 12 rounds. He showed heart. A statement like "exposed" is way off base, in my opinion," said Michaels. To all of our opponents who are standing in line and think there is a chink in the armor they are fooling themselves. Mike is still about a year ahead of schedule he is way beyond his 15 fights. If they think they can perform or do what he did on this night under the circumstances that he faced they are wrong. Anyone who thinks they have a millimeter of a chance they are wrong," said Michaels.
BoxingTalk would like to thank "Mighty" Mike Arnaoutis and his advisor Mike Michaelss for their time and would like to wish them continued success in the future.
Send questions and comments to: spjr21@yahoo.com