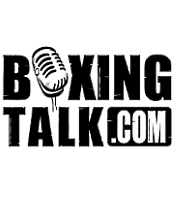 Hey Greg it's kyle THEEEE SPINKS FAN. I just want to say thank you for setting me up with that Cory Spinks phone call. Not many people would do that for a young fan as myself and what your doing is getting people in touch with the sports best stars. I just love what you are doing and the site keeps getting better and better. It's already way better than maxboxing and ive been a member there for two years. I really appreciate all the work you put into this website and thanks for doing what you do basically.
Kyle
Leon's Response: Glad you enjoyed the call Kyle. I know that made your day, no week, no month...LOL. The site is going to get better and better that you can count on. In the less than two weeks that I've been in charge, I believe our viewership has noticed a big difference in how we're operating. Since you're THEEEE Spinks fan, I should see you on some of the other chats asking people about fighting Cory. Ouch.....I hope that second to last sentence doesn't get you banned from a message board somewhere.
Sup. Why will Vivian Harris have to fight in Germany. Also I believe he is the #1 ranked Junior Welterweight. Do you think it is a good idea for him to move up to welterweight. I think he can be anyone except maybe Kermit Cintron. Do you know who will be fighting on Showtime in December. Thanx in advance
Leon's Response: I hope some of you guys now see why I said he was making a terrible mistake by not taking the Ricky Hatton fight. He could have gotten $750,000 for Hatton in England, now he's looking at half of that for Urkal in Germany again. The Hatton fight not only brought more money, the win over Hatton does a lot more for Harris than beating (the probably tougher) Urkal again. Harris is one of the best junior welterweights in the world, he just needs to make a big fight Malcom X style, by any means necessary.
Whats good Greg?? I have been rocking with your site for a long time now and have been a member for a few weeks. I never wrote to you or on the message board before but tonight i participated in the chat with Cory and got a little excited. I love boxing but there arent too many people who can hold a solid conversation about boxing with me so i figured I could try to do this whole e-mail message board thing because i could talk boxing all day. Anyway, i asked Cory what were the chances of him and Vernon getting together and how he would deal with the jab. He gave me a cocky answer and i was feeling that but he didnt really answer the question. I think Vernons jab was the key to beating Shane (as well as the booming right hands) and could fustrate Cory as well. Cory differs from Shane in the way that he is taller and a southpaw but i dont think he hits as hard. I think it s a tactical fight, fought on a high level with Vernon taking a decision because of harder, cleaner punches. But dont get me wrong, I think Cory is slick and will make Vernon miss a lot and will get his in terms of punches and may when a decision but in the end i think the judges will be impressed with the harder shots. What do you think?? After Cory answered i kind of agreed with him, Vernon does need to get in the ring and do something before he gets a pound for pounder in there. I remember a while back you said you spanked someone in Fight Night and that you live in the Bronx. I live in the Bronx and im nice, when can we get this poppin?? Im not really trying to make the mailbag, just get up with me when you get a chance.
Leon's Response: The Spinks camp isn't too fond of Vernon Forrest for a couple of reasons. First, he never mentioned Cory's name when he was on top of the welterweight mountatin and secondly, he recently dissed Cory during his in studio segment on Friday Night Fights. Coming off the injury, Forrest has a lot of getting back to do. If his first fight is Castillejo, I pick Forrest to grab that interim title and look to make something happen with the winner of Wright-Mosley II. Forrest and Spinks would be a tactical boxing match that the more disciplined fighter that night would win. Forrest doesn't like fighting southpaws and Cory is as slick as they come, so you might have to give Cory the edge, but not by much. Brother they call me verdad in Fight Night, because I'm the truth. You wouldn't last three rounds with me...I only play on X-Box by the way since I think PS2 is garbage.
Hey mate whats going on-i first have to say the attention u give us members is second to none-i had a prob with my membership and ron heard personally emailed me and made sure all was ok-u guys are kewl like that and thanks-other websites dont give two shits about their members like u guys do-two things-what are your thoughts on Amir Khan the 17 year old wonder kid in the Olympics-there have been reports he is better then Prince Naseem Hamed was when he was 17-secondly i know u talk with Bernard Hopkins-i visited the gym when i was on vacation in south beach where he is training now-i have a question-i heard he doesnt lift weights-is that true? does he do pushup-chinups-situps? and also do u know what his diet is?? ok i lied one more thing Jawaid Khaliq the IBO champion from great britain is looking for a opponent-i know u specially have a great influence on fights happening away from promoters-so i was wondering if u could ask corey spinks to fight him-this guy Khaliq is a awesome boxer and everyone is avoiding him-his mgmt even talked to spinks mgmt but nothing became of it-and ray oliveria even turned him down-this guy is the truth-sorry for the long email and i look forward to your response-peace out!
John
Leon's Response: John I am glad you're enjoying the Boxingtalk.com experience. I think Amir Khan has a world of potential. He's 17 years young and looking impressive in Athens. I don't think he's going to take the Gold, but I think with the right trainer and righ timetable, he could be a very good professional and more importantly a star. It could be like the second coming of Hamed if he decides to fight in the US. A lot of people were and are better than Hamed was at 17. One of them is my man Devon Alexander, who would have been in Athens, had the politics of USA Boxing not held him back. I have footage with Devon beating Muhammad Abdullaev like he stole something. As far as I know, Hopkins isn't big on weights. Khaliq is not even an option for Spinks at this point.
Greg this is Philip once again this time is replying for your answer of one of my question previous email. When you answered the reason why Tarver was so high on your list you said that Tarver had beaten a lot of high contenders while then you critize my scope of putting Morales cause beat Espada which u consider a shot fighters and etc... Greg come on, man I know about criterias and your is pretty accurate, but you can't be biased when you do a P4P list and have good relationship with the Magic man. Tarver did a great job agaisnt Roy and he sure deserve to be in the P4P list but not that high and never higher than Morales, just simply by accomplish criteria. Morales no matter what scope you focus has beaten different fighters in different divisions and has always manage to find a way to keep winning, So my point is that Tarver should definetly be accomodate a bit lower. Now moving to another subject, I heard here in Puerto Rico that boxingtalk was on Trinidad Training Session yesterday, DUDE I WANT TO SEE THE VIDEO BAD POST IT, and can you tell me what do you saw in Trinidad what were the good and bad on what you saw. Tell me I trust your judgement dude!---
Philip Gonzalez, SanJuan, Puerto Rico Philip Gonzalez Santiago
Leon's Response: Does Morales or anyone else on the p4p list for that matter have a bigger win than Antonio Tarver? Nope. My relationship with Tarver has nothing to do with him being #2. His win over my longtime #1 does. If he didn't deliver he wouldn't be that high on my list, and if I didn't think he has what it takes to beat Jones in a third fight he wouldn't be so high on my list. Whenever you make your p4p list, you can put Tarver, Hopkins, Jones and Morales wherever you'd like to. I aprreciate your insight, but list is not changing until performances in the ring tell me different. How do you be hearing things like that in Puerto Rico? Damn, Boxingtalk.com all over the globe....we're going to have a lot of surprises coming up. Trust me. .
Ok Heres a question for you, At the time of the Mayweather coralles fight, who was the bookies fav? If they fought again would you pick Maywether to win in the same style? Also in your P4P list you say if Maywether moves up and beat Spinks he would get the p4p top spot but why does Mayweather haver to move up again to convince you? Wouldnt wins over the top guys at 140 do it for you? Hopkins doesnt move up! Also Jones was qouted saying he will see who wins the Bhop, Hoya fight and may move down to 168, who would he want to fight at 168? Hoya for the cash or Bhop for the fight? I really can not see Hoya fighting Jones and I dont really see Jones movign down to 168 either, can you?
Leon's Response: I believe the Corrales was the betting favorite but I'm not sure. Betting on fights is not my bag baby. If they fought again, no I wouldn't pick Mayweather to win the same way. If you believe Roy Jones is ever going to see 168 again, you may be as gullible as the reporter who wrote it. Beating all of the top guys at 140 would make him a #1 p4p, but not by beating one of them. None of them are too high on my p4p list to warrant the jump. Why would Jones move down to 168 to fight Hopkins when Hopkins says he's willing to come up to light heavyweight to fight Tarver? DLH Vs. Jones will never happen and Hopkins-Jones II will probably never happen again either. If they couldn't make the fight before Hopkins beats De La Hoya, how are they going to do it afterwards?
MEMBERS CLICK HERE TO READ THE FULL MAILBAG
Send questions and comments to: gleon@boxingtalk.net