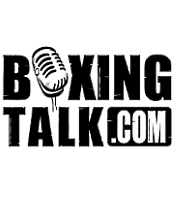 The word enigma as defined by Webster's Dictionary reads as follows; something that is hard to understand or explain. When someone is characterized as an enigmatic individual it reflects on that person being inscrutable or a mysterious person. Now then enter the 6 foot 7, 255 pound heavyweight named Michael Grant. Grant as many can attest to is blessed with a body that even Achilles would envy. You look at him and say there is no way this man should ever lose to another man, however this is boxing not body building, a sport where looks can be deceiving. Grant if you recall went from being the heir apparent heavyweight, to an apparent error. If I may borrow a line from Jay Z, "you went from top 10, to not mention at all". This career collapse happened in basically a blink of an eye. Well more like a well placed uppercut by Lennox Lewis, while holding the back of Grant's head in a one handed vice grip. You can add a pair of knockout losses at the hands of Jameel McCline and Dominick Gwinn and Grant was labeled as a genuine bust. Now how does one manage to shake this unflattering tag? Grant promises that he has the answer to this dilemma. To him it's a simple model also shared by the Oakland Raiders CEO Al Davis, just win baby. Grant has a chance to do just that when he'll be a part of Team Freedom's pay per view show case which will originate from the Target Center in Minneapolis, Minnesota.
 Michael Grant brings his record of 40-3, 31 KO's into the ring this Friday evening against journeyman Alabama's own Marcus McGee. Grant took timeout to give us his thoughts on this upcoming bout and his future plans.
 "I'm feeling good and I am in great shape and everything is really cool man," said Grant.
 "Believe me no one in this world has higher expectations of me than I do. The last couple of years have been a learning process and soul searching period and I am just ready to go," stated Grant.
 Grant says that the criticism that he has faced the last few years by people within boxing circles did affect him
.
 "A lot of the negative stuff people were saying and writing about me did get to me. I took a lot of it personally, earlier on in my career I was younger obviously and I really was not ready to deal with some adversity. I am older now and wiser and I don't take all critiques to heart anymore. I learned to only worry about what I can control and that's it. People are going to say what they want to say about you anyway," said Grant.
 The 32 year old Grant who now resides in Atlanta, Georgia describes himself as a family man who is out to provide the best for his wife and three children. Those who question his heart and desire to boxing according to Grant really don't know him or what he is all about.
 "I have been a good athlete at any sport that I have tried. I love to compete and I love to win. At 32 I am young in this business. Also mind you I did not have the amateur pedigree in boxing as some of these other fighters have had. I had 12 amateur fights," said Grant.
 "When I fought Lennox maybe I was rushed a little bit but what am I going to do? Turn down $3.5 million dollars? This doesn't mean I did not want to take that fight because I did and my managers and everyone associated with me wanted it to," said Grant.
 "To me at this point I know where my career stands. I know what its like to be a headliner and be a top prospect and everyone building you up and then those same people then kicking dirt on you when you are down. It's not about believing in critics it's about believing in myself and I will be a world champion," said Grant.
 "I have been back to basics. I feel in total control of myself when I'm in the gym.  I am much smarter and more seasoned now," said Grant.
 Buddy McGirt who is an Arturo Gatti upset victory away on Saturday night from being branded as the training God has been working with Grant. However due to his aforementioned commitment to Gatti he will not be in Grant's corner Friday night. Instead assistant trainer Patty Fitzpatrick will be Grant's chief second and will apply his version of the Buddy system.  
 Grant blames his two losses to Gwinn and McCline as mechanical deficiencies that he had in his arsenal back then.
 "I give Teddy Atlas credit at what he tried to do with me but I was busy trying to be the fighter that he wanted me to be and not me," said Grant.
Grant says that the last year or so he feels natural and that he is just fighting on instincts.
 "In the ring I am just reacting now and not thinking so much in the ring, I am just letting my hands go and just reacting and not being so methodical in there," said Grant. 
 A victory for Grant over a 13-6 McGee will not put him into the pick'em pool which is the heavyweight division. However a few wins against guys like McGee will get Grant a chance at the upper echelon of the division. With the way things are right now Grant knows that there is not much separating him from his goal.
 "I hope to by the end of the year get a chance at one of the top 10 guys in the division. My goal right now is to stay active. If all goes well with this fight I would like to be back in the ring by August, said Grant.  
 "I am not calling anyone out that has never been me. I just want another shot at my dream. My concern is just winning and if I do that and take care of my side things everything else will fall into place," said Grant.
Boxing talk would like to thank Michael Grant and wish him the best of luck in his career. Also special thanks to the lovely Lourdes Carrero of Team Freedom for her time and cooperation.
Note: For tickets you can call Leon R. Margules or Lourdes Carrero  at 954-241-2000.
Send questions and comments to: spjr21@yahoo.com