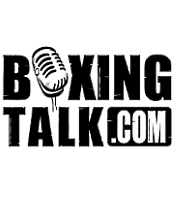 It was billed as "The Champions of Tomorrow," and for almost all those who walked away victorious after Saturday night's bouts at the Maywood Activity Center, that, with all likelihood, could definitely be the case.  Urbano Antillon, easily the fans' favorite since he calls Maywood his home, electrified the crowd with an impressive knockout victory over the rugged J.C. Martinez.  Former Playboy model Mia St. John gave the crowd what they wanted -  a chance to see a current semi-star fight in their small suburban town near Los Angeles, but it was the pretty-in-pink fighterette's dazzling appearance and centerfold background that got the hearts racing of those in attendance rather than her performance in the ring.  Regardless, those who came to see some good ole fashion up-and-coming boxers give their all as they climbed the championship ladder, definitely got their monies worth on Saturday night.
Antillon Stays Undefeated in Barn Burner against Martinez
Trained by the legendary Freddie Roach, Juan Carlos Martinez came out aggressive against the hometown favorite Urbano Antillon, landing combination of hooks to his opponent's ribs, and then venturing upstairs to land the same crushing shots upstairs.  Looking not to be overmatched by the more experienced fighter, the undefeated Antillon evenly exchanged with every shot that Martinez dished out.  However, it was Antillon's  punches that landed harder, causing more damage than his opponent could inflict. Towards the end of the first frame, Antillon caught Martinez with huge right and left hooks that retarded any thought of aggressive action that Martinez could possibly contemplate, let alone act upon.  In the second round, Antillon cracked his shorter stockier opponent with punishing hooks downstairs, and then landed with the same hand upstairs, but Martinez pressed forward and answered back digging into the ribs of Antillon, and following with hard but mostly ineffective shots to his head.  The third round opened with Martinez landing a smacking left hook to Antillon's liver followed by a left hook to his chin seconds later, but Antillon fired back with even harder crisper hooks to Martinez chin and ribs.  The two stood toe-to-toe in the middle of the ring for the last half of the round tossing out sweat-spraying rib shots and head snapping uppercuts.  Once the punishment registered with the respective boxer, they were right back in the center of the ring – a sign to their opponent that they would not be the one to give up any ground in this highly entertaining and exciting round.  Martinez once again came out as the more aggressive fighter in round four, but again it was Antillon's less frequently thrown powers shots that inflicted the more effective head shots.  Martinez got Antillon's respect when he landed excruciating body shots that continued to dig deep into Antillon's sides.  The two fought the remainder of the round by touching foreheads and fighting within close quarters landing mostly hooks to their ribs.  In the last ten seconds before the fourth came to a close, they began firing away a flurry of furious hooks and crushing crosses to each other's faces with both landing their fair share of scoring blows.  Martinez and Antillon found themselves in the center of the ring once the bell sounded to begin round five, and again fought as though they were closely knitted together.  At the advice of his corner, Antillon began firing his uppercut that, when followed by huge body shots, put Martinez against the corner for the undefeated fighter to do his best work.  With Martinez essentially trapped, Antillon unloaded an enormous amount of powerful left and right crosses that not only landed to the head of the troubled fighter with 100 percent accuracy, but twice had referee Raul Caiz almost stepping in to cease the punishment.  In between the split second time of Antillon's left glove landing and right glove coming in to land hard on Martinez head, the damaged fighter escaped his attacker, but like a cat playing with his mouse, Antillon picked up exactly where he was a seconds earlier and unleashed another flurry of rapid fire crosses.  This time Caiz would be the one who would save Martinez from Antillon's brutality, and at 1:36 in the sixth round Caiz stepped in to give Martinez a much needed break and Antillon a much deserved win.  Antillon keeps his record clean and improves to 14-0 (8), while Martinez drops to 13-26 (1).
Mia St. John Wins Unimpressively Against Janae Archuletta
Her slow lugging punches resembled those of an exhausted lumberjack landing the final swing of his axe to bring down a hundred year old redwood, but for the former Playboy model, this type of offensive attack was enough to force Archuletta into a backward two-step with each blow that landed flush on the side of her face.  The first two rounds saw St. John landing more of her right hooks upstairs than her opponent, who was simply attempting to avoid them by countering with meaningless jabs.  The third frame was more of the same, but fought at a slower pace with the only boxer putting on an offensive attack, St. John, resting after four minutes of "action."  St. John actually came alive in the fourth and final frame landing numerous combinations upstairs to Archuletta, who had ceased any offensive attack by this point, and instead was holding on to her prettier opponent until the slow-paced fight came to an end.  All three judges saw it the same and gave St. John the unanimous decision win with scores of 40-36.  St. John improves her record to 36-5-2 (13), while Archuletta drops to 4-9-1 (2).
After Exciting the Crowd, Cruz Drops His First to "Panchito" Arce
What happened in the last thirty seconds of the first two frames between Jose Cruz and Francisco Arce was a direct result of what did not happen for the first ninety seconds of each round.  For the fighters who saw little action in those opening moments, they quickly came alive putting the crowd up on their feet and fast leather hard to each other's heads with huge right hooks and stunning uppercuts.  The third round had Cruz and Arce in the center of the ring waging war with a series of uppercuts that landed nicely upstairs.  In what was soon becoming a war of determination for who could dig deeper after some impressively hard fought moments, Arce found his heart first by gathering up enough strength to land a crushing left hook to Cruz' chin, forcing the stunned boxer to grab at Panchito's waist.  Arce escaped his opponent's grasp and continued to fire away as he looked for the punch that could send both fighters back to the showers.  The round however, did not have enough time for Arce to work his magic. But in the fourth frame, that left hook that Arce threw and landed to stun Cruz a couple minutes earlier quickly became Panchito's money shot, landing it several times to Cruz' chin.  Cruz attempted to counter these hard shots by throwing more leather than his taller opponent, but Arce used his foot speed to evade Cruz' sudden burst of aggression.  Cruz came out fast and hard in round five, but was slowed down by Arce's more accurate shots to his body.  With seconds left in the round, Cruz found Arce's chin twice as Panchito was lying against the ropes, and was caught with two consecutive left hooks.  The sixth and final inning began and ended like the two warriors were on fire and throwing their leather would extinguish their flames.  For three minutes of action, Cruz and Arce continuously threw bone crushing hooks and face smashing hooks, and then when they decided to change up their punches, they threw more hooks.  The hookfest to the heads of these two boxers ended with the crowd on their feet as the two went ballistic in the center of the ring, landing as many punches that their arms could let go of.  When the bell sounded, the boxers and their teams congratulated each other in the center of the ring, where most of the action had just taken place, as they waited for the close decision to be read.  When the judges had their say it was scored 58-56 (twice), and 57-57 to give Arce a majority decision.  Panchito improves to a record of 14-1 (4), while Cruz drops his first with a record of 18-1 (14).
"El Fantasma" is Bad Luck for "The Black Cat"
As both Jesus Macias and Alonso Figueroa opened up their bout with patience and willingness to wait to land the perfect punch, it quickly turned into a wild exchange of hooks to the head, mixed in with a wrestling match to determine who would be the stronger more dominant fighter…only Macias was warned by the third man in the ring to stop the grappling.  The second round started off just like the first half of the first frame ended, with furiously fast amounts of ammo upstairs that were being blocked by the other boxer's forearms and incoming punches.  When one of the bombs finally landed the effected boxer would hold onto his opponent until the referee stepped in to get the two throwing leather again.  Spending most of the first half of round three hidden under his gloves, Figueroa was being bombarded with a continuous flurry of hard hooks upstairs, even though a few actually landed. Once the Black Cat tired, El Fantasma came out of hiding to begin a series of body shots and hooks upstairs.  Overhand rights became the theme of the fourth round as both boxers tried to land them.  When that proved to be ineffective with the two fighters started fighting in a phone booth.  As the two came out of the close infighting, and with ten seconds left in the round, El Fantasma landed an amazing straight right that landed about as clean as they come directly on the Black Cat's chin.  The referee forewent any count and quickly called in the ringside physician to come to the aid of Macias.  Figueroa impressively improves to 2-1, while Macias loses his first with a record of 2-1.
Jonathan Bobadilla Loses His First Professional Fight Due to a Big Mouse
Looking for his first win in five professional fights, Rivera was fending off the shorter stockier Bobadilla throughout the opening moments of round one.  As Bobadilla used his impressive foot speed to find his desired target, Rivera was caught with a beautiful right hook upstairs half way through the first frame to give the previously 1-0 fighter the confidence of going up against a taller more experienced fighter.  In round two, whenever Bobadilla entered Rivera's personal bubble to land a cracking right hook upstairs or a stiff jab to the gut, Bobadilla had already moved out of the way before the punch registered to Rivera's brain and had enough time to go through his circuitry to throw a meaningful counter punch.  With a good sized mouse closing the left eye of Bobadilla, and knowing this was only a four round fight, Rivera came out more aggressive in the third frame to land clean punches upstairs.  In between the third and fourth round, the ringside physician was called to take a gander at Bobadilla's growing rodent under his eye.  The doc advised referee Raul Caiz to bring a halt to the action thus giving Rivera a TKO victor over his more dominant opponent.  Had the swelling been caused by a headbutt the fight could have gone to the scorecards, but since it was caused by one of Rivera's punches, the fight automatically goes to Rivera.  With this stroke of luck, Rivera wins his first fight and improves to 1-3-1-, while Bobadilla evens up with a record of 1-1.
Jorge Garcia Controls Keith "The Natural" Richardson Through Four
Making his professional debut Saturday night, Jorge Garcia performed wise beyond his ring-years by tenderizing Richardson's ribs in the opening moments of round one, then going upstairs to crack "The Natural's" head with clean combinations of hooks.  Once the second bell rung, and Richardson made it clear that his poor record was not indicative of his actual performance in the ring, the two slugged it out landing monstrous hooks to the side of each others' face.  Several times Richardson had Garcia trapped in the corner, but the rookie used his superior speed and strength to not only escape damage, but to inflict some of his own on Richardson.  Garcia implemented his knowledge of uppercuts and straight rights in the third frame, thus outlanding Richardson in almost every exchange of the round.  By the time the third round ended, "The Natural" was pulling back on his punches and paying the price with numerous shots of costly left hooks to the side of his face.  The fourth inning started out nicely for Garcia as he landed a right hook – left hook combination that temporarily stunned his forwarding opponent.  Midway through the round Garcia was caught with a clean right hook right on the button of his chin, but walked away unscathed as he landed some crisp rights of his own to Richardson's head.  As the final round came to a close, the two combatants traded clean and effective punches upstairs in the middle of the squared circle until the bell sounded, taking the fight to the judges' scorecards, which read 40-36 (twice), and 39-37 all for the rookie Garcia.  With this loss Richardson's record falls to 1-5-1.
CLICK HERE FOR FULL REPORT AND PHOTOS
Send questions and comments to: Fool4Rush@aol.com