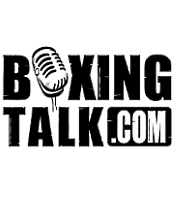 Take this for what it's worth. Ike Ibeabuchi is weighing about 350 lbs right now in prison. One of my good friends is a prison guard in Carson City where Ike is serving his sentence. My friend and I were talking about him one night and he told me that Ike will never fight again because he will have to serve like 10 years here minimum, and then he'll have to go serve a consecutive sentence down in Arizona where he committed a similar offense. He probably won't get any sympathy from a parole board because he had beat up the police who came to arrest him the night he committed the crimes which put him in prison. In addition, I'm sure someone at the parole hearing will bring up Jo-el Scott. Two different people, but similar crimes, both boxers, those things tend to happen. I believe had Ike been able to stay out of trouble, or his handlers kept a better eye on him, that he would have been like Mike Tyson of the 80's and took out all the aging champions and former champions and been the one who took out all the pretenders to the crown, but that's just my opinion.
OnFire's response:
When the name Ike Ibeabuchi is mentioned all I can recall are his fights with Chris Byrd and David Tua as well as his absence from boxing due to an incident at a hotel room involving a call girl or something of that sort. When Ibeabuchi fought him, Tua was on a wrecking spree in the heavyweight division. Tua had twenty-seven fights with twenty-three of them coming by way of knockout. He had KO wins over fighters like Oleg Maskaev, John Ruiz and Darroll Wilson. Ibeabuchi easily outboxes Tua to win a UD close on only one card. In the fight with Byrd I think we all felt he was a dangerous opponent. Byrd found this out the hard way by staying on the ropes a little too long. Ibeabuchi was young, strong and undefeated and now he's a little older, maybe stronger and still undefeated. Will the parole board KO his chances at another shot for glory? As much as I love boxing, if the crime merits the time then so be it. I know people deserve second chances, I am a product of a second chance, but he's had more than a second chance. This after getting only a few months for an incident involving the kidnapping of a former girlfriend's son and a car crash that permanently injured the boy. Had he kept his life intact and continued to do his thing in the ring I too believe that he would have been a major player in the heavyweight division if not the heavyweight champion of the world. To think of it he was like Mike Tyson in some ways. Allegedly sexually assaulting a woman and spending his prime in a jail cell.
I am almost positive that many fans will be jumping on the Showtime boat if they haven't already. I know it would burn the HBO suits up if you could start pushing some of our dream fights over to Showtime. NO offense to King or HBO but if we can show them that we will pay the dollars(10 million to be exact) to watch Tarver vs. Hopkins at 175, Tarver vs. Toney at heavy, Klitscho vs. Toney, or Winky vs. Hopkins or any other fight that the fans want but HBO and Don King won't consider. I think a good test would be to first poll the readers to find out what NON Don King title, NON HBO contract fights are we willing to pay for. Then make sure the fighters are for it. Lastly take the final vote counts to Showtime and see if they'll run a poll as well. If they can see it will make dollars then they have got to see that it makes sense. This year alone they have proven that they are trying to make the best fights. Lets see Rahman vs. Toney, Jirov vs. Rahman, or whatever other fights that would be meaningful and exciting. These are fights that interest me but I trust my comrades that we can all vote on some good fight cards that Showtime could throw together, heck I'd even prepay. Tell me I'm crazy but I have watched you do the impossible during these "slow months" of are beloved sport so I know you can pull this off. Also, I know Dominic Guinn fought on an under card recently, did you catch the fight? how did he look? Can you see what he is up to these days and what his comeback plans are? I really feel as though people did him wrong. The guy who beat him is now about to become the Heavyweight champ of the world, It was Dominic's first big fight at home and there was tremendous pressure, he could have fought a bum but he fought a champion and lost a close fight, Venus was aligned with Saturn, and did I mention that someone was suspiciously drinking water from the same company that his corner got his water from!!! All jokes aside, he had a bad night against a good opponent, not a Danny Williams. Give me holler man...-
hollis from Va
OnFire's response:
As a boxing fan with no ties to any network (laughs) I watch the fights on both as they come. Lately though Showtime has been having bad luck with their fight cards and I must admit that HBO's telecast have more color and definitely the better quality fights. If there are conflicting fights on the same night I always go with HBO and watch a recording of the Showtime bouts. But I don't think fans tuning in to Showtime or HBO for that matter will make a difference. Polls can run day after day but it still won't change anything in my opinion. Promoters have to learn to work to bring fans quality fights. The same for the networks. Wladimir Klitschko who is a product of HBO will be making his first appearance on Showtime. Will this be a move followed by others? Or was Wladimir booted from HBO for his accusations of being drugged during the Lamon Brewster fight. If this was the case Lamon should have been detained because he had a left hook full of drugs that knocked him out. I did not catch Dominic Guinn's last fight but even for those who did twenty-three seconds would not be enough for anyone to evaluate him. Who do you feel did him wrong? Not the judges because Monte clearly beat him up. Yea, maybe Venus was aligned with Saturn. And just maybe the cow jumped over the moon. What up Hollis from Va.
You're right in saying let's wait and see how Bowe looks and how far he is from being a top contender in the game. I believe he could w/ his natural ability be there in max 3 fights (as long as they're not too much of losers and leave in 1rd!).Great to hear the man say he knows when to walk away (unlike Holyfield). As for Toney, I like the guy believe it or not personally. I like the fact he doesn't take shit from ANYONE and will pop off at anyone, and when he beat Jirov (who was the best cruiserweight) I think he beat him soundly in an exciting fight. Of course the cruiserweight division was/is a WEAK division. The only reason I believe the fight was somewhat close is because Jirov kept coming and throwing punches but they didn't seem to land (cause they were always telegraphed) w/ any authority. As for Holyfield, he may have been the favorite but I truly didn't believe he would out box Toney and I knew he wouldn't KO him since Toney does have a solid chin w/ that fat head of his. I would pick Vitali to KO Toney though just because I don't see him handling the style Vitali brings w/ the POWER ,and Toney doesn't dance anymore and you CAN'T just sit there and take those punches no matter how fat your head is! I know Toney is more a slip and slider now but I don't think that style works w/ the BIG boys and that was proven when an even slicker slider in Byrd was beat, and he dances(for a heavy)lol. I do take an in shape and motivated Lewis to beat anyone still. Oh Tszyu gets whooped by Sharmba! Lata play.
P'cola in da house!
OnFire's response:
Riddick Bowe, a man I used to love to watch fight at the Daily News Golden Gloves tournaments. A champion who gave us three great fights with Evander Holyfield. A fighter we all saw take a beating high and low from Andrew Golota, not once, but twice. I used to train amatuers and a few years back had to attend a coaches clinic at the ESPN Zone where they spoke of Bowe and his slurred speech. They showed a video of him before the first Holyfield fight and then another video after his last fight. He didn't sound good. And after three wars with Evander, two beatings to the lower extremities and an eight year layoff you think it would only take him three fights before he is a top contender? If the man knew when to walk away he wouldn't be walking back in... Toney is a fighter that is always talking about smacking someone or kicking someone's ass but outside the ring I don't recall if it's ever happened. I know he's kicked ass in the ring many time with Jirov being the fight that put Toney back on the map. I didn't think Holyfield would be able to hurt Toney either because James is one fighter, minus the one knockdown in his career and the falling into the ropes against RJJ, that I've never seen hurt, wobbled or wavering in the breeze. Toney's beard is solid. Right now, we have to see how James does against Booker, especially coming off an injury of that magnitude. IMO Toney loses to Vitali, Byrd and Tarver. I like the active Sharmba to beat the inactive Tszyu. Peace.
I know I haven't written in a while, just wanted you to know I haven't fallen off the Earth, yet (to some people's dismay). I've been hearing that MAB backed out of the fight with Pacquiao and that he will be fighting Morales at 130 instead. Is this true? I'm getting a hard-on just thinking of the fight. November 6th PPV would be the most likely date. Have you heard this or is it just rummors that have reached my ears. Are my friends playing tricks on me to see me get excited and then pull the rug out from under me? This is my fantassy fight and would be a great candidate for fight of the year. I'd pick Morales UD because of his skill and granite chin but it's a real pick-em. Who would you pick and why?
OnFire's response:
Good to hear you're still with us. As Boxingtalk has mentioned on the front page, Manny Paquaio may be ready to make that move up to 130lbs and challenge Morales as was his original plan in taking out all the Mexican legends as he showed against MAB and JMM. But as also mentioned Golden Boy Promotions is trying to get the fight with Pacquiao as well. I don' know what your friends are up too but if they do it to get you thinking about the fight I doubt they are looking down at the rug. Morales has shown time and again that he could do it all. He went to war with Barrera and then outboxed Hernandez. He will be able to do both with Pacquiao and be the better at both. Erick will be too strong for Manny and has the power to stop him.
What's up ? I wanted to ask you about Floyd Mayweather. Will you be talking with him soon? And are his legal troubles that Main Events talked about, very serious? could it jeopardize his career? I also wanted to know what you think the WBC plans to do about this surgery and the proposed date for a purse bid? In one of your responses to a question you mentioned that you wouldn't be suprised if Mayweather fought for the interim WBC title, who do you see him fighting? Could it be Harris for the WBA and the interim WBC? Finally is there any news on Barrera and Morales and who they are fighting next? Big Ups to the best site on the planet bar none! When is the Weekly TV Show coming? Man, I was checking out Friday Night Fights when Corrales was on their and this cat basically looked as if he saw a ghost when the name Mayweather came up. He said Mayweather was like #5 or #6 on his list of fights that he wanted. And then that ghost came back in the studio when, the audience agreed that Mayweather should be his next fight. I saw in his eyes the same thing I thought I saw in RJJ's eyes after he lost to Tarver and was asked about a rematch. (Man that just hurt to bring that up. Speaking of RJJ, when are we going to hear from him. I do you think he is over the fact that he lost by K.O. to Tarver. Keep up the good work, BoxingTalk is 1-10 on my P4P list of Boxing sites.
AJ BoxingTalk member since April
OnFire's response:
What's good. You know Boxingtalk brings it to you when you need it most. We always do our best to bring you the boxers as the questions arise and have them all answered. Fighters have been going through legal troubles for many years due to managerial and/or promotional matters as well as a number of different aspects pertaining to the sport. We've heard of fighters signing with promoters while still being signed to promotional deals. And the same for managers and the sorts. His career will continue and we will see Mayweather in some meaningful fights. Mayweather gave up his title to move up and challenge for a title. Gatti has mentioned that he want to fight Floyd but who nose(laughs). I would like to see Mayweather fight Harris for the WBA title and as soon as Gatti can smell the roses they can make it happen and Mayweather will perform his own surgery.... I know you've seen the news regarding MAB, Pacquaio and Morales....Thanks for the props....Do you think he saw a ghost or the dollars to be made with the mention of a Mayweather fight? IMO the looks couldn't have been the same because right now Diego is on top of the world with his breakdown of Freitas fresh in many people's minds. And the look you talk about was after a devestating loss for RJJ. He believes that the first fight with Mayweather was stopped when he felt in his heart that he could have continued. Diego is a champion with heart. I'm sure there was no ghost. Maybe he was showing his excitement. RJJ will never get over the fact that he lost to Tarver because no matter what he does it will still be a fact. Mentally he can get over the knockout loss with fights such as the one on Sept 25th. Though fans will watch, we really don't want that fight do we? We want to see Jones come for his "get back" and let Tarver have some "get back" on the money side of things. Thanks again AJ.
Greg man excellent P4P list, I got to congratz you on having the balls to put a list which explain as accurate as it can be the true P4P fighters of today. Even so as we all do, we can have discrepancies on that list. So I have severals basic questions to modify the list at list in my point of view. Anthony Tarver #2? Greg man are you kidding me, this guy lost against Harding in less than 3 years, he should be in the list but a bit lower. Roy Jones Jr. #4 definetly that guy from Texas sent you some of that stuff, cuz man he just got koed in less than 6 minutes. The rest of the list seems fine and accurate, since I only disagree on those 2 been ranked so high, I would suggest to move up Eric Morales to the #2 spot then moving #3 Mayweather and #4 Corrales. Also I got to admire you for putting Corey Spinks at #5, it takes a lot of guts to do so, but he had back it up and i take my hat off him even when I know he sucks. The best ranks on the list are DLH which truly haven't won a fight I believe since 2002 (At least to my view we know judges make him win). But excellent list and please explain me the reasoning on having Tarver and Jones in front of Erick Morales who had unifieed 2 divisions in less than 2 years and also ignoring Corrales over Tarver who had only beaten Roy Jones Jr which i know was consider the Top P4P.(let me clarify that doesnt put you at the top it put you near, but damnnnnnnnnnn #2 is way too near)---
Philip Gonzalez, Puerto Rico Philip Gonzalez Santiago
Leon's Reponse: He lost to Harding in a fight he didn't train for got beat up and came back to knock Harding out in a fight that he didn't have to take since he was Jones' mandatory. He took that fight to make a statement and he did. To me, that is the fight that put Antonio Tarver on the map. Harding was world class and clearly one of the best light heavyweights in the world at the time also. Harding gave Roy Jones a tough fight with a torn bicep, remember that? He got ko'd in less than five minutes by another fighter who I had in my p4p top ten based on his draw with Roy in the first fight. Tarver has proven on more than one instance that he has one punch power, and the punch that knocked Jones out would have knocked out most fighters in the game. He put EVERYTHING on it. P4P is a matter of taste and opinion. The general concept of who the best fighters are is pretty much the same amongst boxing enthusiasts. The order might differe but the names are the same. Erik Morales at #2? Let's look at the run down, beat Hernandez, who though a champion was never considered a world beater. He won the vacant title against David Santos, who was coming off a LOSS. Chavez, IMO, would have knocked him out with two good hands for twelve rounds. Before that he fought a shot Guty Espadas, who just so happened to beat Moraels in their first fight IMO, for the number one spot. Before that he fought Velardez, who had no business being in the ring and the much smaller Ayala.
What's going on Mr. Leon? I'm not sure if my other email got through, but I just had a few questions for you. First, is there any possible way that we could Tarver-Hopkins this year. I know that we could probably see Jones-Tarver 3, but is there a chance that we could see this fight if the Jones fight doesn't happen. I see the WBC might order Tarver to fight Briggs, but since Tarver has stood up for the WBC I'm sure he could get an exception to fight Hopkins. I know there was big talk of this fight earlier. Next, how far do you see Diego Corrales going up in weight? Do you see him fighting at 147,154, or even 160? He's got the heght and I don't know about his body frame. Finally, since it looks like we may be seeing Pacquiao-Morales in November, who do you see Barrera fighting next? I thought maybe he could make his debut at 130 against Casamayor, Anchondo, or even 3K Battery. A fight against Anchondo or 3K Battery could give him a belt, and more money in unification bout with the winner of Pacquiao-Morales. At 126 I think it would be a good fight for against In Jin Chi (though he may be in negotiations for someone else) for the WBC title. What do you think? As Always keep it coming.
Robert- Augusta, Ga
Leon's Response: Tarver-Hopkins is a possibility, not a probability. Better chance for Tarver-Jones III than Tarver-Hopkins, that's what I think at least. Tarver-Briggs looks like it's going to get ordered, but it looked like the WBC was going to strip Wright in April and he's still holding his belt in August. Diego go as far up as welterweight. I think he'll be around 135-140 for a while though because that's where the money is. 154 would be pushing it I think. It also looks like Morales-Barrera III still has a chance of happening as well, I'd still say that's the betting favorite of Pacquiao-Morales also....remember where you heard that first. Barrera Vs. Anchondo would seem a good possibility since they're both with Golden Boy Promotions, whose CEO has informed us they have the November 27 PPVdate.