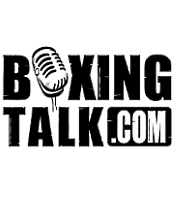 I just wanna Holla at BoxingTalk, G , ONFIRE, and HYPE and give you cats crazy props. You got the best website going handsdown. The chatroom the other night was off the hook. Also I still cant believe I got the chance to talk to Winky, and he was mad real. So keep it up and good looking. Also cant wait to see Winky handle his business, wish I could be there...Peace Out!!!! Mino
Leon's Response: Glad you're enjoying the site brother, myself and the rest of the Boxingtalk.com staff appreciate it and will continue to work tirelessly to make sure that doesn't change. Believe it brother, tell your friends what's up because we're going to be putting the fans on the phone with the champs on a regular basis.
Wut up G? I'd like to give you mad props for making that chatroom session possible. It was the BOMB!! Winky Wright is one of my favorite fighters, along with Tarver, Hopkins, Pacquiao, and a few others. I would love to win the phone call in the Antonio Tarver chat. I really had a great time talking to the other members of BT as well. Hopkins vs De la hoya is right around the corner and I can not wait for that fight to happen. Oscar definitely has good mobility in the ring as well as decent handspeed. Unfortunately those assets were not present at 160lbs. I realize it was his first fight at middleweight and he probably burnt himself out by throwing 100+ punches in the first couple rounds, but he is still a fighter who fades after about seven or eight rounds. Those who give Oscar an excellence chance to win look at his boxing ability and his speed. Oscar is a tough SOB, but Bernard is very strong physically, he has awesome stamina (especially for a 39 yr old), he is the much bigger man, and I still think he's underrated by many as a boxer. It wouldn't suprise me to see Bernard outboxing Oscar! Nonetheless, I expect to see Oscar on his bicycle, with Bernard hunting him down, cutting off the ring, and getting his head in Oscar's chest. Oscar will be competitive in the first 5 rounds or so, but Bernard will start to wear him down and I predict he knocks Oscar out in ROUND 11. He might have to knock Oscar out and I don't think Bernard will be satisfied if he can't stop Oscar. Bernard is superstitious of the judges and the authorities of boxing almost to the point of paranoia. In a huge event such as this, knowing that Oscar is a superstar who hasn't come close to getting KOed and knowing that this is for history, do you think the self-promoted Hopkins can get a decision without any promotional backing or support on his part? Would the judges try to alter history with fraudulent scoring should this fight go the full distance?
Leon's Response: Thanks for the props brother, the entire Boxingtalk.com staff appreciates it. If you keep coming to the chats the odds are in your favor that you're going to end up on the phone with one of the best boxers in the world. Hopkins-De La Hoya is around the corner and the dog days of summer are almost over. Good thing too because it's tough to keep the content coming when the boxing world is slow and there's no fights coming up. Like Kevin Cunningham said in the members only video interview, "Hopkins is going to murder De La Hoya." I definitely believe Oscar took Sturm lightly, and I know he's training hard for Hopkins but Hopkins is training hard for him too. Hopkins knows that he needs to take the fight out of the judges hands but making it as one sided as the Trinidad fight was. I wouldn't be surprised if Hopkins outboxed him either. All you need is an active stiff jab to send Oscar's world upside down. The first half of the fight will be interesting but Hopkins is going to rough Oscar up over the second half of that fight.
whats up G!! i want to start off by saying that tarver needs to get off of his ass and fight already!! what's taking him so fucking long!! okay, okay, u have celelbrated enough, fight someone!! now saying that, i have been reading about how the wbc is going to order tarver to fight his mandatory paul briggs. if he fights paul briggs i will be mad! why....because he could have fought someone better in joe calzaghe and he is going to fight someone we have hardly heard of!! come on!!! wouldn't he makle more money with calzaghe than briggs? tarver u have waited way too long for ur next fight to happen and now u might fight someone we haven't hardly heard of. briggs kinda falls into the category of fighters roy jones fought that we called easy mandatories!! LOL. hhmmm.... looks like tarver is kinda getting the roy jones-itis, where he talks about big fights but then ends up fighting a nodoby!! well, that is if he fights briggs still. tarver, u should have fought calzaghe. i think he is a bigger challenge than briggs is!! hurry up and fight!! and im hearing that morales pacquaio is close to being done. but i have also heard about barrera vs morales 3 and pacquiao vs barrera 2. which is more likely to happen on november 6th? peace out. Sergio Herrera
How many times do I have to go through this? There will be a decision regarding Tarver's promotional dilemma on September 9. At such time we'll know who his legally bound reps are and what moves get made from there. The favorite for his next fight is the rubber match with Jones and if that doesn't happen he's probably going to have to make his mandatory against Briggs unless he decides to move up to heavyweight if something big presents itself. Paul Briggs is a solid fighter who has earned his shot by beating FOUR top ten WBC contenders in a row. He's not one of these mismandatories. Although I don't think he beats Tarver, he's a fighter on the rise who has worked hard for his shot. Why should he have fought Calzaghe in England? For what? I didn't hear Calzaghe going out of his way to call Tarver out. And besides, the way Calzaghe's fights have been falling apart at the last minute, who's to say it ever would have happened. By the way, Tarver KO's Calzaghe. If it's Barrera-Morales 3 it's on November 27, I still think that has the best chance to happen. If not it'll be Barrera-TBA on November 27 with Morales and Pacquiao on November 6, which would SUCK big time since Tszyu and Mitchell are going to be mixing it up the same day.
What's up G?? As usual you are on your game man. It's not much I can say that has not already been said. Boxing talk is all of it dawg. Hey man why you do that to those dudes from main event. I got the feeling you piss those guys off a bit. Serves there @sses right, the funny thing is that even if Gatti looses to Floyd he will still be a draw, and could still make money. People love Gatti because he's a warrior not because he's champ. What's the deal with this guy James Toney is fighting??? I see he has the perfect record, but is he any good? I hear that Ike is up for parole is there any word on weather or not he got out, and if he dose do you think they will deport him? Keep up the good work hommie...
Leon's Response: On my game? R U Sure? I feel like I'm slacking, LOL. I believe HBO should help make it happen by guaranteeing to keep Gatti's HBO deal intact even if he loses to Mayweather. If Mayweather is a win-win with regards to the HBO deal, what the hell would they have to worry about? If HBO steps up to the plate Gatti could lose and come right back on HBO making the same money he is now. Rydell Booker is a talented fighter but he hasn't taken his recent training camps too seriously and has the look of an underachiever. Chris Byrd told me he wouldn't be surprised if Booker pulled the upset so long as he shows up in shape.
What up G man, I think Chris Byrd's days of being that heavyweight thats so hard to hit are over. He's gettin older and just like RJJ he reflexes are leaving him.When you take alot of shots from Oquendo and Golota its time to get a plan b in styles.Do you think Tarver is sitting on his RJJ win to long I remember when you talk with Buddy he said he just wants him to get a fight lined up and he still havent.Keep up the great work. Maxboxing is garbage.Holla back,Ya boy NARDFAN,Louisiana
Leon's Response: I know you're not the only one who feels that way, and that may be the case. However, in his last two outings, we haven't seen Chris Byrd fight like Chris Byrd. If he comes out his normal self against McCline and has too hard of a time with Jameel, then your analysis will hold more water. Chris did nothing but come forward against Fres and didn't even try to box against Golota. I thinkt the boxing world is being too impatient with Tarver, it's been three months since he KO'D Jones. If another three months pass and his next fight is nowhere in sight then he's definitely sat on the win for too long, but I expect Tarver to fight again before the year is out. He's already in the gym training. Maxboxing is not garbage, it's a fine site with fine writers, it just isn't Boxingtalk.com. It's like highlander, there can only be one and Boxingtalk.com is Neo.
What's going on G! Thanks for your response to my email. Someone sent an email about he great job you and your staff is doing with the interviews and the emails. I just read to reconfirm that. You guys are truly something special to the boxing world. I see there are a lot of Tarver Haters and Hopkins haters too. When someone mentions the name B. Hopkins around me I always speak of the day I met him at the Blue Horizon and how down to earth this guy is. He took a picture with me and talk with me and my friends for over an hour just about small things. Giving us tips on boxing, and this was when he was only the IBF champ at this time. He put his arm around me while we where talking laughing and joking with us and people would have thought we all grew up together. I see why he is always in shape as he never hang out in clubs always in shape and lives a very clen life outside the ring which makes your lifespan inside it longer. I'm rooting for B. Hopkins on 9/18 but I'm a DLH fan because he has great skills. People should stop hating on Tarver as well. He is what boxing needs as well as James Toney. He sells hisself to the public and to anyone listening. Thanks for the update on the Peterson brothers bothers. I know them personally and Anthony and I have the same birthday. I use to train with them for a brief time and out of all the talentled kids there they remained focus and gave there all and look where they are now. Please keep info on them. They have a great story to tell of the things they overcame to be here. May God bless them!!!! Also Is 2sharp ever going to face Luis Perez and Jose Nieves and Clarence Vinson should get together as with the winner facing Raefel Marquez. Also when will you do a interview with Ivan Calderon. Keep the little guys in boxing in rotation too. Oh! Yeah I'll keep reminding you about the t-shirt. LOL Keep up the good work Boxingtalk. Your boy 2small from DC
Leon's Response: Glad you doublechecked us! Tell your friends what's up now too. As you know I speak to Bernard on a regular basis and he's been nothing but personable with me from day one. Bernard talked for hours? NO! Lol. The more success you achieve the more people will hate, and that's for all aspects of life. Hopefully Johnson will face Perez one day, but I don't think it's going to be anytime soon. But as you know in boxing things change, quickly.
How's things? I know you have been watching the Olympics and I was wondering whether you have seen Britains Amir Khan fight and what your opinion of him is. I have to say I am very impressed to see our only boxer at the games being so talented and only 17 years old too. I know the scoring system suits him but he proved he can punch too by stopping a Korean in the quarter finals guaranteeing him at least a Bronze. He is being touted and rightly so for big things over here in England. My only concern is that Frank Warrenn has already got his eye on him and we all know that he has hindered the progress of our two most recent exciting fighters in Calzaghe and Hatton at the negotiation table. Khan has stated that he would like to stay an amateur and fight in the 2008 Olympics but I can see the prospect of a lucrative professional career too appealing to refuse. I just hope Warren doesn't get him. Ideally it would be nice for somebody like Dan Goosen to promote him but I know that won't happen. Keep up the stupendous work that you're doing. It is well appreciated. Who needs boxing magazines (a month late over here) when you can be a member of boxingtalk.
Leon's Response: I've been watching them. Khan looked impressive in his last fight...I don't think he's going to get the gold but he's already made himself a success story at the age of 17. That was the only REAL stoppage of the Olympics. The scoring system suits all of the Europeans. Did you expect Warren not to have his eye on him? Ideally it would be great if he could see his pro career kick off in the States. The beauty of the internet is boxing fans no longer need boxing magazines or newspapers to get the most accurate information.
MEMBERS CLICK HERE TO READ THE FULL MAILBAG
Send questions and comments to: gleon@boxingtalk.net