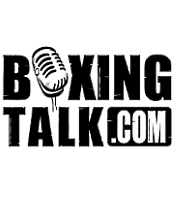 Hey, I just wanted to send my thanks for providing such a great forum for the fans and fighters to interact. I have never been to a professional sporting event of any kind, much less a big fight. And thanks to your site, and the extreme generosity of Shane and Jin Mosely, I am now 9 days away from my first big fight and the experience of a lifetime. You have no idea how much this means to me. My friends drive over an hour at least two to three times per month to my house for the fights. I even buy Don's Heavyweight snoozers! We watch so many fights, that my wife could be considered knowledgable in some circles, from being bombarded with so much fight talk and boxingtalk exclusive inside info on a weekly basis. Again, thanks so much! I can't believe I'm sayin this, but I'll see you in Vegas!!!!!!!!!!!!!!!!!! Boxingtalk IS the fight fans' website!
Gary
OnFire's response:
The countdown continues. For a guy that's never been to a professional sporting event in his life this must be some kind of dream come true. Trust me, I know how much it means to you or how much it would mean to any true boxing fan. I hope that your trip is a safe one and that you enjoy the benefits of meeting, greeting and having dinner with Shane and Jin Mosley. Then to be ringside and see Mosley try to regain the undisputed championship from Winky is a dream in itself. Include the autographed gloves and picture along with all the TEAM MOSLEY apparel and it's a boxing fans heaven. I'm glad your dedication to the sport of boxing has paid off and once again enjoy that trip. Now let all your friends and family know where the place to be is..Boxingtalk.com!
What's up Fire... I can't believe no one is buzzing about the upcoming Mexican showdown on the 27th! I am pretty sure Erik Morales will come in as the favorite not only because of his last two victories already at 130 but because of the beating Marco Antonio Barrera took against the Pinoy Puncher. Even though MAB took out a non-dangerous yet durable Paulie, most people are skeptical about where he really stands mentally and physically. After MAB lost those two fights to Junior Jones, he took some time off to re-assess his boxing and came back a better boxer. Although he didn't take as much time off after the Paqiou fight, he still took some time to re-asses his boxing and did to Paulie what Morales (or any other fighter for that matter) couldn't do. I may be stretching what little boxing wisdom I have but I think Barrera will either KO Morales in the late rounds (ref stoppage) or get a decision by battering up Morales. Morales bruises easy around the eyes. What are your thoughts?
Martin Moreno
OnFire's response:
What's up Marty? I guess fans are starting to get like the fighters, not looking ahead to other fights before theirs is over. For the third time, these two fighters will mix it up and you can bet that it will be fight of the year material or so we hope. Erick Morales fought a great fight against Carlos Hernandez using lateral movement and beautiful boxing. Manny Pacquiao took Barrera apart with his quick hands and hard punches. I don't know if Barrera beating Paulie Ayala the way he did meant that he was back or that Ayala was just at the end. I think Morales will utilize his good boxing and strong punching to pick Barrera apart much the same way Pacquiao did. Morales is an exceptional fighter and boxer and I just think right now he's on top of his game. Morales by decision or late round stoppage.
Hey OnFire, I just wanted to say I enjoy your mailbags, though I still miss the Rigler! I wanted to throw my two cents about Vivian Harris. The biggest mistake of his career was not taking the short money and fighting Ricky Hatton. I think that's a fight he can win – and it would have forced the elite at 140 to fight him. He's backed out of two fights because of money, and he has no one to blame but himself – Zab Judah was the other. Unfortunately, being champion doesn't necessarily mean you can command high purses, it's how many butts you put in seats that dictates that. If Harris would have defeated Hatton, Harris would have been a big name, and HBO would have at least clamored for a match with him and Mayweather or Gatti. That would have been the biggest payday of his career. These guys aren't afraid of Harris, they just look at him as a high risk fight with low reward – that does not mean fear. Harris made some bad business moves, and now he's complaining about obscurity – he has to bear the brunt of the blame for it. I think he's a good fighter, and even though I am a Mayweather fan, I see him as a huge threat to Pretty Boy. However, Harris messed up two good opportunities, now he has to wait.
OnFire's response:
Thanks, I'm glad they are to your liking. I appreciate it, really I do. Got to admit that Rigler was one of a kind. Funny too. Vivian Harris is not going to take what he feels is short money to fight anyone, or so I would guess. He feels he is the best in the division as do the rest of the top fighters. The difference is that Harris wants to prove it with those same top guys. Having Emanuel Steward as his manager/trainer could only mean good things. When more people get the chance to see Vivian fight maybe we'll hear what they have to say then. Remember when Winky Wright had the same problem until given the chance against Shane Mosley? Now people aren't giving Mosley a chance. Maybe that will be the case for Harris is the future. I think Harris would be a threat to any of the junior welterweights. The longer they wait, the more time he'll have to get better.
Sup. I've been saying it for like a year. Vivian Harris is the best at 140. If any one has a chance, it is Floyd Mayweather. Dude is like 5 10. He will knock Tszyu out easy. I like Tszyu, but Vivian Harris is hungrier with just as much or more power, plus he can box. Tszyu can't be a robot for long with his right hand following people around. Just had to get that off my chest. Vivian Harris is in the same position Winky Wright was in a few months ago. Too too much risk with no name. It will change in 2005 Remember where you heard it first. Can you have Vivian Harris on the live chat. Thanks in advance
OnFire's response:
I always thought that Sharmba Mitchell was the best fighter at fourty and Kostya Tszyu wiped that thought right out of my head by sweeping the floor with Mitchell. I don't think Floyd Mayweather hits hard enough to hurt much less stop Tszyu but it could happen from an accumilation of quick, hard punches. Tszyu has the better chance of that happening for him though. Vivian Harris has the height and reach along with heart and determination to give anyone of the top fighters a run for the money. Things will change for the better in 2005 as Steward will hopefully work to get Harris the exposure and big fights he needs. I'll see what I can do to make that live chat happen. Thank you.
yes i agree vivian is madd tall, i think he shoulda said something like give him a shot at the title or something, how do you think Shambra would do against the likes of Spinks, Cintron, Rivera and Judah? i think if he boxes he can make Cintron look goofy but if he gets caught goodnight, as far as Rivera i havn't seen homie, i'd pick Judah and Spinks over him. Holla Back! by the way is there still talk of Spinks vs. Tito?
OnFire's response:
Vivian Harris stepped into the ring and gave Tszyu his props on the fight and said he would love to get the chance to fight the junior welterweight IBF champion. There was no need to say anything other than that. Sharmba, who is making a move to welterweight is another slick southpaw boxer just as Spinks and Judah. The difference among the three is the fact that Zab Judah drops the harder punches. I think Spinks-Mitchell would be a boring fight with two counter-punching southpaws who can't hurt anything with their fist. Spinks will pitty pat him to a victory. Kermit Cintron may be too strong for Sharmba but can be made to look sloppy chasing the southpaw. The only questions will be if Cintron can catch up to Mitchell , when wil it be. I say later than sooner. Now would be a good time for Sharmba to prove what he's been saying all these years about Judah being a punk. I think Judah will be too fast and too strong for The Little Big Man but it will be interesting to see how he looks at the higher weight. After Trinidad polished off Mayorga word of a Spinks fight were running rampant. Now those same talks are nil. Spinks may get it on with Judah again but I'm waiting on confirmation from Zab to be sure.
I want to commend you on the great work you do. I'd like to know about the status of Kostya Tszyu's contract with Showtime. It seems as if the best possible fights for him are against HBO fighters (Mayweather & Gatti) both could even go PPV. Does he have a multifight deal with Showtime or is it a fight by fight thing. What are the prospects of seeing the king at 140 on the "Heart and Soul of Boxing".Also, I don't have a credit card and I'm in Cuba. Is it possible to get a membership with a money order or check. By the way you gotta come down here to check out the program here. People from all over come to train and do documentaries. Recently, A Brazilian named Nogiera who fights in Japan was training with the Olimpic team. You can get here through Cancun or the Bahamas. Cuba doesn't stamp passports. You GOTTA come check it out!! I get all my boxing on my dish and through the internet. Peace Brotha!
Amilcar
OnFire's response:
Thanks, I appreciate it. Kostya Tszyu's contract with Showtime has expired and it will be interesting to see where he goes from here. Something has to be done to make the big fights that Tszyu says he wants. If the networks can make it happen then we can see Tszyu against Mayweather and Gatti. But he can fight Harris on Showtime and I don't think there will be any problems. I've forwarded your email to our webmaster and he should get back to you in regards to this. No way, no how am I even thinking of going to Cuba. Afraid I may not be able to get back out even though I'm from Puerto Rican decent. Peace.
What happened to Fernando Vargas? Do you think he wil fight again? And while we are at it, how about Naz?
OnFire's response:
There has been word of Fernando Vargas returning in early 2005 for his return fight at middleweight. If we never see him in the ring again Vargas has other business ventures that will keep him busy for some time. Hamed must be somewhere in his country living like a prince.
I'm sorry but I've got to say that the Evander Holyfield by who?? Brad Cooney??? was the worst boring I have ever come across at boxingtalk.net since I associated myself with the website. I dare say it does not deserve to be in this great boxing website at all because all the boxing stuff here is rocking. Is the guy new in conducting boxing interviews?? I dont want to crucify the guy hence I didnt want to reply straight to him but I feel you can show him a few tricks about how to do the job properly. Whilst I'm in this issue, I have bin trying several times to become a member but since I'm in South Africa where my currency is rands I'm not succeeding. Can you advise me as to how I should go about becoming a member of this great website which is only fit for true boxing lovers??
Mendile Zifo  East London, South Africa
OnFire's response:
Talking to a fighter is not easy, let alone asking him questions. Alot of people ask similiar questions and maybe Brad Cooney wanted to do things different. Maybe it was not what you wanted to hear but haven't you heard what you wanted to hear over and over? I know when I do an interview I still get nervous because besides doing my job I am living my dream as a fanatical fan. Brad is an addition to this site and we appreciate all he does or has done. Appreciate his time and if you can email him with some constructive criticism I'm sure he'll recieve them with an open mind.  Hey, I once asked Jeff  Lacy if he wore his championship belt around the house. Maybe not exactly what some wanted to know but I sure did (laughs). I too have forwarded this email to TheHype, our webmaster, and hopefully you'll be getting a response either way.
This e-mail is a quick response to comments made by Brad from Australia on 11/9/04 mailbag. I would be embarrassed to claim Tzsyu's victory over Mitchell as a great victory for Australians as Brad did. First, lets get the facts straight Tzsyu is from Serov, Russia (I know he fights out of Sydney). Second, in United States real boxing fans recognize great boxers regardless of their nationality. Brad, I understand your frustration about Australian boxers and you should be grateful to "mother Russia" to let you borrow their great champion. Sad to think that a small island such as Puerto Rico has produced better fighters than the great continent of Australia. "I feel so sorry for you" as you said in the mailbag. By the way I am a huge Tzsyu fan and do not care much for the trash talking Mitchell. Earlier in the year I had Mitchell as second on my list of overrated boxers behind Winky Wright. Anyways that is a different subject, your comments of "Americans need to lose the patriarchy" really reflect your personality, except that in your case you are claiming a Russian-born boxer but then again you do not have much to choose from so I understand. That is why us Americans are proud to give the world the best boxers in this great sport even though we recognize that other countries have produced great champions/boxing legends and for that we are grateful. Please post this for Brad, as it should humble him a bit. A champion is made in the ring not by their nationality. Thanks,
NM from Houston
.
OnFire's response:
Let Brad take Tszyu as his homeland fighter as I do Vivian Harris who people sometimes remind me is from Guayana. What matters to me is that he's from Brooklyn now. Brad and yourself are regulars to the mailbags and I hope you guys can respect each others opinions. It's all good for the debate and arguement sake but we all have different views on things. I'm sure Brad will have something to say about all this.
That was some funny shit Winky said about bipartisan support from his left and right. I think he's right. He'll go 2-0 against the Sugarman. Sharmba got the holy hell beat out of him. I almost felt bad for the guy, but I think all that shit talking got him a worse beatdown than if he would have kept his mouth shut. Run your jibs, gotta back it up AND expect what's coming. Especially from a guy like Zoo who doesn't like all that jibber jabber. Got some great boxing times ahead of us. Damn did Greg become a catholic priest because fighters are coming to him like a sinner to a confession booth. Just read his article about Nate Campbell. Keep it up. Peace.
OnFire's response:
I don't follow politics much so I had to ask a co-worker what he meant. I have to agree with that not only was it kind of funny but also creative at the right time. I concur with you that Wright will again beat Shane but maybe we'll be in for another surprising ending thanks to Joe Goossen and his time with Mosley. Though i don't see that happening. Sharmba got boxed, dropped and stopped. Tszyu has never been much of a talker and I sense that Sharmba said some things because he truly believed in himself. As Mike Tyson himself said, "Greg is the minister of information" and if fighters and promoters alike want to speak to the man there is no appointment needed (laughs).
MEMBERS CLICK HERE FOR FULL MAILBAG
Send questions and comments to: onfireboxing@verizon.net