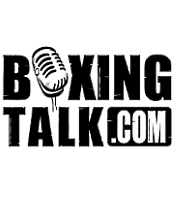 CHECK OUT THE END OF THE MAILBAG FOR THE FREE GIVEAWAY
Yo what up to BIG G???? I gotta say he's da man son!!!!! I cant thank him enough for having Bernard "THE EXECUTIONER" Hopkins call me on tuesday night after that kick ass chat session Bernard had with the members.... Make sure you put this in the next mail bag so the world can see that he is truly a man who sticks to his word!!! I hate to call out names but fightnews and maxboxing aint got NOTHING on BoxingTalk.Com!!!! You constantly produce breaking news and the best chat sessions available on the net PERIOD!!!!!! I must say that Bernard is a very classy guy with a lot of respect for knowledgable boxing fans..We spoke for 25 minutes about everything from his much anticipated rematch with TITO to promoters influencing judges... The conversation was incredible and its something that will stay with me as a fan of the sport forever... Big up to Greg Leon and his staff for staying true to the fans and the sport.. This site is well on its way to becoming the BIGGEST BADDEST MOST INFORMATIVE site to ever hit the net!!!! Boxingtalk.com is already the best site on the net today and I know first hand that Greg is just getting started!!!! My question for the day is who do you think Tito will fight next,and when? and what do you think the outcome will be? Peace out, talk to you soon....
Marc Quinones AKA MQELGQ
OnFire's response:
The floor is yours, tell em how you feel!! I could imagine the feelings even as your phone started to ring. Glad you enjoyed the chat and the call with Bernard Hopkins. Now tell your friends so that they may be next. T.N.T and the new features we have been inputting into the site will make it an even more enjoyable visit. We'll be giving away autographed shirts, gloves and other items.**See bottom of mailbag for a chance to win** And coming soon, by popular demand Boxingtalk.com tees. Keep it here and you may be liable to get a second call from another great champion or fighter.  Really am happy for you and trust you me I know the feeling. Antonio Tarver once called me after a chat and as a fan it was incredible. Now, though I am involved in more ways with Boxingtalk it is always something I go back to. Thanks for the accolades. There have been mentions of Felix Trinidad facing Cory Spinks in his next fight. Spinks is willing to make that move up in order to try and solidify himself in boxing history. Tito, known to have trouble with movers but here is one that is not a danger in the punch department. I could see Cory making Tito look slow in the ring and having him reset time and time again. Once Felix feels that The Jinx can't hurt him he will start to lay down the law. I don't believe Spinks can take what Trinidad brings but I could be wrong. If Trinidad connects like Ricardo Mayorga did it would be a different result.
Not that I haven't been peeping the site on the regular, but It's been about a minute since I dropped a dime. Obviously, amongst everything out in those fields, boxingtalk is the chronic. I can't even imagine how you got R. Heard out of the way. I always thought G. Leon was a shrewd business man. Respect. I just wanted to say that the song in the B-Hop training video is called "My Life," by Kool G. Rap feat. C-N-N (capone-n-Noreaga). I have one question. What fights may happen at 140. Other than HARRIS-URKAL, and possibly COTTO-CORLEY, is everyone waiting on the fall-out from TSZYU-MITCHELL? Give us the word on the hottest division out there. One-Hundred……
Nitetrain, Hells Kitchen
OnFire's response:
Welcome back and keep that Hell's Kitchen heat coming. Bionic chronic at that. The Jr Welterweight Division is littered with talent. Boxingtalk's #1 jr welterweight Kostya Tszyu (WORLD) makes his return to the ring after being away for twenty-one months. He takes on # 3 Sharmba Mitchell (IBF interim) for the recognized undisputed jr welterweight championship of the world. Floyd Mayweather, Boxingtalks # 2 is the number one contender to the WBC title held by # 4 Arturo Gatti(WBC). The human highlight himself opted to fight # 8 James Leija who is coming off a beautiful upset win over # 19 Francisco Bojado. Vivian Harris(WBA), # 5 is on his way to Germany to do battle once again against # 9 Oktay Urkal. Right there alone everyone of the top five fighters except Mayweather has a fight scheduled. Miguel Cotto # 6 is preparing to square off with # 11 Demarcus Corley. Ricky Hatton, # 7 fought early this month against a guy not in our rankings. Gatti should give Mayweather his shot at the title. Should Harris win, Hatton should be next. Cotto has to knock on the door of one of the top five fighters. Floyd could fight Harris for his belt as well. Can Bojado come back against Dorin? I can go on and on but I think you get the idea. There are enough live bodies to make any number of fights.
First up, to the whole crew at Boxingtalk......legitimate luv dawgs!! Boxingtalk is the undisputed, keep doing like yall do! I've been a member for a while now. I usually just read and keep my opinions to myself, but now I have two beefs. 1) Would people please quit trippin on the P4P list. No two P4P list will be the same. Everyone has a certain place they want to put fighters on the P4P for their own reasons, respect that and shut up! 2) Bernard Hopkins is the freakin man PERIOD. He doesn't pick on smaller fighters. Hell, he dang near comes in the ring as a jr middie himself. I don't need to list all his accomplishments either, yall already know. BHOP haters.
Sud......Tampa, Fl.
OnFire's response:
One love. Thanks, you can bet we appreciate the compliments as we do what we do to bring you the best coverage available. The subject of pound for pound was the topic of a few emails. Opinions may differ in the p4p arguements but rest assured that we all know who stands on top of that list, Bernard Hopkins. How anyone sees it from there is totally up to them. Anyone using that excuse to try and down Hopkins need look no further than the career of another great middleweight champion, Marvelous Marvin Hagler. Sugar Ray Leonard, Roberto Duran and Thomas Hearns all moved up in weight to eventually face the champ. 
What up G-Man & OnFire, this Tyson saga is becoming more unbelievable every week. Amongst all the talk that Tyson was ripped off by Finkel and Watley is suing Finkel for 95 million, what's in it for Mike? Seeing that Watley is so concerned about Mike's well being is he going to throw Mike some millions to help him out? Fair enough Tyson can sue Finkel too, but in the case that he doesn't, what is Watley going to do for Mike besides be another man to get rich off of Tyson's suffering.
Brad, Australia
OnFire's response:
All good Brad, thanks. It's going to be interesting to see where this goes. Ted Watley and Shelly Finkel fighting over long paper (Tyson money) while Mike Tyson claims to being almost homeless. Watley is sueing Finkel only after being sued himself. Watley's suit against Finkel over the alleged "Mike Tyson Shakedown" was front page last week. There were definitely some shockers in there. Money makes some people do crazy things. Who knows what Watley, Finkel or Tyson will do.
First things first, glad to see you & BT doing your thing! Just wanted to bring one thing up. I see some people pretty much getting pumped up behind QUARTEY coming back as well. Well, let me let everyone know that a much better and ballsier fighter is coming back too. Mr JOSE LUIS (EL MAESTRITO) LOPEZ is fighting. He is the one that gave QUARTEY a draw and had CAMPAS down. Trinidad & ODLH didn't want to face this fighter for they felt fear. Quartey didn't know any better and decided to fight Maestrito and almost got knocked out. Had it not been for QUARTEY's holding on he woulda got KOd. Maestrito is a bad MOFO, just an underachiever. Wish he woulda gave up a litttle on the partying and surfing in TJ to dedicate to boxing so he coulda knocked tito and oscar the fuck out!
OnFire's response:
Once again, thanks. I enjoy this. By the time you read this Jose Luis Lopez (44-4-2, 35 ko's) should have fought Warren Moore (18-6, 7 ko's). Lopez has been out of the ring just as long as Ike Quartey has. Jose Luis' last loss came at the hands of James Page in 1998. He fought twice in 2000 and has not been in the ring ever since. Though losing to Page, he did knock him down twice in rounds three and nine. Quartey was also downed twice against Lopez, both in rounds two and eleven. It's going to be interesting how much all these fighters have if anything on their quest for who knows what (money, championship, history?) Coulda, shoulda, woulda...but didn't. (Editors note: Lopez TKO 4 Moore)
are u serious michal moore fightin jirov? this is garbagemoore lost agaisnt who? in his last fight and he looked horrible he never had any heart anyways why is he fightin jirov? jirov will kill him.
OnFire's response:
Nope, Vasily Jirov is fighting Michael Moorer (laughs). In Thursdays T.N.T chat Jirov had this to say after someone mentioned that Moorer was a bum. "Why call him a bum? I have no idea why you would say that. He's been a great champion." said Jirov. I've heard nothing of the fight being set to go. Moorer lost a UD to Eliseo Castillo in July. Hey, better to see him fight some body than nobody.
Whats up, hope all is well and your enjoying the break from flat-out boxing reporting week after week now that things are quiet on the scene. I got a few scenarios for your mysteriously accurate predictions. Who would you pick out of Wright-Hopkins and Wright-Tito. Seeing that these match ups will more than likely go ahead in 2005 if all goes to Winky's plans in November (which isn't a given). I'd definately pick Wright over Tito, no ned for debate IMO. But Wright-Hopkins i'm tossing up over. I think B-Hops experience and style will get through Winky's defence, but not easily. So who you pick? Your opinion is valued :-)
OnFire's response:
Enjoying it ? I'm flat out hating it (laughs). I need my fix frequently. Winky Wright-Bernard Hopkins would be a nice fight if it could happen in both their next fights. Wright has to get by Shane Mosley in order for anything to happen with Bernard. Felix Sturm was mentioned as number twenty in title defenses for Bernard "The Executioner" Hopkins. Winky is a slick southpaw with some impecable defense who knows the ring well. He outboxed Mosley the last time out. Bernard, as we all know is a crafty veteran that knows all the trick of the trade. It would be interesting to see who sets their pace and tone and how early. I guess it all depends on when the fight takes place. I would have to say Hopkins muscles Winky on the inside with his superp tactics for a decision win. At times I also noticed then when Winky covers up, he does it so well he may not see everything coming. Especially in close. In the case of Wright versus Tito Trinidad I'm still saying movement will give Trinidad trouble. With his style Winky can give Trinidad fits ala Oscar De la hoya and Hopkins. Fans would definitely benifit from both fights and I think Mr Ronald Winky Wright has paid his dues and is very much deserving of the big pay day(s). I'm going to wait and see how Winky looks against Mosley before I can give you my unbias opinion on a fight with Trinidad.
What's the deal wit Cotto fighting on the Klitschko card, Dec. 11th at the Garden? I have heard it twice already in 2 of the Puerto Rico newspaper web sites.. Thanks, 
Fan from the Bronx
!!
OnFire's response:
Reliable sources informed Boxingtalk.com that WBC heavyweight champ Vitali Klitschko will not defend his title at Madison Square Garden. After receiving this breaking news, Greg contacted Klitschko adviser Shelly Finkel, who confirmed to us that the Garden was indeed out of the running to host the fight. The Mandalay Bay in Las Vegas, Nevada is now the frontrunner to land the fight. Miguel Cotto is scheduled to fight on the undercard of the Klitschko fight and I would suppose that would be the case even if they moved it to Vegas.
What's up money. I'm not a member of boxing talk due to insufficient funds... but I still check in on a daily basis. Keeping some cutting edge news for everybody, still, is tight and good for boxing fans. I was just watching 106 and park and zab judah was on there and said he just found out today that he's got a rematch with Cory Spinks.   I'LL HOLLER
Everett, San Diego
OnFire's response:
Not a member? Insufficient funds? Save .20 cents a day for a month and you will be able to join. It's that easy. Wouldn't be right if I didn't tell you that you are missing alot and losing out on the best interviews, workouts and fight coverage but then again you probably can't access the mailbags to read it (laughs).
Once again the TNT Chat was fucking banging.........first you come with Bernard Hopkins in the Tuesday chat........then two nights later you get one of the HardCoreBoxing fans favorite fighters in Vassilliy "The Tiger" Jirov.......He seems like he is really ready for any challenge in the heavyweight division.........(although I'd rather see him Shut-Tarver-TFU, maybe we'll get lucky and after some big wins they can get togther and make something happen at Heavy).....Also cheers on getting the phone call from Jirov, he was a cool cat to chat with.
Anyways, My question is about Mahamet (Mohomad) Abdullaev, he is one of my favorite fighters to watch and i was really getting into his career at 140........but since the sem-controversial loss to Emanual Clottey ..........he hasn't been seen on TV anywhere...........Is there any information you have on his future, or would it be possible for you to have a interview with one of his crew?....Also is there any word on Phillip N'Dou's future?........he put up a game effort versus Mayweather and is a valiant entertaining fighter, that i'd like to see fight again. --
Tony Montana
OnFire's response:
And still...You were warned ahead of time that this was T.N.T and that it would be explosive. Now you know first hand. The Tiger, Vasily Jirov, was a tough cruiserweight who punched non-stop once in the ring. His relentless pressure made it possible for him to beat and stop fighters like Earl Butler, Julian Letterlough and Terry McGroom. Then along came James Toney who dropped Jirov for the first time in his career in round 12 to win the IBF cruiserwieght title, but not before the ref took a point from Vasily for a low blow. Two more fights resulting in two more wins both by knockout and Vasily Jirov makes his move to heavyweight where he takes on Joe Mesi. Even though he dropped Mesi in round 9 and twice in round 10 Jirov lost a unanimous decision. Throughout all this he has shown that he is a top quality fighter in any division. If and when Antonio Tarver decides to move to heavyweight Jirov could be a good fight to take. 1.To test the waters against a heavyweight who moved up from cruiser. 2.To avenge his lose to Jirov. With Jirov I doubt it would be by luck becuase he is a workhorse inside the squared circle. Since his loss to Emmanual Clottey, Muhammad Abdulaev returned with 3 fights, the last being April of this year. He has nothing scheduled for the remainder of this year so I guess if we're to see him at all it would have to be next year. Philip N'Dou is scheduled to fight Jason Cook, a fighter with a 23-1 record on Nov 11th in Hereford, England.
You by far got the best boxing site on the web...I read daily. To get straight to the point. I have been following tyson's career for years and until your latest series of interviews with tyson, finkle and watley; I have been content as a life long fan through thick and thin. All this bullshit has got me going! I want to reach tyson and offer my services for free. And thats the bottom line. I believe he still has about 2-3 positive fight years left and I would like a chance to contact him and let him know what I can offer. You probably get these type of requests often, but I thought I would try. Secondly, I have my own business here in California and offer my services to all 50 states. I would like to speak with you and discuss a possible incentive partnership or simply my company purchasing ad space on your web site to offer my company's services to the boxing community.   Thank You,
Ernie
OnFire's response:
Thanks for the props. Glad you enjoy the read. Just imagine how Mike Tyson feels with all the BS surrounding him and all the money he doesn't have. Here we have two men (Ted Watley and Shelly Finkel) fighting over millions of dollars and according to Tyson, he's almost a homeless. I don't know in what manner you speak of when talking of helping Tyson but one never knows. You can contact G. Leon in regards to this and see what if anything you can help out with. I'm sure it will be greatly appreciated by many. In regards to the ad space please contact G. Leon or Ben Thompson at their emails respectively. Good luck.
whats up!!! i want to know whats up with jermain taylor? i hear he is going to fight joppy, then i hear he is going to fight eastman in england? which is it? i hope he fights eastman cuz joppy is over with. the eastman fight would be very interesting. and i hear that castillo vs casamayor is on. i wish it would have been castillo vs corrales but this fight will do. it should be a real good one!! i love corrales, but he better not be thinking he is the champ at lightweight until he fights and if he beats castillo. cuz he is the man. corrales should have made that fight!! but i think they will eventually meet!! plus, i think if corrales wants morales, it would be smart for him to win the wbc title. cuz i think if and when morales moves up, he will go for that belt and i think castillo will get first crack at morales. but i still think castillo wins a freaking ring war with corrales barely!! i read that there was a presser for the williams vs vitali klitschko fight in england. will u guys have video of the one in new york city? i also read that trinidad is interested in possibly fighting the winner of mosley-wright, cory spinks or possibly the winner of eastman-taylor. any of those fights i would be happy with!! i kinda want the wright fight to come through the most though!! peace out!!
Sergio Herrera
OnFire's response:
What's good? Jermaine Taylor will not be facing Howard Eastman just yet. As was told to me by Lou DiBella right after Felix Trinidad demolished Ricardo Mayorga, Taylor will be facing William Joppy on Dec 4th on HBO. Taylor-Eastman could be for the number one position of the WBC. Taylor's quality of opposition needs to be raised in order for anyone to make a real assessment on him. I too would have loved to see who the real king of the lightweights was. Right now it's not at all possible as Jose Luis Castillo will be facing Joel Casamayor. The winner of this fight should want to face Diego Corrales. Castillo is a hell of a fighter but I believe that Corrales can hurt him and stop him if he fights on the outside. Of his 6 loses Castillo has been stopped four times. Erick Morales moving up would make for some good fights at lighweight. Why do Mexican fighters love the green belt? You know we will have video if a presser does come to New York. It will be interesting to see where Trinidad goes from here and what options he takes from the many that are available to him. I want Tito to eventually fight Bernard Hopkins.
Do you think the WBC is being real. I first thought James Toney vs R Booker was for the #1 ranking. Than I thought they would strip Gatti for not fighting Mayweather. Antonio Margartio vs Kermit Cintron/ Miguel Cotto vs Vivian Harris Top Rank vs Main Events. Is Vivian Harris(The best 140 l/b future pound for pound top 5) contract up after he fights the German dude?
OnFire's response:
The WBC can't seem to get it right even the part where Jose Suliaman was going to step down and then decided not to. James Toney versus Rydell Booker at first was, then wasn't, then was once again for the number one spot. I think (laughs). Now Monte Barrett is scheduled to fight Owen Beck for the right to fight Toney for the number one spot. I think (laughs again). I would take both those fights you've mentioned as I believe they would be real good tests for Cintron, Cotto and Harris. Can't really tell you when his contract is up.
First off, huge fan of the site. It's the best out there, NO CONTEST. For a sport where I was used to waiting for the weekend to see action, you guys surely spoil us big fans. I can check your site 3 times a day and find new updates. That is truly amazing. But whoever wrote that Ruiz may have gotten a raw deal with Jones should watch that fight again. In only the first two rounds did Ruiz try to rough up Jones. The ref did nothing to protect him or to make sure the fight stayed in the ring. Ruiz clearly didn't try anything!! I'm not a big Ruiz fan, but I was able tell that Ruiz was not in the correct state of mind because we ALL know what type of fight Ruiz fights. Jones just capitalized on Ruiz's failure to show any hunger of winning that fight. I honestly didn't know why Ruiz's corner was swearing about the ref rather than tell Ruiz to get out there and throw some punches. One interesting fact is that Jones reflected John Ruiz during his fight with Glen Johnson. Keep up the good work.
OnFire's response:
First off, thanks. Appreciate it. That's why it's a "Remember where you heard it first" boxing site. To see honest I watched that fight when it happened and maybe once or twice after that. Roy Jones fought a good fight at heavyweight and John Ruiz just couldn't do to him what he has been able to do to fighters like Holyfield, Oquendo and Rahman. If I recall correctly the Ruiz corner was complaining about the refereeing that was taking place. I'm not a big fan of either fighter but I would have to look at the fight again to refresh my memory. Jones took some shots from Ruiz and returned the favor due to his quick hands. He took advantage because he had the advantage in speed. As much as I hate to be saying this, I'm going to go into my archives and try to watch this fight again. Always good to see Stoney in action.
Hi,
Recently I have been seeing that people writing in to your mailbag are of the opinion that Danny Green actually took it to James Toney in a sparring session and put it on him. Could you please clarify the fact (Speak with Freddie Roach if you have to) that James Toney kicked Danny Greens ass and Green did nothing more than bravely take a beating. The Australian press incorrectly reported that Green had beat Toney down and from all non-biased account this is not the case.
I am a huge fan of Ricardo Mayorga and the way he fought against Trinidad made my immense respect for him increase, when it came time for him to take his beating he went down swinging to the end and never gave up (the way he got up from that body shot...unbelievable). Are you guys planning on talking to him any time soon.?
Bring on Trinidad v Hopkins II - I feel this will be a more brutal beating than last time and his father will be to blame for running his mouth. I like Tito, he appears very humble (even after all his success and huge popularity) and I wish him nothing but the best. He doesn't need his dad going around trash talking people to make a fight happen, he's a true warrior, that's all it takes. Regards,
Neil, Australia
.
OnFire's response:
If Danny Green took it to James Toney, that doesn't say much for Lights Out. If Toney allowed Green to stand in there with him and chance people saying the things that are being said, it says alot for Green. Being a natural 168 pounder Danny Green must have shown heart and determination to stand in there seven rounds with the heavyweight James Toney. Would be nice to get a copy of that sparring session so I could see what really happened with my own eyes. I'm sure Ricardo Mayorga gained a few more fans after his defeat at the hands of Felix Trinidad at Madison Square Garden. El Matador showed heart, grit, determination and a solid chin. Most of all he showed that he always comes to fight. Getting up from a brutal body shot Mayorga showed how it should be done. Doing our best to bring you all the answers you look for as fans straight from the fighters themselves. Bernard Hopkins, in my opinion, may be too much for Trinidad right now. Coming off his retirement he did look good but we must admit we saw him take alot of shots early from Mayorga. Though he weathered the storm that was Mayorga, Trinidad should take another fight or two before he faces Hopkins. Papa Trinidad, I'm sure, can't erase the memory of seeing  his son go down in the 12th round against what was supposed to be an old fighter in Hopkins. Bring on Felix Sturm for Hopkins' 20th defense as Tito takes another fight then maybe the Trinidad's will look towards the undisputed middleweight champion of the world. Or not.
Showtime Step Your Game Up
Showtime claims to be America's number one boxing network but they need to step their game up to be considered as such. One thing that could help them is to show more than one fight a month. They could make the first of the month championship bouts only and then they could get more fights in during the month. The broadcast itself looks like something out of the late eighties or early nineties. They could improve on their viewer quality. Finally the most important thing they need to do is put up or shut up. If you are the number one boxing network why is there always budget issues everytime negotiations for fights start. The perfect example:Castillo-Corrales is the best possible fight at lightweight that could happen in fact it is one of the best fights that could happen period.Now I'm hearing that Castillo-Corrales won't happen because Showtime won't put up the right money yet they would rather have Castillo fight Casamayor. This is not a bad fight but Castillo and Corrales are recognised by many experts,fans and analyst as the best 135 pounders out there. Both fighters want the fight. Both fighters were very impressive in their las fights and though Casamayor is a good fighter he didn't look that good against Seda who was stepping up in weight.Why would you not put up money for a potential fight of the year featuring the potential fighter of the year? As it stands HBO has had three fights that are easily candidates for fight of the year: Marquez-Pacquiao, Jones-Tarver 2, and Trinidad-Mayorga, and there could easily be a fourth with Morales-Barrera 3. Showtime stepped up with Corrales-Freitas and the fight was memorable, why not do the same for Castillo-Corrales. IMO Showtime is partly responsible for the Harris-Hatton bout going out of the window and now they are ruining another fight that the fans want to see. Will they ruin a potential fight between Lacy and Calzaghe next year? I sure hope not. Like I said a Castillo-Casamayor fight isn't bad, actually it's a good fight but it's second best, and if Showtime continues to do things the way they have done so far, they will always be second best also. As fans Showtime could have given us more. If they don't step their game up soon they'll be a fogotten network when it comes to boxing.
OnFire's response:
To me, America's # 1 boxing network is identified by three letters, HBO. They bring us HBO Championship Boxing, B.A.D (Boxing after Dark) and HBO PPV. And they've done it at all different times of the month. Showtime's plan was to showcase boxing on the first Saturday of every month. While this was good in the sense that we knew it would always happen on that first Saturday it only meant that as boxing fans we had no need to turn to Showtime for the sport we love at any other time. I really don't know why Showtime decided to only show fights on the first Saturday of the week and frankly I really don't care. As a fan I know which network takes the cake when it comes to giving the fans what they want and need. Fights. Maybe they didn't step up for the best fight at lightweight because it would only hurt their budget for the next two Saturday shows. HBO has always been my favorite and now I know why. So I second your opinion and also state "Showtime, Step Up Your Game."
---
The first to email the correct answer to the following question will receive a F.I.S.T Fights for New York t-shirt.
Who was the first boxer in the WBA (the oldest boxing association in the world) to win 3 titles in 3 different divisions of the same organization?
MEMBERS CLICK HERE FOR THE FULL MAILBAG
Send questions and comments to: onfireboxing@verizon.net