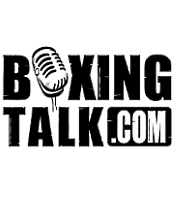 By Jose "OnFire" Aguirre
I was talking with hype about this and he said to contact you. I was the one who got the call from Rock on Thursday (didn't talk much, from walla walla). I was very nervous in case you couldn't tell (im sure you could) I was really kicking myself after we hung up though because I didn't ask Rock if he could send me something autographed. It would really mean a lot to me to have something to remember tonight with from one of my favorite fighters. I really was upset that I didn't ask, I was very nervous talking to one of my favorite fighters (being from Baltimore and all). If there is anyway you can help me out, that would be so great.Thanks for everything, I won't forget this experience, it was great. Best wishes 
Rick Evans
OnFire's response:
Hope you enjoyed your call with the Rock, Hasim Rahman. He's a stand up guy and has a sense of humor too. Don't really know about the personalized glove but shouldn't the phone call be something to remember the night with? Boxingtalk is going to continue having fighters calling members and in addition we will be giving away a signed pair of Grant boxing gloves each month. Maybe Rahman will be one of those gloves. Be on the lookout.
whats up!! damn, this year of boxing has been one of the best in a long long time. it was awesome and it is going to and with a bang!! first off, u had the heavyweight explosion in new york. whehter anyone liked it or not, it had most of the top heavy's fighting each other. then u got mosely vs wright this weekend, and the weekend after that is barrera vs morales!! not to forget larios vs hussein. wow!! not done yet, the weekend after that you have castillo vs casamayor for the lightweight crown and lacy vs sheika in a brawl. ko's just waiting to happen!! but u can also change to hbo that same night and wathc taylor get his "so called" first step and face joppy. then the weekend after that, u got a huge fight in vitali vs williams and cotto vs bailey. then the weekend after that u have tarver vs johnson in a huge fight. then in january u have mayweather fighting and u have gatti vs leija! then in february u have hopkins vs eastman and sturm vs trinidad, marquez vs pacquiao and tiozzo vs michalzcweski. is it true that hbo will telecast the tiozzo vs michalcweski, which i doubt but would be awesome, or did u mean to put it on sturm vs trinidad? also in between those fights u have the return of freitas, guinn, pacquaio, espadas vs juarez, the giant and hopefully soon to be seen nicoley valuev and many more!! 6 straight weeks of boxing. that is a christmas present in itself!! we have a lot of boxing to talk about in the next 3 or 4 months!! cant wait and can't wait to watch all of it!! im out!!
Sergio Herrera
OnFire's response:
What's good? This year alone we've had Jones, Tyson and De la hoya all getting stopped. We've had Pacquiao-Marquez and Corrales-Freitas. Trinidad and Tszyu have returned. The rest of the year promises some good things. Struggle for Supremacy showed fighters like Holyfield and Meehan struggling to survive while others like Byrd and Rahman reigned supreme. Wright-Mosley was determined this pass weekend and now big fights open up for both men. Morales-Barrera three should be a continuation of the first two. Non-stop action and heated exchanges from two fighter who genuinely don't like each other. Castillo-Casamayor is an interesting fight in that it could set up the fight that got away in Castillo-Corrales or even more interesting Corrales-Casamayor III. Lacy wasted no time in getting right back in the ring to defend his title and we can all expect a fight from Sheika. Taylor-Joppy and Klitschko-Williams ends off the year which leads us into another era of boxing. For the hardcore boxing fan it is a dream with all the fights that are happening and all the possiblities for great matches in the near future. 
What Up ONFIRE!!!!! YA BOY FROM BALTIMORE IS BACK IN THE BUILDING!!!! HOLLA!!!! I see you over here doing your thing. I had to take a little time off you know, I got a little son now, so lil Baltimore will be in the builidng as well. Man I still cant believe everything that's been going on now. I watched Sharmba get trashed, I still remember talking to dude and him telling me how he was going to knock Tszyu out,  oh well Shane gets his long awaited rematch. I'm a big Shane fan, but sadly I think the outcome will be the same, Winky will still get the W. But what's up wit the 140 division???? Is anybody gonna fight the Vicious one or what. I saw Floyd's options, who is they kidding!? Lets get him in the ring with some real competition. I think Tszyu should just stay here at 140 and fight Harris, so Harris can unify the titles, and Spinks should give a rematch to Judah. Spinks is ducking Judah BIGTIME!!! He felt that power in the last round, and a MOTIVATED Zab Judah, is hard to beat. I repeat a MOTIVATED Zab Judah is hard to beat. But back to 140, there's just too many good guys there, but no one is stepping up to face each other. Like it or not, I think Cotto is a force to be reckoned with and very soon he will prove it. BEST in the division: Harris, Tszyu, Cotto WORST in the division: Hatton (fights back alley bums over in England), Gatti (comes in fights closer to 154 at times, and still has no boxing ability whatsoever) Floyd Mayweather is still unproven, beating a girl in a skirt doesn't count. MOST SLEPT ON IN THE DIVISION: Junior "The Hitter" Witter. CAN SOMEONE PLEASE TELL ME WHY THIS KID GETS LITTLE TO NO ATTETNTION!!!!!!! He's killing em out there in the ring!!! Since his first and only loss to Zab Judah he's KNOCKED OUT everybody they put in front of him!!! No one since has gone 6 rounds with him. This kid is seriously slept on, but has the potential to rule the 140 division.  
Tee, Baltimore.
OnFire's response:
What's good TEE? Still doing my thing player. Congrates on the child and God bless. Little B-More is the building. Yea, Sharmba got handled by Tszyu easily while Wright beats Mosley but not as easy as the first time. The junior welterweight division is hot with talent and there are any number of fights that can be made. Vivian Harris, WBA champion, doesn't have people in line wanting to fight him. He is a good boxer with a punch and is a threat to any of the 140 pound elite, Tszyu included. I caught up with a determined and confident Zab Judah and his father/trainer Yoel and he told me that everything is a go for January 22nd, with the site to be determined. Madison Square Garden is a possibility. The only thing Spinks was ducking was Judah's punches when they fought the first time. He was going for bigger money fights (Trinidad, Tszyu) if they were available to him. Team Judah gauranteed that on Jan 23rd, all the belts would be wrapped around Super Zab. Cotto is in the mix of things and we shall see what he brings to the table in the upcoming year. Don't know much about Junior Witter except his fight with Judah and the fact the he called out Mayweather.
Just wanted to say that this weekeneds fight between Mosely and Winky will decide the near future for a few fighters like Trinadad, Hopkins, Mayorga and Oscar. Who do you see having the upper hand if Winky were to win? In my opinion I think Trinadad would land the fight because from what I hear Hopkins is pretty much set to take on Eastman in february and it would be a little to long fo Winky to wait for him without having another fight besides i've read numerous interviews w/ Winky and in all the interviews he seems to want to fight Trinadad. Oscar could take that fight away from Trinadad if he wanted to because of dollars but I know Oscar does not want to fight Winky therefore I see Trinadad landing that fight in April.If Mosely loses you will see him fight Mayorga at 154. So like iv'e wrote to you before Trinadad will fight Winky after Winky beats Mosely again in what will be a tough fight for Winky, Hopkins will make his 20th defence against Eastmen in another tough fight. As far as Oscar is concerned I believe he will wait and fight the winner between Mosely and Mayorga. In the end it will be Tito vs. Hopkins in the most anticipated rematch in a long time. What do you think?  
Mark
OnFire's response:
After Wright repeated what he had done earlier this year (defeat Modley) he said he wants the big fights with Trinidad, De la hoya or Hopkins. I don't think the Trinidad's will be in any rush to fight Winky who is a slick, defensive minded southpaw who applies constant pressure. Wright has made it known that he believes De la hoya has been ducking him. Maybe now Oscar will fight Winky if he doesn't decide to make a move to welterweight and steal a big fight. Hopkins has mentioned Eastman but I'm pretty sure there are way to work around Howard if Bernard should decide he wants to fight Winky next. If Mayorga should come out of retirement I beleieve it will be for a Mosley match but don't be surprised if Mosley lands the Trinidad fight.
What up Fire! Just wanted to say I'd have to agree w/ you that Traver and Johnson would definitely get in there w/ RJJ, he's a big name, big payday, and has been ko'd in his last 2 fights!! with this weekands fight i'd have to say everything is leaning towards Winky winning cause the last fight, but if we see the Shane of old look for the upset baby!!!!!!!!!!!!!
Praise_Him
OnFire's response:
All good. You know it. Most of the time moves are made by the boxers for the money and despite his two loses Jones brings the money when you fight him as does De la hoya. Winky's jab and weight proved to be the deciding factor once again though Shane did more this time around.
Hey Jose, I'd like to comment on Kostya Tszyu and some possible Junior Welterweight match ups. First of all, I have to give props to Kostya Tszyu. He really pulled off an excellent victory over Sharmba Mitchell. I thought Mitchell would own him due to Kostya's inactivity, and Sharmba was staying active fighting credible opposition. But I still think Tszyu milks his titles and doesn't fight enough, so I'm still a bit skeptical. I hope he really faces the rest of the top guys in the 140lbs division because there's still alot of competition that he can throw down with, such as Vivian Harris, Floyd Mayweather, or Miguel Cotto. I still want to see a Zab Judah rematch with either Spinks or Tszyu. I think there's a reason Spinks and Tszyu don't want to fight him a 2nd time, and it's not because he's not a big money fight. It's because he's fast, has power and is a bad man in the ring. But if Tszyu/Spinks happens, I'm going with Corey by decision, or Tszyu by KO. I like Spinks, I think he's fun to watch cuz i appreciate slick boxers, but his chin is not that sturdy. Kostya has some serious power so I would give him a punchers chance against anybody who could out box him (such as "Pretty boy" Floyd). If Vivian Harris can't get a fight with Tszyu, who do you think he should fight next? I've been dying to see this guy fight because I haven't yet, but have heard good things. Keep bringing us the heat score with the mail bagg, and give my regards and congratulations to G.Leon on his baby daughter. Stay-cizzle, Upcoast Canada.
OnFire's response:
There are many possibilities for Kostya Tszyu after his comeback performance against Sharmba Mitchell. I too though Mitchell's activity level would be too much for a fighter coming off two injuries, even one like Tszyu. The Spinks-Judah rematch is slated for Jan 22nd according to Judah and his pops who I ran into this past week. Zab seems confident and determined to make a statement and bring those belts back to Brooklyn. Cory Spinks is elusive but Kostya Tszyu has got to be the hardest puncher pound for pound. Vivian Harris should fight anyone that is willing to fight him.
MEMBERS CLICK HERE FOR FULL MAILBAG
Send questions and comments to: onfireboxing@verizon.net