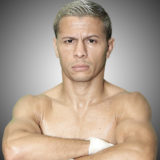 In light of WBC 112-pound champion Julio Cesar Martinez's mysterious hand injury, the WBC will move forward with an interim title fight on Saturday's DAZN broadcast. Martinez's scheduled opponent, McWilliams Arroyo of Puerto Rico will now face Abraham Rodriguez of Mexico for the interim belt. Arroyo is 20-4, inactive since late 2019 but on a three-fight win streak against good opposition. Rodriguez, inactive for about a year, has had most of his fights in the 108-pound division. His record overall is 27-2 including a failed WBO title bid to Angel Acosta in 2018.
On Thursday, a tight-lipped Matchroom Twitter post confirmed that Martinez-Arroyo was off: "Julio Cesar Martinez has withdrawn from our February 27th show in Miami due to a hand injury. More to follow." Martinez was set to fight Arroyo in the chief supporting bout for DAZN's huge Canelo Alvarez vs. Avni Yildirim broadcast.
Martinez was seen jogging around the hotel pool on Thursday morning and particpated in Matchroom's press conference early in the afternoon, two occurrences that call the claim of a hand injury into question. Martinez posted a picture of a swollen hand on his social media account, but his face was not in the picture nor could the date of the photo be confirmed. These clues lead to speculation that Martinez realized he would not make the 112-pound flyweight limit and chose to withdraw rather lose his title on the scales.