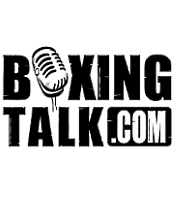 By Scott Shaffer
Jameel McCline's April Showtime date against Sergei Lyakhovich fell through almost as soon as it was announced, so the heavyweight contender now finds himself on the outside looking in for another bout.  McCline has looked over the division and set his
sights on James Toney and Sam Peter in that order.  "James Toney is the biggest con job in recent heavyweight history," said McCline to Boxingtalk.  "All he does is tell everyone he's the best and he's got them believing it, including your website"  (Boxingtalk has Toney and McCline rated sixth and seventh respectively).
In a nutshell, this is how the last twelve months have gone for McCline: he was weeks away from a bout withToney when a torn Achilles tendon forced Toney to pull out of their Showtime bout, he took a stay-busy fight against Wayne Llewelyn (result: TKO1) and then he had to endure months of negotiations before finally getting his mandatory challenge against IBF champion Chris Byrd.  McCline started strong, but Byrd rallied down the stretch to deny McCline the title by the slimmest of margins, one point on one judge's scorecard.  McCline, eager to fight again quickly, reached out to John Ruiz and Vitali Klitschko but got nowhere. He looked to have a quick return set up when he agreed to fight Lyakhovich, but then Showtime claimed it made a previous commitment for its April date.
Now McCline is looking at his options and feels he has some unfinished business with the anything-but-modest-Toney.  "I'm so angry at Toney for running his mouth," continued McCline.  "He needs to stop running it and fight someone already.  I call him a con artist because he talks so much when the only true heavyweight he's beaten is Evander Holyfield, who was a dead man even before they fought.  But everyone gave him all the credit and that offends me."  McCline, who doesn't talk trash nearly as well as Toney does, still makes a valid point when he says, "Ever since our fight was cancelled, he has never mentioned my name or talked about doing the fight. Why is that?  He needs to stop running his mouth and get in the ring with me." 
Understandably, Toney would prefer a title shot against Byrd to a non-title bout against McCline, but this week when his promoter meets with Don King, he may find out what McCline learned last year: it is not easy to close a deal with a Don King fighter without giving King promotional options on future bouts.  This is what McCline is banking on.
"Toney's promoter [Dan Goossen] has not expressed any interest in the bout, which leads me to believe that he knows what he has with Toney: one fight against a legitimate contender, which he will lose.  So understandably he wants to get paid for that loss," said Mike Borao, McCline's attorney.   
If Toney does work out a deal to face Byrd, McCline would like to face undefeated Sam Peter, the heavyweight flavor of the month since he violently knocked out Jeremy Williams.  But McCline thinks Peter may not be ready for him yet.  "I saw him at the Klitschko-Williams fight in Las Vegas and I said hello to him.  But he looked at me like he just saw a ghost.  I scared him and I didn't even mean to do it."  Time will tell if Toney and Peter are willing to face McCline.  But an impatient McCline wants to know the answer sooner rather than later.
Send questions and comments to: boxingratings@yahoo.com