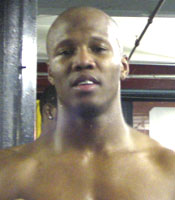 Originally published on August 15, 2005
"Boxingtalk, what's up baby I'm back again! Y'all already know what this is about right? This is ya boy Zab 'Super' Judah. First of all, we're going to bring my boy in here, this is Josiah Judah, we're about to knock someone out cold tomorrow because that's what we does. Big shout to Danny Boy (Judah) because he's got a big fight coming up so look out for the Judah brothers. Me? Right now, I'm just sitting back waiting for the pound for pound p**sy of the world to sign a contract so we could do what we got to do. He needs to go get some heart and go to Bob Arum so we could get that done. He needs to stop talking. He needs to stop bumping his gums, sign the contract. All that talking is for broads, when I catch the boy I'm going to show you what I'm going to do, outlaw style."
GL: All this talking has people going. At first Arum was pushing the Margarito fight, Mayweather wasn't interested. Then Winky Wright demanded 50-50 and it doesn't look like that's...
Zab Judah: (cutting in) "Well it's going to have to be 50-50 for me too. I'm the undisputed champion of the world and he's coming to my weight. It's going to either be my way or no way. I don't got no rules, these negotiations could be really short all he has to do is sign his name on a contract. I'm waiting on him right now. Get your life right.
GL: You know when Floyd hears about your wanting 50-50 he's going to say, 'for what, who's he?'
ZJ: "He beat Gatti, who's that? A bum. He beat nobody. He's coming to the danger zone. I can't really be talking right now because I don't want to say something out of frustration and incriminate myself. But I'm just waiting on you man. Get ready, I'm here man, I'm here I'm waiting for you. All that talk about glass jaws, you can't touch me duke...I promise you that.
Josiah Judah: "We're going to smash your face."
GL: Floyd recently told me he dropped you during the sparring session...
Zab Judah: "Dropped who? Drop these. Hold these. It sounds good and if you have to lie to the people to gas yourself, everyone knows you're a joke. Listen to me...you are a joke. I already know you're not going to sign a contract so I'm not going to get hyped over it no more, but if you do got a little heart and you sign, I'm going to crush you. I promise you that. If you ever sign a contract and they ring a bell with the two of us in the ring, boy they're going to have to carry you out of that ring. I'm sure you won't mind about getting beat because you'll probably have a girl in your room to ice you down. Keep her in your room, don't even get a bed in your room, just buy buckets of ice.
GL: Your father told me Floyd wouldn't go the distance with you, do you feel the same way?
Zab Judah: "Of course! We do this in our sleep. All that moving and how smart you is, meet me toe-to-toe and it's a wrap. You know how I hit already."
GL: With the Mitchell fight not taking place on September 3, will you go out of your way to make sure this mega-fight happens on November 12?
Zab Judah: "I've been going out of my way already. People out there, fans in TV land, look at me and listen. It's not me! It's the pound for pound pussy of the world that won't sign the contract. It's not me man, if he signs the contract we can get this over with tomorrow, you know what I'm saying? Stop running around talking like you're this and you're that, just sign the contract and let's show the world who the real deal is. Let's pop off. I ain't start this duke, but I'm going to finish it, I promise you that, BK style. Don't get caught on the East Side you're pass has been revoked.
And then later that day with Zab and Andre Eason
Zab Judah: "We're back again with the real pound for pound champion of the world right here. We love the west side, I want to let all my peoples on the west coast know that they need to get together to get that punk off the west side. Let's send him down south or up north somewhere...matter fact, let's send his punk ass to Canda. After I knock his punk ass out, he's going to have to move to Canada or move to London or some shit.
GL: Andre you're going to be fighting Juan Urango on August 26, how's everything going?
Andre Eason: "I've been training real hard and I've been working with the best lefty in the world, so I'm ready."
GL: What do you know about Urango?
AE: "He's a wild fighter...
Zab Judah: "And he's going to send his punk ass home."
AE: (nodding in approval)
Zab Judah: "Fuck him, he's getting knocked out for real BK style. We're going to put him on a boat and send his ass home. Matter fact, we're going to give him a life jacket and let him swim back to where he's from."
GL: How do you feel you've improved since the Bojado fight?
AE: "I'm taking myself a lot more serious now and I'm training a lot harder. I train with the best."
GL: What are you hoping a victory over Urango does for your career?
AE: "Open some doors."
Zab Judah: "This is the real king of 140 here. That other guy is a fluke, you know the WBC champion that they gave the belt, you know who I'm talking about I don't even have to say your name no more.
Josiah Judah: "Faggot Floyd!"
CLICK HERE FOR THE FREE VIDEO TRANSCRIPT
Send questions and comments to: gleon@Boxingtalk.net