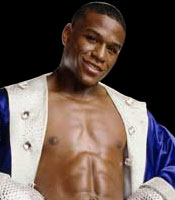 After speaking with Winky Wright last night, Floyd Mayweather Jr got a call from Boxingtalk to let him know what Wright had to say. Unfortunately Mayweather was unavailable so I had to leave a message briefly filling him in. At about 2AM I was awoken by the pound for pound king with the following explosion, "Are you ready for this interview? A lot of people are talking about the Floyd Mayweather-Winky Wright fight. Winky Wright is fighting but they don't have an opponent for November. I think Winky's a good boxer, but you have to do your homework on this guy. Every weight class I move to I get knockouts. I moved to 140 pounds and in the last six months I got two knockouts at 140. Now look at his career. This guy tells you he's going to knock me out, how's he going to knock me out when he has two knockouts in the last six years and I have two knockouts in the last six months? There's a better chance of me knocking him out than him knocking me out. Shane Mosley came up from lightweight and he's a junior middleweight and he couldn't knock Mosley out in two fights. Yeah, he got a good jab, but there's no fighter out there that's going to beat me with a jab. Trinidad is straight up and down with no special effects and Shane Mosley is a frontrunner. I'm something different, I'm there for twelve rounds and I can give it and take it. And okay, okay, say if he's punching a little bit, he's still not punching than any of the 140 pounders that I'm facing right now. I don't believe Winky Wright punches harder than Arturo Gatti!"
"Listen, he says he's going to knock me out but when Shane Mosley came from lightweight to junior middleweight, what happened? Okay he fights Trinidad, but when you're fighting a guy like that you have to step on up. You're touching a guys glove after every low blow, we know you respect him as a fighter, but touching a guys glove is showing him too much respect. I've done my homework, I looked at his record. He beat Bronco McKart three times. Of course the fight went the distance three times.
GL: Bronco McKart got disqualified the third fight on the undercard of Roy Jones last impressive performance against Clinton Woods
.
Floyd Mayweather Jr: "You're right, but I looked at this guys record and he's only got three opponents on there. Bronco McKart, Shane Mosley and Felix Trinidad."
GL: What about Fernando Vargas?
FM: "He didn't win that one."
GL: Yeah, but he really won that one.
FM: "There's no such thing as really won, I only go by what happened. When I fought Jose Luis Castillo the first time my hand got raised because it deserved to get raised, people said I lost, I said put him in there again and you saw what happened."
GL: Winky doesn't sound like he's taking you too seriously...
FM: (cutting in) "You know what? That's what I want from him. I want him to take me lightly. And one thing I'll tell you, if he takes me lightly, one thing he showed me when he fought Shane Mosley the second time, he gets tired. He better train for me because if he doesn't I'm going to jump all on him."
GL: You're a defensive wizard Floyd...
FM: (cutting in) "And this guy has no chance to beat me with just a jab. Listen to me, I turn non-believers into believers. Many great fighters have made big jumps in weight, the only difference with me is I'm making the jump a lot quicker. Mark my words, I will beat Winky Wright. A lazy, flat-footed, one handed fighter like Winky Wright could never beat me. Things he must do to step his game up for someone like me is move his head and get on his pivot. He can't stay in that peek-a-boo like I'm Trinidad or something. Trinidad was depending on his power. All he was looking for was big punches, I'm looking to score and be smart when I do it. I know how to tired a guy out, I'm a sharp fighter, I done been there before so I know how to deal with the pressure. I've been in big fights and he's been in some big fights but this one here is a little bit different because I know this guy is overlooking me. I got nothing but love for Winky, he's my friend, but this is a business. I'm in it to win it. And you can mark my words.
GL: That peek-a-boo defense is one tight turtle shell he got there, I think to beat a guy like Winky you'd have to throw more than 75 punches per round, do you feel the same way?
FM: "If I'm the best boxer in the world why would you ask me that? All Winky Wright has is a jab. I'm the best pound for pound fighter in the world and there's no way he's going to beat me with one hand, that's the most important thing you need to know."
GL: He's the number two pound for pound fighter in my book, he's been at junior middleweight for twenty years.
FM: "And make sure you tell the fans that I called you up to wake you up for this interview. How's this guy going to knock me out when he hasn't knocked anyone out in six years? He ain't beating me with no jab, count on that."
GL: How fast can we expect these negotiations or the negotiations for your next fight to move along?
FM: "Speedy Gonzales is good little young fighter that's been in there with both of us and he gave me good work in my camp. You should have someone ask him what the difference between me and Winky is. I'm going to sit down with my team, Al Haymon and Leonard Ellerbe and we're going to see what it's going to be.
"The bottom line is, from 140 to 154 I'm looking to chin-check anybody. Zab Judah was looking to get chin-checked. You know he's been mouthing off lately. I ain't want to tell the people anything about it, but I'm going to get you the pictures to show you what I done to him in the gym."
GL: I spoke with Zab a couple of hours ago, before I first fell asleep. He told me that he and Don King were ready to move forward with the fight with a rematch clause, but Bob Arum never wanted to make it happen.
FM: Come on man, you gotta realize this. Zab is a good fighter, but I am the truth. I'm HBO's pride and joy. They call me good money, they know they could count on Mr. Mayweather as a guaranteed win. With other fighters they've got to sit on the edge of their seat. If Zab's fight game is like that, why ain't he an HBO fighter? Zab got belts, I don't need belts. Zab needs me, I don't need Zab. I could help him make his first million. Floyd Mayweather is the one who could turn Zab into a millionaire. If he doesn't fight me he's not becoming a millionaire."
GL: I understand that he's getting more than a million for his next fight with Sharmba Mitchell.
FM: "It took this long? How about Floyd Mayweather can tell you my age was twenty one. And Zab knows I punished him in the gym. You guys are the best and everyone calls you with the hottest stuff so I want you to put it out there, I punished him in the gym. To tell you the truth, that was some of the easiest work I ever had."
GL: Wow. Has the friendship with Zab gone down the drain or something?
FM: He totally disrespected everyone around me some magazine. Even though we still got a friendship, but as a friend he should have pulled me to the side and told me about it. Is he mad because he can't walk in my shoes? Is he mad because he can't fight like me? I saw his last fight with him trying to roll his shoulder. He goes from trying to fight like Pernell Whitaker to trying to fight like Floyd Mayweather, but you can't beat me with my own stuff."
GL: Did you know Pernell Whitaker will be co-training him now?
FM: "Yeah and I think that's going to take his career to another level. Pernell Whitaker was a great, great champion but Zab Judah will never be a Pernell Whitaker. I take my hat off to Pernell Whitaker. I respect Zab as a good fighter, but I punished him. Some of the easiest work I ever had."
GL: Arturo Gatti easy?
FM: "Well you know, that's Thunder Gatti, there's no loser in that fight when two fighters are making that type of money."
GL: Then I'm sure there wouldn't be any loser in a Judah fight either.
FM: "Listen, it takes me. I got love for Zab, but once I heard that he got $100,000 for fighting in a sold out building in St. Louis on someone else's turf, come on man? He questioned the people I have in my ear, but I mean, who's giving him advice? Tell him to call Mayweather if he needs help getting on PPV, on a PPV main event, not no undercard. And make sure you tell Zab that the pictures will be selling on my website and they'll be going for a pretty penny. Of course you know, y'all got the best thing going so I'm going to sign some for you to give out to your readers. Trust me, Zab knows I'm the truth. I kept it on the down low because I didn't want to expose the man. He shouldn't be acting that way because he's not getting it like I'm getting it. It's not my fault Zab. God chose me, not you.
"There's only a chosen few like Muhammad Ali, Sugar Ray Robinson and myself. We're the chosen ones. Zab will go down in history as taking a L from me, that you can count on."
GL: Which fight is your preference, Judah or Wright?
FM: "It doesn't matter to me. I'm the pride of HBO now that De La Hoya don't want to box no more. They couldn't rely on Bernard Hopkins. Yeah, he comes to the ring does the throat slash, puts the X up and run out there and give the first eight rounds away, come on strong in the last three and think he won. Come on man, give me my pound for pound crown, I told you that man never deserved it to begin with. Bernard has done extremely well for a grandfather. But tell all you're fans read this and those chumps respond, I'm going to hit you back when you ain't half sleep."
Send questions and comments to: gleon@Boxingtalk.net