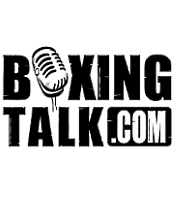 Boxingtalk's G. Leon conducted this must see interview with former welterweight king
Ricardo "El Matador" Mayorga
at the Wright-Trinidad weigh-in last Friday afternoon. While discussing his upcoming bout with WBC junior middleweight champ Javier Castillejo, as well as his future plans, Mayorga, one of the most outspoken boxers in the game, keeps things politically correct, that is until
IBF junior middleweight champ Kassim "The Dream" Ouma crashes the interview to talk some serious trash.
"After I knock you out, I'm going to take your girl," yelled Ouma. How did Mayorga respond and act when things got HEATED? There's only 
ONE
place to find out, Boxingtalk.com...It's
GREAT
to be a member!