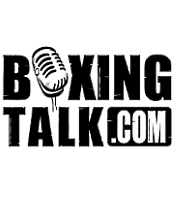 Ricardo Mayorga says he is not going to do or say anything crazy to Felix Trinidad in the last few days leading up to his pay-per-view bout against Puerto Rico's most beloved boxer. Mayorga says he will keep the antics to a minimum because he doesn't need any more of a psychological edge than he already has.  "He is already off-base. He is old and slow, so I don't need to get inside his head. He is already weak in the head," said Mayorga today at the Kingsway Gym, just blocks from Madison Square Garden, the site of his middleweight encounter with the comebacking Trinidad. 
Prior to Mayorga's last major bout, in which he lost his world welterweight championship to Cory Spinks, Mayorga made incredibly personal  and demeaning comments in which he openly questioned Spinks' manhood and talked about Spinks' deceased mother.  
Mayorga's three biggest victories ( he won a world title against Andrew Lewis and scored two wins over then pound-for-pound candidate Vernon Forrest) came at 147 pounds, but he says he has no fears that his punching power will  desert him in the 160-pound division. 
" It wont affect me in the least bit.  I was born very strong and I normally weigh 176 or 178.  That has been my walking around weight since 1999 or 2000. Welterweight was very difficult for me to make.  I was fighting at 154 before [promoter] Don King asked me if I could make 147 to fight Lewis.  I said yes, but it was very difficult."
After losing a middleweight unification bout against Bernard Hopkins in 2001, Trinidad came back once against Hacine Cherifi and then retired.  Mayorga thinks Trinidad's time has passed.  "I just can't wait for the opening bell.  I just know its going to last less than five rounds. If Tito is mad after the fight, tell him not to be mad at me. He should be mad at my trainer [Rigoberto Garibaldi]. He is the one who taught me how to throw punches," said Mayorga with a confident smile on Monday.
CLICK HERE TO SEE WHAT ELSE THE NICARAGUAN SLUGGER HAD TO SAY!
Send questions and comments to: boxingrankings@yahoo.com