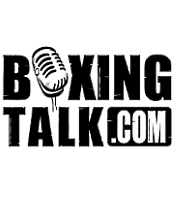 Kimbrough Takes First Loss!
Mountaineer Race Track and Gaming Resort is geographically closer to Newell, WV, but it goes with a Chester address due to incorporation limits. Either way you look at the resort, it sits between small towns in the West Virginiaýs northern panhandle bordered by the currently swelled Ohio River and mountains. A real dedication has been made by the resort to present boxing at the club level and to follow the stars they are developing to the
larger, more meaningful fights. Their main stable of fighters includes, John Bailey, Scott McCraken, Jacy Kuhn, Monty Meza-Clay and Verquan Kimbrough. Bailey and McCraken were not on this card promoted by Greg Nixon and Mountaineer Race Track and Gaming Resort. Fox SportsNet of Pittsburgh tape delays the broadcast, so check your listings, youýll want to see these bouts.
Jacy Kuhn and the tall and lanky Tony Black squared off in a 6-round welterweight contest. Kuhn (147ý), a spectacular amateur fighter from Uniontown, Pennsylvania, dictated the pacing with the jab and strong hooks from the get-go. As the bout progressed he ripped the harder punches and seemingly had no difficulty with Blackýs height advantage.
Black scored a hard right in the 4th round to show he was still in the game but spent more time trying to avoid the attack rather than to mount one of his own. Kuhn used efficient head movement, while Black was there to be hit with counter punches. With all of these things considered, the first 22 seconds of the 6th and final round was astounding. Black and Kuhn came out at the bell and as a wayward left hand flittered off to the side from Black (149 lbs.) he unleashed a mean right to the temple and a left to the jaw and Kuhn went on his back to the canvas at ring center. His head just rebounded from its second bounce off the floor when Black settled into the neutral corner and ref, Earnie Shareef picked up the count and took it all the way to 10 with only a slight attempt to get up from the unconscious Kuhn (14-2-1). Black
gets the victory by knockout and improves to 7-3-1. Trainer Tommy Yankello screamed that the ref told them to touch gloves between rounds and as Kuhn reached to touch up, Black unloaded on him. Sorry guys, protect yourself at all times!
Jr. lightweight, Monty Meza-Clay started his attack early again Terrell Hargrove. Meza-Clay moves his head well and uses that movement to get closer to the enemy. In the first stanza he moved forward behind punches while Hargrove held on, but Meza-Clay (133 lbs) shook loose and punched. His head movement and body position put him into punching ranging, especially with the left hook after the head slip. It is truly an art the way Monty uses the defensive maneuver and turns it into offense. Hargrove
gathered himself in the 4th and saw the best way to fight Monty was to throw loads of punches. Less than a round later, Monty timed a Hargrove flurry and get underneath for a body blow that felled Hargrove.
Terrell got up but another Meza-Clay offering put him against the ropes to receive another 8-count as ref, Tim Wheeler said the ropes held him from a knockdown. The third knockdown of the fight was logged in the 6th round as Hargrove showed the signs of eminent defeat. Meza-Clayýs unending pressure wilted Hargrove
for good at :52 seconds of the 7th round in a scheduled 8 rounder. Meza-Clay wins his 13th, in as many pro fights this is his 9th knockout. Hargrove levels off at 7-7.
The main event could have looked like a mismatch for the uninitiated. Verquan Kimbrough is the perceived ýstarý of Mountaineerýs boxing run. Kimbroughýs picture is larger on the posters, his name is always brighter on the marquee and is record is spotless in 9 pro fights. His opponent in the 6-round featherweight bout, Eduardo Valdez, came in at 1-0-1. Valdez
roughed up another club fighter in Philadelphia in his last fight, while Kimbrough was winning the West Virginia State Featherweight belt in his last outing. But Valdez can fight, but would he be able answer Kimbroughýs boxing ability?
The opening round was won by Kimbrough with quicker defense. Valdez brought the fight to Verquan, with wide punches that Kimbrough was able to avoid. However, Valdez noticed that Kimbrough was easily getting under the wide punches, so he went lower with his punches. One of them in the 2nd heat caught Kimbrough and dropped him. Verquan won the round outside of the knockdown, so the Boxingtalk scorecard was 10-9 for Valdez. Kimbrough was showing his experience advantage in the 3rd round so Valdez turned it into more street than boxing. A big right in the 3rd was Valdezý best punch and put a different look, one of alarm, on Kimbroughýs face. Kimbrough was still ducking, but instead of scooting to the side, heýd run away or grab Valdez at the waist and hold.
As the bout traveled to the full distance, Valdez was the aggressor, yeah he missed plenty of wild punches but he did pull them in tight and score with lots of them too. He was aggressive and he was effective because he had Kimbrough holding or running, eschewing the essence of boxing as he displayed in the opening round. Valdez continued as the ring general and more effective puncher through the final three rounds.
Eyebrows were peaked in anticipation of the decision, one that the crowd already expressed should be given to Valdez. These were Kimbroughýs people in attendance from Aliquippa and the Pittsburgh, PA area, but Valdez got the cheer after the bout when his trainer lifted him. The majority decision announcement got a hoot from the crowd and approval as the first card, from judge Rex Agin, scored 58-56 for Valdez; however he was overruled by the other two judges who turned in identical scores of 57-57 for a majority draw. Boxingtalkýs scorecard also saw a 58-56 count for Valdez who is now 1-0-2.
It's Kimbroughýs first blemish after 10 pro fights. The affect on
the future will be interesting; will managers look at Valdez as too
dangerous for their new charges to face in their first few pro fights? And what will the route for Kimbrough see, a few cream puffs to get his confidence back and record padded? This will certainly not be in the best interest of the crowd, who will be in these same seats for all of Verquanýs upcoming ten bouts or so, according to a recent contract extension. This bout was good enough to put on a rematch in a neutral ring, outside of the
Pittsburgh or New York City (Valdezý home away from home in the Dominican Republic). Valdez needs a break, maybe even getting the rematch in New York. Meanwhile, Kimbrough needs to maintain or fight more skilled foes so as to not get stale.
Other results:
Cruiserweights: Mike Carr (12-1-2) wins 4-round clinch fest against Tucker Lambert (7-13-2)
Cruiserweights: Dan Harvison 10-0 W TKO over Kevin Miller when Miller doesn't answer the 3rd round bell.
Welterweights: Joe Wyatt 18-0 KOýs John Scalzi in 1:54 of opening round.
Welterweights: Durell Richardson 6-0 w TKO 1:51 of the 3rd over Derek Ward (0-2-1)
Jr. Middleweight: Alphonso Williams TKO 4 over Rodney Tatum.