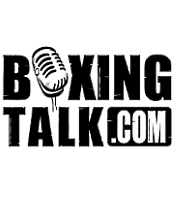 On Friday night in New York City, Bronx favorite Maureen Shea (now 5-1) lost a split decision to Kimberly Colbert (now 3-10) at  the Manhattan Center.  In the first round, Shea came out looking strong and more technically proficient against Colbert, a fighter with more ring shenanigans than boxing skills.  Colbert danced around, crossing her feet, dropping her hands, sticking out her tongue, and taunting the focused Shea, at times literally laughing in her face. Colbert's ploys were successful though, as she dropped Shea in the second round with a wild punch coming from Times Square.
Shea recovered from the knockdown but became more tentative, though still attacking Colbert continuously, getting her in trouble a few times as the unorthodox Colbert lost balance in Shea's punch flurries.  Colbert hit Shea with a few good shots but pulled every trick out of the  bag to make Shea lose composure, like swinging her arms around and marching like a soldier, taunting Shea throughout. 
The judges decision were split as Colbert went on to take the victory, with two judges giving it to her at 59-55 and 58-56 and one for Shea, 57-56.  "Shea is obviously the better technical boxer but got she got hit with more powerful punches by Colbert, as sloppy as they were," said Boxingtalk publisher Greg  Leon.
This was an upset for the fan base that Shea has been building up in the New York area and who came out to support last night.  Promoter Lou DiBella said there will be a rematch on his next card. "Maureen won that fight, no doubt," said DiBella.  "She will get another chance with Colbert."
"I'm looking forward to it, very much," said a shocked Shea, who felt she won the fight. The Shea-Colbert fight has been a breakthrough event for women's boxing in New York, as it was the first time a female has fought on a Broadway Boxing Card. It should open the door for other future female fighters at this popular venue, starting with the rematch. 
Send questions and comments to: caracastronuova@yahoo.com